Give and give is the motto of the man who has dedicated his life for others' welfare

P C Vinoj Kumar
&nbsp | &nbsp Chennai
19-July-2014
Vol 5&nbsp|&nbspIssue 29
"Your life is not about how you talk. Your life is what people talk about you," said Thamilvanan, the renowned editor of Kalkandu, a Tamil magazine, in 1953 to the 14-year-old boy, who had come to him seeking his suggestion to end his life.

"I was ashamed of my female voice, because everyone made fun of me. I wanted to end my life, so I came to Chennai to meet Thamilvanan, whose writings I used to follow and whom I admired greatly. I met him in his office.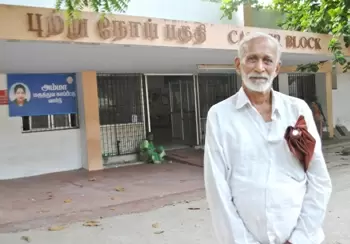 Kalyanasundarm donated prize money of Rs.30 crore from an American organization to charitable causes (Photo: Media Ramu)
"He took me to Marina beach in the evening after finishing his magazine work and motivated me to live a purposeful life.

"He spent nearly two and half hours with me. I told him about the little things I was doing to help people around me and he encouraged me to continue my social work in a more organized manner.

"I went back to my village and started a youth club," says P Kalyanasundaram, who would become a librarian in a private college in Tuticorin district and years later get thousands talking about his heroic act of donating his lifetime earnings for charitable causes.

From the time he got his job in 1963 till his retirement in 1998, he donated his salary each month to the local district collector with the request that it be given to the needy. His estimated donation from his salaries alone is Rs.30 lakh.

He gave away his share of the family property worth several lakhs of rupees to people in his village. A few years ago, he also donated for social causes the cash prize of Rs.30 crore awarded to him by an American organization, which picked him as 'Man of the Millennium.'
Kalyanasundaram, who chose to be a bachelor, worked as a waiter at a hotel in Tirunelveli after college hours to support himself. "I didn't have to worry about my food since I worked in a hotel," he says, laughing loudly.

"There were days when I had to rush to college in my waiter's uniform," says the septuagenarian, who lives on his pension, and continues to help needy children from the income he generates through a monthly magazine, 'Anbu Paalam' that he has been publishing since 2007.

"Every month we feature an inspiring person or event on the cover and give in-depth coverage to the story. The profit from the magazine is used for helping poor children's education," says 74-year-old Kalyanasundaram, who is a mentor to many young social workers in the country, who look up to him for inspiration and guidance.

Leading textile retailers in Chennai among others support his magazine through their advertisements.

Kalyanasundaram credits his mother for teaching him the importance of sharing and giving at a young age. He lost his father when he was just 10 months and was brought up by his mother, who taught him and his elder brother to follow 3 basic rules in life at all times.

"Never be greedy, give one tenth of anything you receive to others, and do one good deed every day. You will never cease to be happy if you follow these rules," she had told him.

She made sure that her sons practiced the rules. Kalyanasudaram learned it the hard way, getting thrashed by her whenever he erred.

"Once she gave me some sweets she had made. I ate all the 10 sweets and came back in the evening asking for more. When she found that I had not shared the sweets with anyone, she slapped me and said the next time I made the same mistake, she would scald my tongue," he says.

On another occasion, when he bought himself a shirt for Rs.50 from the Pongal gift he had received, his mother was upset that he had not contributed one tenth of the amount for a good cause, and burnt the shirt pouring kerosene on it.

An important turning point in his life was his meeting with the popular Congress leader and then Chief Minister K Kamaraj in 1963 during the Indo-China war. In college then, he had met Kamaraj and contributed his 10-sovereign gold chain for the national war fund.

Kamaraj was pleased with him, and asked him to meet Tamil magazine Ananda Viketan editor Balasubramanian. The latter spoke to him kindly, but challenged him to donate from his own earnings to the poor and come back to him after 5 years. He said he would do a bigger story on him then.

For Kalayanasundarm those words stirred in him the desire to donate all his earnings to the poor. At the end of 5 years though, he was no longer interested in getting any media coverage. He continued to contribute his salary to the needy, but never spoke to anyone about it.

"I never went back to Balasubramanian. I would meet him years later, but only after the media had reported my story in 1990 when I handed over an amount of Rs.1.11 lakh, which I had received as salary arrears, to Tuticorin district collector Kanagasabapathy. I got the huge arrears like many others after the government revised our salaries.

"The collector informed the media and felicitated me, and that's when my story came to be known to the world," says the dhoti clad Kalyanasundaram, whose constant laughter shows what it takes to be really happy in this world.

This Article is part of the 'Unsung Heroes of Tamil Nadu' series
Other Articles in the Series
Founder of Positive Women's Network is positive about bringing succor to women and children with HIV
Anbu and his bunch of social workers spread the message of love through action
Nurturing a society of tree-lovers in Coimbatore
'I will be happy if I can create examples like the Thenur model'



Trending Now: