Love for nature grounds youth from the world wide web search engine

P C Vinoj Kumar
&nbsp | &nbsp Chennai
31-May-2014
Vol 5&nbsp|&nbspIssue 22
Arun Krishnamurthy had a brief stint at Google in their sales acquisition and media marketing department, but that job could not tie him up for long from his love for nature. Leaving his job, he decided to turn his attention to environmental conservation.

Today, this Chennai based 28-year-old youngster is known for his work in cleaning urban lakes, which were transforming into garbage dumps or being turned into housing plots by greedy real estate developers.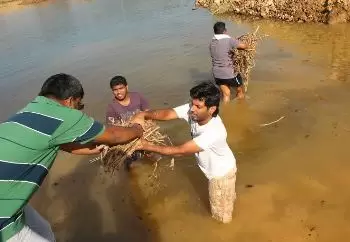 Arun (in white T Shirt) and his team members have cleaned 39 lakes as on date
Arun started Environmentalist Foundation of India (EFI) in 2007, and registered it in 2011. He and his band of volunteers have left their imprint on quite a few nature conservation programs, which include their efforts to bring back sparrows into our cities, cleaning beaches, eco-friendly waste management, and setting up of biodiversity parks at schools.

They have so far cleaned 39 lakes; 12 in Chennai, 7 in Hyderabad, 1 each in Delhi, Kolkata and Coimbatore and the rest in Kanchipuram and Villupuram districts of Tamil Nadu.

"We have about 3400 volunteers, all in the age group of 12-22 years," says Arun, adding that girls outnumber the boys in his team by 6:4.

He developed an interest in environment during his student days at Good Earth School, an institution that is located on a 16-acre lush green campus on the outskirts of Chennai.

Later, when he did his graduation in microbiology at Madras Christian College, another campus known for its greenery, he started volunteering at the Arignar Anna Zoological Park in Vandalur – about 15 km from Chennai airport - with friends. They educated the visitors on the do's and don'ts within the zoo premises.

Now, EFI members hit the field every weekend. They sweat and toil for 4 hours each Sunday, rolling down their sleeves and getting their hands dirty, removing the garbage and debris from water bodies.

"Lakes get spoilt because people have started using it to dump their garbage, construction debris, and even household sewage. In some places encroachments have come up, since the boundaries of the lakes are not clearly demarcated," says Arun.

Encroachments pose major hurdles during restoration work. "We started lake restoration work since 2012. Currently, we are working on 4 lakes; Keelkatalai and Arasankalani lakes in Chennai, Kapra lake in Hyderabad, and Selvasinthamani Lake in Coimbatore," he says. Work on one of the lakes has been stalled due to legal disputes over encroachments.

Getting permission from the PWD (Public Works Department) officials to do restoration work in lakes is another vexing task, and he usually runs from pillar to post to get the approval from the authorities.

"The restoration work is designed to improve biodiversity of the lake and to facilitate multiple life forms to thrive in it. Using the desilted soil we create a G-shaped island in the middle of the lake.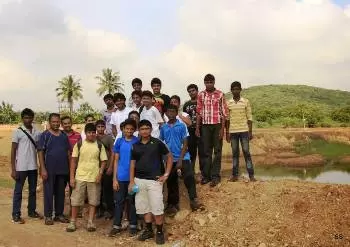 EFI members devote 4 hours every Sunday to cleaning lakes
"It is developed in such a manner that there is enough water around it even during summer to support life forms like crabs, pond turtles and small fish. The trees we plant on the island would provide breeding space for the birds," he says.

They also equip the locals to care for the lake post-restoration. "We create awareness among the people through street plays and educate them on protecting the lake from vandals who may harm the birds and pollute the lake," he says.

The cost of restoration depends on the size of the lake. At Arasankalani Lake, where about 60 percent work has been completed, they have spent around Rs.8 lakhs. The funds were raised through donations from residents, friends, and personal resources.

His parents encourage him in his work. The family's home in suburban Mudichur has been converted into an office for EFI, where their shovels, gloves and other cleaning equipment are stored.

Arun's wife, Nandini, is a Carnatic vocalist and performs in concerts.

Arun has ventured into digital marketing for a living and runs a company called Krish Info Media.
This Article is part of the 'Unsung Heroes of Tamil Nadu' series
Other Articles in the Series

Founder of Positive Women's Network is positive about bringing succor to women and children with HIV
Anbu and his bunch of social workers spread the message of love through action
Nurturing a society of tree-lovers in Coimbatore
'I will be happy if I can create examples like the Thenur model'

Trending Now: