Giving a new life to many a childless couple and a livelihood for women renting their womb

P C Vinoj Kumar
&nbsp | &nbsp Anand (Gujarat)
19-October-2015
Vol 6&nbsp|&nbspIssue 42
People look at Dr Nayana Patel from two extremes. To some she is like a demigod, who had brought joy into their lives. But to her detractors, she is just an exploiter of the poor and one who has commercialised childbirth.

Dr Nayana, a fertility doctor and entrepreneur, doesn't give a damn to her critics though, and keeps producing babies for childless couples using surrogate mothers at her Akanksha IVF Clinic in Anand, a small town in Gujarat, 80 km from the State capital, Ahmedabad.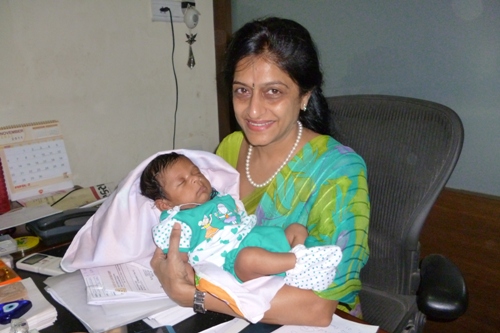 Reaching a milestone: Dr Nayana Patel delivered the 1000th baby born through surrogacy at her clinic this month

The 56-year-old doctor has given a new identity to Anand as the 'baby factory' of India. Anand was till recently known more for its milk revolution and the home-grown brand of Amul dairy products.
Akanksha delivered its 1000th baby through surrogacy this month.

While she faces the ire of critics, Dr Nayana draws solace from the overwhelming affection of infertile couples who are blessed with babies through the surrogacy procedure done at her hospital.

Take for instance Shekar Netravalkar and his wife Priya from Goa, who had been childless for 23 years since their marriage.

They visited the hospital in January 2014 for surrogacy and got their baby girl just the previous day - 20 months after they first met Dr Nayana.

The hospital's first three attempts on different surrogate mothers had failed, and the couple had almost given up hope, but Dr Nayana persisted. She succeeded in her fourth attempt and the couple is on cloud nine.

"We are happy that we have got a child now," says Shekar, not worried about the enormous amount of money he had spent to get the baby.

Even the surrogate mothers are grateful to Dr Nayana for removing poverty from their lives.

Mostly hailing from poor families, surrogate mothers rent their womb to carry the embryo of infertile couples and deliver their babies.

They are paid Rs.5 lakh to carry the baby of an Indian couple and Rs. 7 lakh for a foreign couple. For a twin pregnancy, the rate is 25 per cent more.

It is no wonder that surrogate mothers are quite happy with the deal and do not hesitate to come back for a second surrogacy.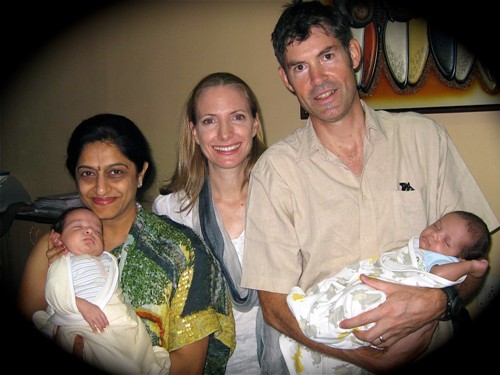 Dr Nayana with a foreign couple showing off their twins

I meet Geetha Mahesh, wife of an auto driver from Tarapur, 25 km from Anand, who is in her eight month of pregnancy at Akanksha. She is carrying the baby of a couple from UK.

This is her second surrogacy and she tells me that last time she was paid Rs.5 lakh and this time her total payment would be around Rs. 7 lakh.

With the money she earns she will be able to redeem a property her family had mortgaged in a bank.

For Latha from Anand, who was working in a call centre and earning Rs. 6000 per month, the lump sum she would receive at the end of her surrogacy would come handy to buy her dream house.

It is testimonies like these from the 750-plus surrogates she has worked with that give Dr Nayana the strength to ignore her critics and keep moving forward.

"Many of our surrogates have bought houses and are leading a good life," says Dr Nayana.

There are many poignant tales of how surrogacy helped families to come out of debt.

Dr Nayana recounts the story of a couple from Baroda, who decided to end their lives because they could not repay their debts and creditors were asking the man, a barber, to let them sleep with his wife.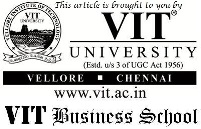 "The wife was nice looking. The couple left their three daughters in Baroda and came to Anand to commit suicide. They wanted to jump in front of a train, but got scared in the last minute.
"They then bought a bottle of poison and decided to have a last meal together when they chanced to read a newspaper article about Akanksha.
"The couple visited our clinic, and the woman went on to become a surrogate mother. Now they have a shop in Baroda and are living happily," says Dr Nayana.
However, one should not get the impression that anyone can walk into their clinic and become a surrogate.
Surrogates are recruited only after a thorough medical examination. A recent study found that out of 300 surrogate applicants at Akanksha 67 were rejected on medical grounds.
Prospective surrogates need to be married and borne children themselves to be eligible to apply.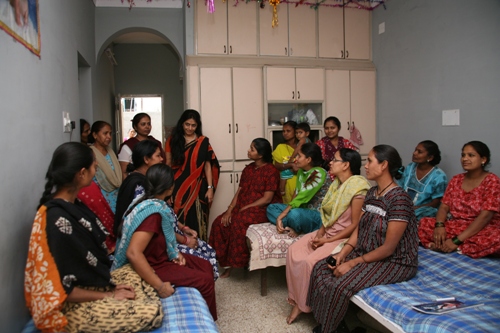 Dr Nayana having a conversation with the surrogate mothers at Akanksha

Dr Nayana personally counsels the surrogates on the health and emotional risks of surrogacy before signing a contract with them.

Once they are selected, throughout the period of pregnancy until their delivery, they are provided accommodation, a healthy diet that is monitored by a dietician, and offered the option of learning courses like spoken English, embroidery, and beauty parlour during their leisure time.

On an average the clinic charges Rs. 14 lakh for a surrogacy. It includes charges for IVF (in-vitro fertilisation), payment for surrogate, her accommodation, medicines, food, delivery charges, and ante-natal check up.

"We don't charge for recruiting a surrogate," Dr Nayana clarifies, adding, "and all our payments to the surrogate are only by cheque."

Dr Nayana is concerned about welfare of her surrogates and wishes to maintain a lifelong bond with them. She fought with IT officials who wanted to deduct TDS from their earnings and stalled the proposal.

She has set up Anand Surrogate Trust, which offers financial assistance of up to Rs. 25,000 to surrogates who might have medical problems.

Every year the trust provides school bags and books to their children and offers a scholarship of Rs.5000 each to 100 children.

Dr Nayana has a clear perspective of her venture. Akanksha is a unit of Sat Kaival Hospital Private Limited, whose turnover was Rs.29.40 crore in 2014-15.
She is the company's managing director. Her orthopaedic surgeon husband Dr Hitesh Patel, who now looks after the administration of Akanksha, and son Niket - doing his MD final year in gynaecology at PS Medical College in Karamsad, Anand - and daughter Mitali, a dentist, are directors in the company.

While she has no qualms in admitting that what she is doing is a business, she is wary of expanding it too fast because she is not sure if others would be as caring or committed as she is.
"I could have done thousands of surrogacy cases but I limited myself to 30-35 cases each month. It is humanly not possible to involve in each and every case if the numbers go up," she says.

In 2007 she was featured in the popular Oprah Winfrey show, after which there were tens of thousands of enquiries from around the world.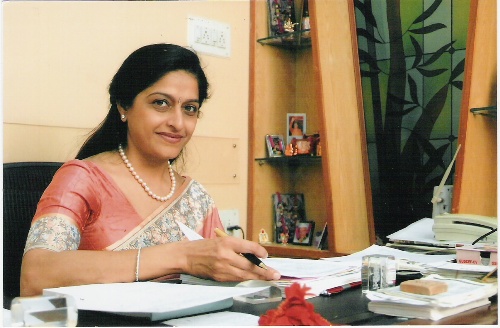 Dr Nayana has refused to look at surrogacy as a money spinner

But she chose to work at her own pace, even if it meant losing revenue. "There were several franchisee requests, but I declined it," she says.

Also, as a policy she consciously caters to one third Indian, one third NRI, and one third foreign couples in surrogacy cases.
Dr Nayana has come a long way since she started her private practice in Anand in 1991 as an obstetrician, gynaecologist.
Hailing from a respectable family in Rajkot, the fourth largest city in Gujarat, she has inherited her mother's zeal for social work, and her barrister father's courage.

"My father took part in the freedom movement. He was a true Gandhian and did not touch an egg or liquor even during his stay in London for his barrister studies," she says.

Dr Nayana was the last among seven siblings. It was her mother's wish that one of her children should study medicine.

Since none of the other siblings chose medicine, it was left to young Nayana, a topper in studies, with an ambition to become an IAS officer, to fulfil her mother's dream.

"I did my schooling at Nirmala Convent, Rajkot. I was an all-rounder, a girl guide, who loved dancing and sports."
The school gave her exposure to serving the poor. She remembers visiting tribal habitations as a small girl, and cutting the nails, cleaning the teeth, and washing the hair of the tribal people.

Dr Nayana studied MBBS at Saurashtra University in Jamnagar, where she met Hitesh, who was one year senior to her and fell in love with him. Later she did her MD in obstetrics and gynaecology.

She worked as an assistant professor at P S Medical College, Karamsad (1987-90) and M P Shah Medical College, Jamnagar (1986-87) before starting Kaival Hospital at Anand in 1991.

Rs. 10 lakh was invested in a building that was bought to set up the hospital. She, along with her husband and father-in-law got bank loans of Rs.2.5 lakh each. Her father-in-law gave her the balance Rs.2.5 lakh.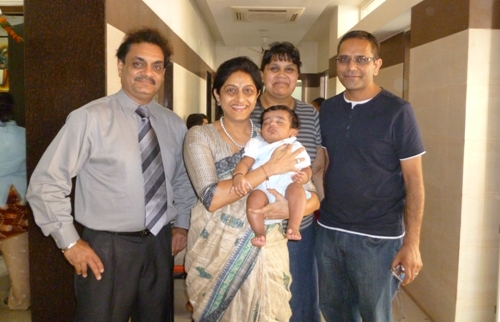 One of the Indian families that owes its gratitude to Dr Nayana

As her income increased, she continued to invest in good equipment. "I got my first sonography machine in 1993 for 2.78 lakh," she says, admitting that she was a bit nervous then in making that investment.
Two and a half years ago, she did not think twice before ordering an embryoscope for Rs.80 lakh to increase the IVF success rate.
"To give good results you need good equipment," she insists.
In 1999 she started Akanksha after undertaking some IVF courses. "People used to laugh and say how IVF could work in such a small town," she recalls.
When she started IVF practice, surrogacy was never in her mind. If anyone approached her for a surrogacy, she would ask them to find a surrogate or suggest that they go for adoption.
It was only in 2002 that she was compelled to start the process on humanitarian grounds when an Indian couple from UK sought her help and the girl's mother agreed to become a surrogate.
In 2004 the mother delivered twins for her daughter and the media went to town with the story of 'grandmother surrogacy'.
It would have remained a one-off incident had it not been for Kundal, one of her mid-wives, who expressed her willingness to let her daughter become a surrogate for a couple that approached Dr. Nayana a few months later.

Kundal's daughter was facing financial difficulty and when the couple offered to pay Rs.2.5 lakh for a surrogate, she requested Dr Nayana to let her daughter be the surrogate as she was in need of money.

"I thought it was a good arrangement. The couple got their baby and the girl got her money. When word spread about this, other women too started approaching us," says Dr Nayana.
That set the ball rolling and Akanksha soon became the hottest destination for couples who were in need of a surrogate mother.

Akanksha will have a new address soon. A state-of-the-art facility on the outskirts of Anand with 1 lakh sq feet built up space is nearing completion.
While the new buildings have been designed for IVF and surrogacy treatment, Dr Nayana's dream is to build a multi-speciality hospital on the premises in the future.


This Article is Part of the 'Amazing Entrepreneurs' Series

MORE AMAZING ENTREPRENEURS
Raj Kumar Gupta, Chairman, Mukti Group
B Soundararajan, MD, Suguna Holdings
Raghu Kanchustambham, CEO, ConceptWaves
C K Kumaravel, Co-founder, Naturals

Trending Now: