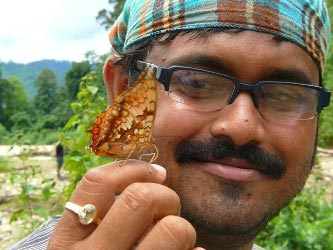 A flutter of idea
Chasing butterflies is every child's play. But for Arjan Basu Roy their conservation is a passion. He tells Lesley D Biswas why butterflies should flutter around and what he has done for it

Green Dream
When drought hits the farm town to which he had just moved in, what can an engineer do? He embarks on a journey into farming. Sharada Balasubramanian takes a walk down memory lane with him

Water war
India's Silicon Valley may run out of water. Sounds frightening? Well, it could be prevented if Jeff D'Lemos is given a free hand to help Bangalore harvest rain water, says Marianne de Nazareth

Birds and gardens
The manicured lawns may look elegant but they did not sustain bird or insect life. That is one reason the common sparrow has vanished from Bangalore, Dr Krishna MB tells Marianne de Nazareth

Saving sparrows
That the number of the humble house sparrow is dwindling prompted Mohammed Esmail Dilawar to do something about its conservation. Rama Devi Menon gathers details about Nature Forever Society

Green Dreams
Inspired by the greening of deserts in Gulf nations, a man from Kerala dreamt of turning a lateritic hill back home into a forest. Did P Abdul Kareem do it? AP Muhammed Afsal finds out.

A clean man
A successful chartered accountant crusading for people's causes is not common. But Subhas Datta has been doing it for 35 years in Howrah. He may even launch a Green Party, says Rina Mukherji.

Old man and a river
Robin Paul, the 72-year-old 'Green'man of Bhawanipur, now looks up to the youth to realize his latest dream of cleaning up one of Kolkata's filthiest creeks. Saborna Roychowdhury is amazed.