The water man who can help Bangalore

Marianne de Nazareth
&nbsp | &nbsp Bangalore
22-October-2010
Vol 1&nbsp|&nbspIssue 8
Behind the bustle and hectic developmental activities in Bangalore, there lurks a threat that many have not taken note of yet: Water shortage. But one man has already started working on that and may help more people surmount the problem before it hits them hard. He is Jeff D'Lemos, a rain water harvesting specialist, who is now being sought after by some.

Driving out with him to Sarjapur Road, one gets a firsthand view of the projects he has set up to tap rain water and recharge the depleted ground water table. At the house of B Raghu in Green Glen, which is in Bellandur behind the Salarpuria Soft Zone on the Ring Road, D'Lemos had set up pipes to harvest the rain off the building's roof and channelise it to his sump and also to recharge his dry bore-well. There is no water from River Cauvery to this layout and so the residents depend on bore-well water.

What was meant to be a layout with bungalows has become a concrete jungle of flats with the software boom. "Mine was the only house in an open area of plots three years ago," reveals Raghu. Today he is almost choked with flats coming up on every similar plot.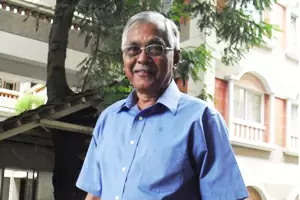 The rain water harvesting facility that Jeff D'Lemos set up in an apartment resulted in a daily saving of Rs.500 for the residents
"Each apartment block has 30 flats so we can look at an average of 120 people living in one building. Calculate, if one person uses 100 litres of water per day and that for 365 days, what is the quantum of water needed?" asks D'Lemos.

No wonder all bore wells around are going dry. They have already hit over 900 feet to get water here. "The geology of Bangalore's soil is clay on top, soft rock lower, medium rock below that and granite at the bottom," explains the expert. "Therefore one cannot just dig shallow holes where the rain collects and expect that to replenish the water table, the clay soil prevents that. There are three options to harvest rain water. The rainwater can be collected and sent to fill an underground sump, or the water can be directed to recharge the bore-well if the roof area is less than 100 sq meters. The third option is to channelize the water into an open well."

In a nearby apartment block, a water tanker is unloading water for the residents who need to buy two tankers each day to survive. Santosh Hebbar, one of the residents, reveals that they pay Rs 32,000 per month only on water.

"Now with Jeff setting up the rain water harvesting system in just a few days we have cut down buying two tankers to one, which is Rs 500 per day saved. In a matter of a few months all our investment in the system will be recovered. Jeff does not charge what are considered commercial rates," he says.

When asked why he does not charge commercial rates, D'Lemos says: "I want to start a movement here in Bangalore, a self help movement, to educate people, to help themselves. I am also glad the government has made rain water harvesting mandatory in new buildings in Karnataka. Since the rains have been plentiful in Bangalore we need to capture that plenty and recharge the water table that we have been depleting for 40 years. That underground water took years to build up as reserves. If we realize how necessary it is for us to recharge it to ease our water scarcity, only then can this movement take root."

Wish to share your story?
Trending Now: