His Public Interest Litigations have saved many a green park

Rina Mukherji
&nbsp | &nbsp Kolkata
10-September-2010
Vol 1&nbsp|&nbspIssue 2
Growing up in an urban slum, Subhas Datta, whose family migrated from East Pakistan in 1950, felt that "every one of us had a right to a decent home, and clean surroundings."

Even after getting those necessities through sheer grit and hard work that saw him as a qualified chartered accountant, the childhood resolve still remains in his heart. Though he has crossed 60 years, the zeal continues to drive him to take up public causes.

As a non-legal person, he perhaps holds the record for filing the highest number of Public Interest Litigations in courts and winning most of them – 62 out of 67. In spite of this awesome track-record, he remains unassuming, shunning publicity, and avoiding giving lectures from public platforms.

He had embarked on his mission by organizing unemployed youth and demanding suitable jobs for them. It bore fruit with about thirty youth landing government jobs. Before launching the Howrah Ganatantrik Nagarik Samiti in 1977, he took the administration to task and again won. "Those days, calling a strike demanding bonus and other benefits during August-September was an annual ritual by conservancy workers in Howrah. The strike would continue indefinitely for long periods of time, and the public would face inconvenience due to overflowing drains, and putrid smells all over. In the company of some like-minded neighbourhood friends, I decided to take the administration to task. The District Magistrate intervened, and the strike was called off in 3 days flat," recalls Datta.

From 1977 to 94, Datta and his Samiti took up several civic issues in Howrah. Some of the protests were against mosquito menace, bad telephone services, the non-functioning of the sewerage plant, poor train services, choked drains, contaminated drinking water, non-availability of kerosene, mismanagement of General Hospital and the wholesale fish market and erratic billing for power consumption.

In 1994, Datta changed tack. "I started taking up some of the issues with the Calcutta High Court," he says. At that time, there was a plan to convert Belilious Park into a commercial complex. Datta organized several agitations and filed a petition before the court, which issued an order against the plan. Similarly, he prevented the construction of an auditorium –Sarat Sadan- on the Howrah Maidan or Centenary Park, the rare surviving green lung in Howrah, which had been earmarked as an open space way back in the mid-18th century. He also put an end to the indefinite blocking of pavements around the railway station on the pretext of repairing them.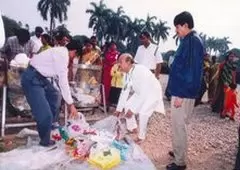 Datta and his team cleaning the Victoria Memorial Compound
Subsequently, when the 300-year old Botanical Gardens at Shibpur, Howrah, had been facing theft of its valuable flora, contamination of its water bodies, and pollution of its premises by picnickers, he gave the garden a new lease of life.

When unable to stir the authorities into action, he tries mending matters himself. When water bodies get polluted due to the immersion of idols, Datta and his volunteers clean the waters themselves. When the question of cleaning up the garbage-strewn Victoria Memorial arose, Datta was in the forefront, picking up the polybags, plastic bottles and waste. If trees are felled, Datta takes the initiative to plant saplings at the exact spot where the trees once stood.

At the personal level, his integrity is above board. As a chartered accountant, he refuses to manipulate figures. Neither does he believe in bestowing favours to anyone who dares to flout the law where environmental pollution is concerned. "I have no business in questioning anyone unless I am clean," he declares with conviction.

In spite of taking the best precautions, it has been no easy ride for him. He has faced 15 criminal cases against him, two accusations of attempt to murder officials, and a charge of molestation - all of which were proved false. He has always resisted the idea of joining hands with political parties, but he may launch a Green Party to give voice to environmental issues.

Today, his name is so well-known that any letter addressed to Subhas Datta , Environmental Activist , Howrah, will reach him.


Trending Now: