The hanging garden of Hyderabad is an inspiration for nature lovers

Rama Devi Menon
&nbsp | &nbsp Hyderabad
12-November-2010
Vol 1&nbsp|&nbspIssue 11
It is a dream that never gets realized for many: To have a lush green garden around the house. With land prices ever on the increase in a city, the dream garden is allowed to wither away from want of land. But it was not the case with G Krishna Rao of Hyderabad. He had developed a garden with a variety of plants on the roof of his 900-square-foot house against all odds. For, it is not that easy to develop a garden on the roof, unlike sprouting greenery in pots on the windows and balconies, since it is extremely susceptible to water seepage.

In contrast to other types of gardening, a terrace garden requires detailed planning and one needs to prepare a solid flooring to avoid seepage of water, install a proper drainage system to drain excess water and select appropriate plants whose roots do not damage the building edifice. In addition to the decorative benefit, roof gardens help provide fruits and vegetables, display an ability to reduce the overall heat absorption of the building, and offer an area for recreation after a tired day at work.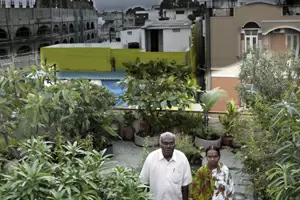 Blessed couple: G Krishna Rao with his wife Vinayaki Bai at their terrace garden in Hyderabad
Knowing all this, 65-year-old Rao, a businessman owning a printing press, and his wife G Vinayaki Bai, started planting saplings on the second floor of their residence in Gowliguda Chaman in 1986. Their first plant was a guava tree, after which they gradually experimented with various species of plants.

Rao's roof garden is considered to be one of the oldest roof gardens in the city. Currently, Rao's roof garden boasts of 150 varieties of trees, 80 medicinal plants, 20 flowering plants, and 50 fruit bearing trees such as guava, mango, badam or the Indian almond tree and sapota (chikoo).

Rao's keen interest in gardening ensured that he also planted some uncommon varieties of trees including biryani patta, cloves, betel, cardamom, sugarcane, Shivaji flower, raat ki rani, dhin ka raja, sliver tree, and Mimosa pudica or touch me not. The guava tree is eight feet tall, the sugarcane reaches a height of 10 feet, the coconut tree 5.5 feet, the badam tree 6 feet, the sliver tree 9 feet, and the mango tree is 5 feet and 7 inches tall. Rao also has an impressive collection of bonsais and ornamental plants.

His dedication and patience in developing the roof garden has paid off since he has bagged ten awards so far in this category in the annual contest conducted by the Andhra Pradesh Department of Horticulture during the last decade. He received the First Millennium Award in 2000, and Rolling trophies in 2001, 2002, 2003, 2004 until 2007.

Rao says gardening has been a passion since his childhood and he didn't think twice before planning a roof garden given the scarcity of land and the exorbitant real estate rates in the city. He spends just Rs 200 per annum on maintaining his garden, but the fruits of his labour are sweet since he gets to eat the fruits grown in his garden sans the chemical fertilizers and pesticides.
Wish to share your story?
Trending Now: