A nature lover's concern for an unglamorous little bird
Rama Devi Menon
&nbsp | &nbsp Hyderabad
24-September-2010
Vol 1&nbsp|&nbspIssue 4

The house sparrow (Passer domesticus) is like the common man in Indian democracy. An ignored species since it has little glamour when compared to other colourful flora and fauna," says Nasik-based environmentalist Mohammed Esmail Dilawar of the Bombay Natural History Society (BNHS). Dilawar has been working for the cause of conserving house sparrows for more than five years and in 2008, the TIME magazine recognized him as the "hero" of the environment for his relentless efforts.

Dilawar says he is extremely proud that an Indian has been chosen for this prestigious award that has made him stand tall along with other winners of the title like Mikhail Gorbachev, Prince Charles, Sir David Attenborough and Nobel laureates Al Gore and Wangari Maathai. The award also helped tremendously in raising awareness on the plight of the house sparrow, whose numbers are steadily declining, he acknowledges.

Thirty-year-old Dilawar, who has done his masters in environmental science and ecology, worked as the head of the department of environmental awareness at his alma mater in Nasik for a year before joining the BNHS in 2005. The Indian ministry for environment and forest has initiated a three-year project, headed by Dilawar, to help save the house sparrow in India.

But Dilawar's quest for bird conservation dates back to his early childhood when he began observing various species of birds that flocked his school and the municipal park near his house. Hundreds of sparrows would flock in for grains at his grandmother's house in Nasik and his mother would tell him that the sparrows would not eat if he refused to have his lunch of dinner. He would spend hours together watching wild flowers, butterflies and the birds while his peers played at the park. "I learnt directly from nature since I had no access to related literature or television channels like the National Geographic or Animal Planet or the internet during my childhood," says Dilawar.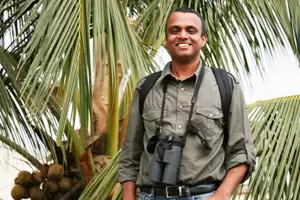 Dilawar: a real life hero who is fighting for conservation of the cute sparrows
Dilawar started the Nature Forever Society because he wanted an organisation that would work for the conservation of house sparrows and common biodiversity. "Although Nature Forever Society is a small organisation, its goals are not small in any way. There is no institutional support and we raise our own funds by selling the nest boxes and feeders," says Dilawar. The nest boxes are made from recycled pine heart wood and eco-friendly paint and are available in various sizes at prices starting from Rs 250. "Bird lovers have taken more than 3,000 nest boxes and feeders from us so far," says Dilawar.

It is extremely important to involve the common man in conservation efforts as it is more effective than a handful of environmentalists working in research labs, he says. Nature Forever Society celebrated the first World House Sparrow Day, an international initiative, on March 20, 2010, in collaboration with the BNHS, Cornell Lab of Ornithology (USA), Eco-Sys Action Foundation (France) Avon Wildlife Trust (UK) and numerous other national and international organisations across the world.

Dilawar began working on house sparrows seriously after reading a research paper from the UK that reported a decline in house sparrow population. "Just like the common man, the house sparrow plays an important ecological role, which is often overlooked by people. It is the common man who fuels the economy, but he is the one who never gets any privileges. This is because of an utter lack of awareness in our country on matters of education, civil rights, laws," says Dilawar


Trending Now: