"We teach them good values, and emphasise on gender equality"

P C Vinoj Kumar
&nbsp | &nbsp Kanchipuram
11-May-2015
Vol 6&nbsp|&nbspIssue 19
At Naatrangal Children's Home in Kanchipuram, about 70 km from Chennai, the inmates enjoy plenty of freedom; they can play, fight with each other (and patch up later), and even go easy on studies without the fear of being expelled from the home.

They lead normal lives like the children who live with their parents - not acting like angels all the time, and being as happy as they can be.
Sharadha Devi wants to ensure a homely atmosphere for the children in her care (Photos: H K Rajashekar)
At Naatrangal, a home for orphan and destitute children, 12 boys and eight girls in the age group of 6-20 reside in a 1800 sq ft property on the first floor of a rented building.

Sharadha Devi, a senior manager in Indian Bank, who started the home with ten others in 2007, wishes to bring up these children like her own. "I don't force my children to study. I tell them about benefits of learning," she says.

That's the strategy she adopts with the children at Naatrangal. She tells them they can find good jobs and lead a comfortable life if they study well.

"The attitude of the children usually begins to change gradually and they begin to show more interest in studies," says Sharadha, 43.

The children study at nearby government schools or colleges. They have a regular study time in the evenings. Volunteers visit the home to take classes on weekends and some children are even sent for private tuition.

Sharadha's vision is to raise her wards as responsible citizens, who would live with self-respect and dignity.

Like seedlings raised in a nursery – 'Naatrangal' means seedling nursery in Tamil – she is preparing the children to move into the real world as well-equipped adults, who will be able to face every challenge in life.

"We teach them good values, and emphasise on gender equality," says Sharadha, who says she is a feminist, but not an 'anti-male'.

"Women need to be assertive. We train our children to be bold," she adds.

Girls are taught songs on women's rights. M Anu, a second year B.Com (banking management) student at Kanchi Sri Krishna Arts & Science College sings a Tamil song she has been taught that focuses on issues like women empowerment and social justice.

Anu comes from a broken family and was a child labourer. She joined the home as a 13-year-old and is now preparing to be a banker.

Little D Siva Kumar, studying in Class Three had won a oratorical competition at school recently, but is scared to repeat the speech in front of me.
"He is a bit shy, because he came in recently. We will shape him into a confident person," says N Subramanian, one of the founder trustees of Naatrangal Charitable Trust that runs the home.

The children are in high spirits as they are being taken on a vacation to Bangalore and Mysore during the weekend.

In the last eight years, Naatrangal has looked after more than 100 children. Every year about 7-8 children leave the home after their education.

Two past inmates got engineering degrees and five others diplomas. Ten children completed ITI (Industrial Training Institute) courses and they work as automobile mechanics, electricians, or fitters.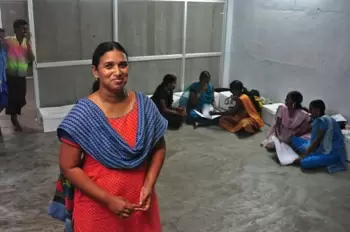 Shardha started doing voluntary work since her posting at an Indian Bank branch in Kanchipuram in 2005
"One of them visited us recently to invite us for his wedding. He is working as a car mechanic and making about Rs.10,000 a month," says Sharadha.

Mother of three daughters - the eldest is 21 – Sharadha has had a difficult personal life. She was born in a middle class family in Chennai, but her parents separated when she was just 11.

She grew up with her father and left home at 18 when she was an undergraduate doing her BA English Literature in Presidency College to marry the person she had loved.

The marriage broke up after few years. She had two little daughters to look after, but by then she had a job in Indian Bank and it was a source of support for her.

Sharadha remarried and got a transfer to Mumbai in 2001. Four years later she got a posting at a branch in Kanchipuram.

It was in this town she started her voluntary work and began teaching at Thulir, a night school for child labourers, which was an initiative of Tamil Nadu Science Forum.

"They had five centres and I used to take classes every night," she recalls.

During weekends she would visit local orphanages and take English classes for the children and focus on their personality development. She also used to travel to a nearby village called Kooram on Sundays and teach children there.

She met many likeminded people, some of whom encouraged her to start a home of her own, after they saw her dedication.

In 2007 she started Naatrangal. The home is run with the help of donations from friends and well-wishers.

"Some of my colleagues at Indian Bank and few college friends support us," says Sharadha, who has authored two Tamil books – 'Ulai', a collection of poems, and 'Ellarukkum Ellam', a collection of short stories.

Naatrangal is currently raising funds to purchase land for constructing a building of their own to house the children. "We are looking for donors to help us complete the project," says V S Shanmugam, the warden at Naatrangal.

This Article is part of the 'Unsung Heroes of Tamil Nadu' series
Other Articles in the Series
The hearts of these former Chennai Presidency College students beat for village kids
A life devoted to giving dignity and a home to the unwanted and abandoned
Priya Amma's tuition centres are changing the lives of underprivileged children
A Tamil lecturer doubles up as an owner-worker of a free school for destitutes

Trending Now: