Priya Amma's tuition centres are changing the lives of underprivileged children

P C Vinoj Kumar
&nbsp | &nbsp Chennai
04-October-2014
Vol 5&nbsp|&nbspIssue 40
In one of the narrow alleys of Korrukupet in North Chennai, where houses have been built so close to each other that you would think they had common walls, and front doors of houses open to the street, around 40 children are huddled in a 50 sq ft asbestos roofed room on the first floor of a multi-tenanted building.

It is one of the 29 tuition centres for underprivileged children run by Gold Heart Foundation, an NGO founded by G Sripriya, who works as a teacher at a local government aided school.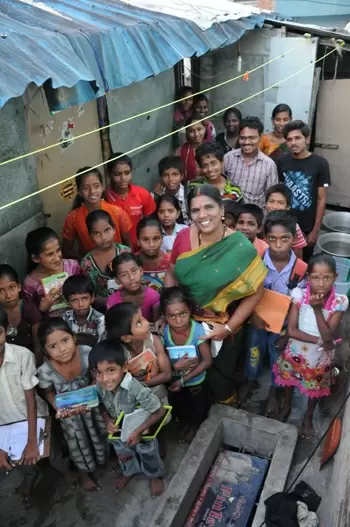 Sripriya's Gold Heart Foundations is teaching around 830 underprivileged children through their 29 tuition centres (Photos: Media Ramu)
Volunteers at the centre provide guidance to students from classes 1 to 12 every evening and help them in their studies. "The children come from very poor backgrounds. Their parents do small jobs. Some of them are scavengers and sweepers.

"Most families in this neighborhood live in single room houses, where the atmosphere is not conducive for learning," says 38-year-old Sripriya, who is affectionately called as 'Priya Amma' by the children and her team of volunteers.

Harish, the centre-in-charge, has a regular day job as an accountant. In the evenings he volunteers at the centre. He can speak both Telugu and Tamil. It is an advantage for him since the mother tongue of many children who come to the tuition centre is Telugu and they study in Telugu medium schools.

Harish says the academic performance of the children improves after they join the centre. Indeed the children have interesting stories to tell.

Sethuram, a class six student from a government aided school, says he failed in class 4. After joining the tuition centre, his performance has improved. "Now I get second rank in class," he says proudly.

A class 6 Telugu medium student from the same school, Srilakshmi, says she stands first in her class. Her father works as a sweeper in a local hospital. Her ambition is to become a police officer.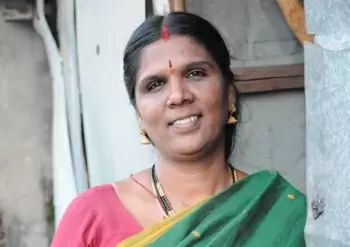 Sripriya is Amma (mother) to all her students
Though she grew up in North Chennai, Sripriya was not exposed to the hardships of people living in the many slums there till recently.

"Both my parents were teachers. I learned from my parents that as a teacher you must be like a parent to your students.

"Even though I became a teacher at a young age, I told myself 'I am not (only) a teacher, I am a mother to each one of my students'," says Sripriya, who has a bachelor's degree in education, two PG degrees, and an MPhil.

She teaches at Motitlal Fomra Boys Higher Secondary School, where students come from middle and lower middle income group families.

It was a volunteer from Vishwa Seva Educational Trust who invited her to visit a school in Sowcarpet where underprivileged children were studying, and help them in their studies.

In 2007 she visited the school and was taken aback by the vulgar language the children were using and their shabby appearance.

"It was a new experience for me. I was shocked by their behavior. I refused to go back, but the person who took me to the school and the school's headmaster requested me to meet the children one more time and interact with them.

"When I went back, the children came rushing to receive me shouting 'Priya Amma has come..!' I was overwhelmed by their love and affection. I decided to work with them then," she recalls.

Later on, her heart would break when the children would matter-of-factly tell her about the situation in their homes. She heard tales of drunken fathers who would beat up their mothers, of fathers deserting the family and living with another woman, and mothers eloping with their paramours.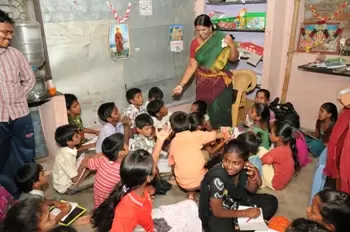 Around 40 children attend the tuition centre in Korrukupet
The school had secured 29 percent result in class ten board exams the previous year. Sripriya focused on the tenth class students and tutored them during after school hours.

"A few engineering college students became my first volunteers. We would take classes from 5 pm to 7 pm at the school," says Sripriya.

Their efforts bore fruit when the school achieved 65 percent result in class ten board exams that year. It was the most satisfying moment for Sripriya.

By 2009-10, she and her team were working in 8 more schools in North Chennai. Soon, children from the nearby slums invited her to start classes in their neighborhood.

Gradually Sripriya stopped the classes in schools and began to open tuition centres in slums. Today they have 4 tuition centres in North Chennai and 25 in Tiruvannamalai district, where a total of around 830 students are getting benefitted.

A core group of about ten volunteers plan the activities for each centre and raise the funds from donors, many of whom make a monthly contribution of Rs.1000. About 30 volunteers at the tuition centres are paid a monthly honorarium of Rs.1000 each.

"Every month we need about Rs.50, 000 to run these centres , which includes rental and maintenance charges of the centres," says Sripriya.

This year they distributed scholarships worth Rs.6 lakh to 140 school and college students. They also hold an annual get-together for children in the tuition centres and from other homes and orphanages in the Diwali season.

"There are around 60 volunteers who help us in different ways," says Sripriya. Lakshminarayanan and V Yuvaraj are two other trustees of Gold Heart Foundation, who are pillars of support to her.

"Besides academics, we teach moral values, and focus on personality development as well," says Sripriya, whose husband works as stores-in-charge in an MNC. Her son is studying in class 11 and wishes to become a cardiologist.

This Article is part of the 'Unsung Heroes of Tamil Nadu' series

Other Articles in the Series

Give and give is the motto of the man who has dedicated his life for others' welfare

A Tamil lecturer doubles up as an owner-worker of a free school for destitutes

Trending Now: