A life devoted to giving dignity and a home to the unwanted and abandoned

15-December-2014
Vol 5&nbsp|&nbspIssue 50
A mobile number is given on the website of Agal Foundation with a message to call the number for rescue "if you find somebody suffering" in the streets.

Agal's founder S. M. Venkatesh is compared to Mother Teresa, and the website states that he has rescued hundreds of people from the streets, including the destitute, abandoned children, and mentally ill persons.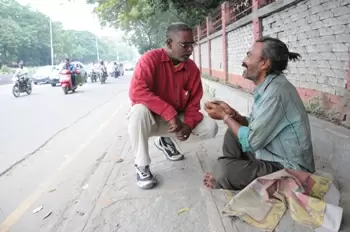 Venkatesh chats up with a homeless man near Central Railway Station (Photos: Media Ramu)
I dial the number given on the website, and lie to Venkatesh, who takes my call, that there is an emergency and an old man needs urgent help. Venkatesh wants to know where I am calling from, and I give him a location.

He gives me another number and asks me to convey the message to the person. I call the man and repeat the story.

"Where are you now? Is the elderly person still around," the man asks. I maintain the story, and say I am in Mount Road, near the LIC Building. He hangs up, saying someone would contact me soon.

Ten minutes later I receive a call from an ambulance driver who says he will reach the location shortly to pick up the old man.

The truth hits you one more time that there is still humanity left in this world. It is people like Venkatesh, and his associates, society's silent heroes, who restore that faith time and again.

I apologize to everyone I had called with the false information and tell them I am a journalist working on a story on Venkatesh.

"Venkatesh is one of our trusted volunteers. He has rescued 300-400 old people, since the Helpline (1253) for the elderly was launched in Chennai 11 years ago," says R. Muthukrishnan, senior manager, Helpline, Helpage India, who had rushed the ambulance after I had spoken to him.

Helpage India, an organization for disadvantaged elderly persons, takes the help of volunteers like Venkatesh to rescue elderly people from the streets and admit them in old age homes.

"Venkatesh had been helping people in distress even before the elderly Helpline was started in 2004.

"Now we collaborate together. We request him to respond to rescue calls that we receive at night, since our staff work only between 9 am to 6 pm. He does the job without any expectation. The organization pays only the actual transport charges involved in the rescue effort.

"If he is unable to go, he would assign the work to another volunteer. Similarly, he informs us when he receives a distress call and for some reason he is unable to go for the rescue," says Muthukrishnan.

Venkatesh works at the Tamil Nadu Secretariat in Chennai as a record clerk, which is a grade higher than the office assistant appointment that he got in 2007 at the age of 42.

"Who would have thought a 10th Class failed candidate would get a government job at the age of 42? I believe it is because of the blessings of those dying souls I rescued from the streets and cared for during the last moments of their life in this world," says Venkatesh.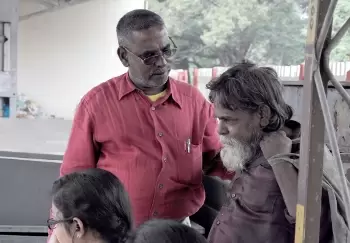 Venkatesh picks up a conversation with a mentally ill person at a suburban railway station in Chennai
Venkatesh has a record of the mentally ill people he had rescued and admitted in various homes in Chennai. "I have tie-ups with organizations that work with the elderly, mentally ill and children. I have a team of auto drivers in the city who help me in my rescue missions," says Venkatesh, who is a regular visitor to Anbagam, a home for mentally ill orphans.
"He has a knack of handling violent patients. He would have rescued not less than 500 mentally ill persons and admitted them in homes in the last 15 years," says E Charumathi, a railway employee and one of the trustees of Anbagam.
She adds that Venkatesh has helped in reuniting several mentally ill patients with their families.
"Last week he took two women he had rescued and admitted in Anbagam back to their homes in Itarsi, Madhya Pradesh. He takes the help of Lion's Club to contact the families of the patients from other States."
Venkatesh had done all kinds of jobs in the past. He had worked as a courier boy, construction worker, and even as a compounder in a clinic. But right from the days he started working he used to take accident victims to hospitals, and show kindness to homeless people he met on the roads.
Venkatesh lives in a single-room tenement in Thiruvanmyur with his wife and two children. His son is a swimming coach and his daughter is doing her Masters in social work at Stella Maris College.

The house they live in may be small, but the smiles on their faces are big, as big as their hearts.

This Article is part of the 'Unsung Heroes of Tamil Nadu' series
Other Articles in the Series
Priya Amma's tuition centres are changing the lives of underprivileged children
A Tamil lecturer doubles up as an owner-worker of a free school for destitutes
Wish to share your story?
Trending Now: