The hearts of these former Chennai Presidency College students beat for village kids

P C Vinoj Kumar
&nbsp | &nbsp Chennai
23-March-2015
Vol 6&nbsp|&nbspIssue 12
A group of friends with rural roots, who studied together at Presidency College in Chennai, decided to give back to society by motivating underprivileged children in the villages to aspire for a better future.

They started an NGO, Vazhai, in 2005, and selected 12 Class Eight students – eight boys and four girls - for mentoring from five different schools in the socially and economically backward region of Pennagaram in Dharmapuri district.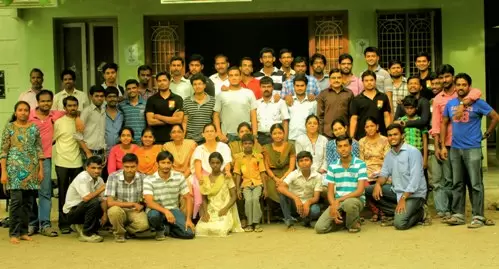 Vazhai has a team of 200 active mentors, who are based in Chennai and Bangalore

"We taught them life skills and the importance of learning. We wanted to create self-confidence in the children," says P Amutharasan, an IT professional and one of the co-founders of Vazhai.
In the subsequent years, Vazhai – which is the Tamil word for Banana plant – took roots and spread to the neighbouring Villupuram district.

Mentors, who are based in Chennai and Bangalore, mostly from the IT field, keep in touch with their mentees over phone and travel to Dharmapuri and Villupuram districts every two months for conducting workshops for the children.

Vazhai comprises other volunteers, besides the mentors. "Some are involved in organising the workshops. Others provide monetary support," says IT professional S Saravanan, a first generation graduate from a village near Erode, and an active member of Vazhai since 2009.

Volunteers try different roles. S Mujeebudeen, who has his own computer sales and service centre in Chennai, was a mentor initially, but now helps in organising the workshops.

"Mentees need constant care. I could not do justice to my role as mentor, so I opted out," he says.

Children are mentored from Class Six to Class 10. Every year a new set of children are chosen from Class Six and are mentored till they complete Class 10.

"Our mentees are first generation learners from poor families and most mentors too are first generation graduates.

"We have mentored around 500 children till date. Our earliest mentees are in college now. Three are studying BE, one is doing ME, and couple of others are undergraduates either in arts or science subjects," says Amutharasan.

"Vazhai changed the course of my life. I am indebted to them," says R Sagadevan, a final year student in electrical and electronic engineering. Son of a construction worker, he was among the first batch of children that Vazhai mentored.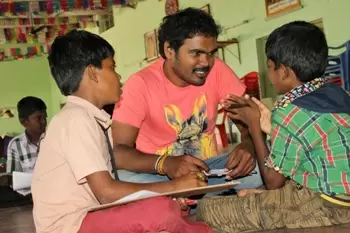 Vazhai has mentored around 500 children till date. The first batch of mentees are in college now
At present around 180 children are being mentored by Vazhai through periodical workshops that focus on developing the confidence, language, and creative skills of the children.

There are around 50 women mentors with Vazhai – out of a total of 180 - and an equal number female mentees. The workshops that are usually held during the weekends provide opportunities for the mentors to interact one-on-one with their mentees.

"We hold the workshops usually at wedding halls where the mentors and children stay together for couple of days and interact in an informal atmosphere.
"We try to develop the habit of reading and make interesting books available at the workshop to kindle the curiosity of the children. They invariably pick up the books and start reading it. We also gift books to them to read," says S Anbusivam, an IT professional and another co-founder of Vazhai, who is based in Bangalore.
Amutharsan adds that they teach the children to read and write English and Tamil in the workshops. "If a child is able to read and write well, then it becomes easier for him to build on the foundation and pursue higher studies.
"Sometimes we go to explore nearby historic monuments or teach the children swimming. It creates a sense of bonding and also develops the self-confidence of the children," he says.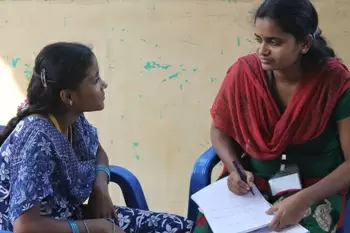 Around 50 women volunteers mentor an equal number of female mentees
Amutharasan says even at the outset they decided not to give financial support to the children. "As the saying goes, 'give a man a fish and you feed him for a day; teach a man to fish and you feed him for a lifetime.'

"We wanted to pass on the knowledge we had gained, and our skills to them. Our dream is that these children should become mentors for others like them one day in the future."

Amutharasan belongs to Karur, a small town in Tamil Nadu, and graduated from the Government Arts College there. His father worked in the Indian Army Corps of Signals.

"My father completed PUC (Pre-University Course, which was the equivalent to Plus 2 in the past) and joined the army. Like me, all founding members of Vazhai are first generation graduates," says Amutharasan.

Amutharasan got his first exposure to city life when he joined Presidency College in Chennai for his Masters in Computer Application. Staying at the college hostel, he made a lot of friends and learned about new things.

"I knew about IIT only after I came to Chennai. There were others like me from villages or towns in our college, who were equally ignorant. But we made efforts to improve our knowledge," says Amutharasan.

He and his friends passed out of Presidency in 2002. They met three years later to start Vazhai, which like the plant it is named after has produced much fruit since its inception.

This Article is part of the 'Unsung Heroes of Tamil Nadu' series
Other Articles in the Series
A life devoted to giving dignity and a home to the unwanted and abandoned
Priya Amma's tuition centres are changing the lives of underprivileged children
A Tamil lecturer doubles up as an owner-worker of a free school for destitutes

Trending Now: