As Rotary creates Happy villages, TWL hopes to create a better world through readers
23-August-2012
Vol 3&nbsp|&nbspIssue 34
For those interested in positive news, this one is a must read. There is good news for you. Do you know in recent years many Indians have turned change makers, leaving behind lucrative careers and stepping out of comfort zones to transform the lives of others?

These remarkable individuals have changed the lives of thousands of people by providing them access to health, education, drinking water, sanitation, energy, and employment, and bestowing on them dignity and self-respect.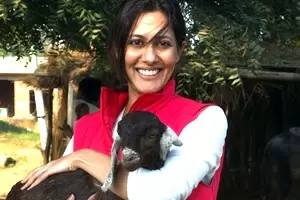 Change makers like Chhavi Rajawat are serving people with great dedication
The Weekend Leader has been tirelessly profiling such change makers with the three-fold objective of spreading the word about the good work going on in the country, putting the spotlight on the unsung heroes who are hardly noticed by the other media, and subtly persuading our readers to become like the people they are reading about.

In case you are not a regular reader of The Weekend Leader, it will be a good idea to check out some of the articles we have carried on people like Anil Joshi, Uttam Teron, Gyanesh Pandey, Rikin Gandhi, Tanishk Shyamya, Chhavi Rajawat, Dhruv Lakra, Kaushlendra Kumar, Mansukh Jagani, Chandrakanth Singh and the brothers Mohammad Mehtar Hussain and Mushtaq Ahmad.

These are not familiar names that appear in newspapers. You may not see their faces regularly on prime time TV, but be assured; these are people who are ushering in change, in the lives of several people they are working with.

That's what is appreciable in these individuals. They are achievers. They have shown result in whatever they are doing. In an era where efficiency is celebrated, social movements, whether they are spearheaded by an individual or an institution, must have clarity in their objective and produce tangible results.
Whatever you may profess, what matters at the end of the day is what you deliver, literally, and not the grandiose plans that you may reel out sitting on a fast at Jantar Mantar in front of TV cameras as Team Anna demonstrated sometime ago.

Team Anna's plans kept changing, from suggestions of a total revolution to finally reconciling to being part of the system to cleanse it from within.

Nothing wrong in it, but why waste the nation's time on an expansive build-up to start a mere political party?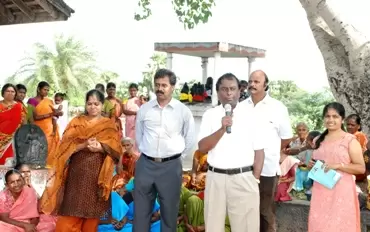 Rotary International District 3230's Governor V Raja Seenivasan (holding mike) at a village as part of the Happy Village project
The Weekend Leader is not interested in dramas. We celebrate those working for a change, however small it might be, and whether it is about changing the life of one person or a hundred. It gives us even more joy when these change makers begin to show tangible results.

That is why Rotary International District (RID) 3230's efforts to create 'Happy Villages' struck a chord the moment Rotarian U Karunanidhi mentioned about the project that's got the Chennai Rotarians all excited about.

'Happy Village' is a visionary project of RID 3230 that aims at creating vibrant, clean, and prosperous villages through a sustained service programme.

Already Chennai Rotarians are dreaming of taking this project to the glorious heights of Rotary International's world famous polio campaign that had a humble beginning in Vellore – a small town in Tamil Nadu that lies about 140 km from Chennai – some three decades ago and later spread worldwide.

When Rotary launched its global polio pulse campaign in 1985 with the support of national governments, about 3.5 lakh people used to be affected by polio annually worldwide, but now the numbers have come down to a couple of thousands and the disease is prevalent in just three countries.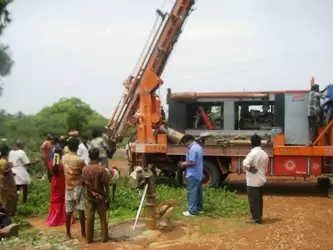 A Rotary club installing a borewell at Thirupper village near Chennai to supply drinking water to the people
In India, not a single case of polio has been reported for over a year and Rotary can take due credit for this.

With rural poverty posing a major challenge in India now, RID 3230 believes it can transform the lives of not less than one lakh people through its Happy Village project in the next few years.

Under the Happy Village project, each of the 117 clubs in RID 3230 - which are spread in Chennai and the neighbouring districts of Thiruvallur, Kanchipuram, and Vellore - would adopt a village each and work towards transforming it into a model settlement with access to clean drinking water, schools, housing and toilets for all, and jobs to at least one member of a family.

District Governor V Raja Seenivasan is determined to make this project successful and has been motivating the constituent clubs to give him their support. "All the clubs are committed to this project. Even people who were bit reluctant initially are now on board and have assured me their fullest cooperation," he says.

Raja is gung ho about the progress made so far. One of the clubs has already built fifty toilets at a village it had adopted in Kanchipuram district.

Members are fanning out to villages and organizing awareness camps on sanitation and hygiene. Y Sudarsana Rao, district director, Happy Village, has been visiting villages and organizing programmes for which sometimes he is required to stay overnight at villages.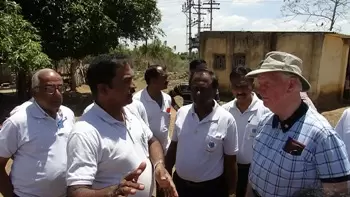 The Rotary Foundation Chair Wilfrid J Wilkinson (extreme right) with other Rotarians during a visit to a village
But nobody is complaining. "The satisfaction we get in this project is immense. It is offering us great opportunities to help deserving people," says Seenivasan.
He narrates an incident when he was moved by the plight of a woman during a visit to one of the villages and took a decision on the spot along with a fellow Rotarian to buy her a cow.

"It didn't cost us much, but we know it would definitely change her life for the better," he says.

The District Governor Elect ( 2013-2014) A P Kanna and the District Governor Nominee (2014-2015) I.S.A.K Nazar have also extended their support and are closely involved in the project.

It is the passion of these individuals that makes us believe that this project is going to change the lives of many.

Having said all this, it is only appropriate that The Weekend Leader joined this movement of RID 3230 as a media partner and helped the cause that's happening right in our backyard – Chennai.

From a journalistic perspective, The Weekend Leader is seeing here an opportunity to document the stories of change as they unfold, and it would be a bonus if in the process we help in the spread of this movement nationwide.
P C Vinoj Kumar is Editor, The Weekend Leader


Trending Now: