Chaitanya Gurukul Trust Public School harnesses technology for illumination

09-March-2012
Vol 3&nbsp|&nbspIssue 10
When he was in primary school, Chandrakanth Singh studied under the light of a kerosene lamp in his house in Bihar's hinterland.

Now, this M Tech from IIT-Bombay is back home in a bid to not just bring quality education to nondescript villages like Chamanpura where he grew up, and Sasai in Gopalganj district ,but also to help Bihar regain its lost glory as a centre of excellence in education.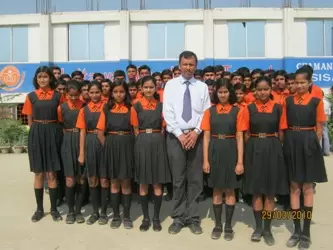 The Chaitanya Gurukul Trust (CGT) Public School is powered by generators, but students learn through Skype and log their attendance in computers
Till 2009, it was not just quality education that eluded the region, but even electricity. But Chandrakant (38) brought about a change and today, he is enabling the kids of his village to even interact with NASA scientists through internet and Skype.

Students school log their attendance in computers and teachers use a biometric finger printer to register theirs.

The residential-cum-day-school, 'Chaitanya Gurukul Trust (CGT) Public School' is entirely powered by generators.

With the motto 'Jnanam Paramodhyeyam'- which means knowledge is the ultimate aim - the mission of CGT is to provide world class education to children residing in the remotest of places.

Their goal is to educate, enlighten, and empower. 'Chaitanya' means pure consciousness and the trust strives to impart value based modern education that would train children to become responsible citizens and good leaders.

Chandrakant feels good education is a must for every child in order to be able to compete on a level playing field. "How could children with no access to quality education ever compete with those who have that privilege?" he wonders.

Armed with an Engineering degree from BIT Sindri, M.Tech from IIT Mumbai, and stints at Tata Steel, Bosch, (Germany) and General Motors, Chandrakant gave up his career to pursue his dream.

When Bihari migrants were targeted by a regional party in Maharashtra, they left their jobs and returned to their villages. Feeling sorry for them, Chandrakant realized that only education would change the plight of the people.

He initially tried to support the education of a few students by giving them scholarship, but it did not have the desired impact.

Then, the plan to start a school emerged. With the help of few of his friends and the hundred landowners from whom he bought small pieces of land at more than market price, he was able to build a residential cum day school.

One child from each of the families that sold the land is entitled for free education at his school.

With 18 permanent teachers and experts from around the world teaching through Skype, Chandrakant says the school is doing intensive research on new teaching methodologies.

He says for students up to class five the physical presence of a teacher in the class is necessary, but for those in higher classes some of the subjects could be taught online – through Skype.

With a total of 461students studying at the school – which has classes from 1 to 8 - there is a healthy teacher and student ratio of 1:25.

The school is already living up to expectations. Eleven students from the school took part in the Maths and Science International Olympiads. One of them was ranked 173 in the Science Olympiad.

It was Chandrakant's passion to bring world class education to villages that attracted Arvind Saxena to join as principal of the school.

Arvind brings with him rich and vast experience, having worked in top schools such as Sherwood Nainital, Vidya Vihar Residendial School in Purnea, and Gandhi Memorial International School in Indonesia.

He is very happy with his new assignment and says that students in his school have a real thirst for knowledge, which he could not find even among the children in elite schools he had worked earlier.

If Sunny, son of a vegetable vendor and Utsav, son of an Engineer were both able to score high in the international Olympiad, credit goes to the school that believes in offering quality education to all, irrespective of their economic status.

"We have students whose parents are rickshaw pullers, or vendors. Many are from bottom of the pyramid. Students from such families study for free, or pay nominal fees," says Chandrakant. The school charges fees according to the economic status of the families.

Chandrakant, who takes guidance from his mentor, Srinivasan Suryanarayan, former dean of IIT, Mumbai, has developed a self-sustaining revenue model for the school.

The Chaitanya Gurukul also aims to offer vocational training like ITI in the coming years. With each passing year one higher class is to be added and they also have plans to start an engineering college.

The school represents a microcosm of Bihar's turnaround and it may well revive the glorious days of Nalanda and Vikramshila in the State.

Trending Now: