Blending business acumen and hygiene with street food

Santosh H K Narayan
&nbsp | &nbsp Ranchi
03-September-2010
Vol 1&nbsp|&nbspIssue 1
She could have easily joined a corporate house sitting prettily in an air-conditioned cabin and bringing handsome perks home. The role would have suited her better, keeping in mind her family background, professional degree and mindset of her peers.

But 22-year-old Tanishk Shyamya has opted for a career that reflects a concern for the downtrodden – the socially and economically marginalized people.

Tanishk, after completing a specialized course related to Women Entrepreneurship from extremely prestigious Indian Institute of Management, Bangalore in 2010, decided to work along with street side vendors of Ranchi, who live in penurious conditions despite taking exhaustive efforts.

The idea was to use the expertise of the vendors in making local food items and present the same to customers in a manner that has never been done before in second-tier cities like Ranchi.

"Bringing hygiene and local taste together is the USP of Streets India. The whole idea behind choosing this as a venture was to inject quality and hygiene together, along with developing a good customer-vendor behaviour among the people," says Tanishk.

'Streets India' is a beautifully and intelligently designed cart with a lot of space for cooking. The vendors wear hand-gloves and apron and use mineral water and fresh raw materials to make items such as pakoda, litti-bati (baked food item using gram flour), golgappa, chaat and tea.

The unique and eye-catching kiosks, currently 27 on the streets of the Jharkhand capital, have started attracting more and more food lovers who were forced to patronize poorly managed eateries in a filthy environment.

Every cart has a dustbin attached with it so the waste, such as leaf-made plates do not get littered on the roadside. The 'utensils' have been made using naturally degradable produces that include tree leaves, earthen pots and paper plates giving an environment-friendly touch to the consumption-oriented chain.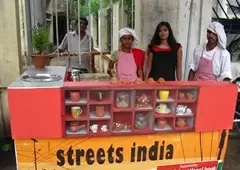 Street Smart: Ranchi girl Tanishk Shyamya aims for 100 designer carts
The budding entrepreneur worked hard to channelise the complete chain of supply leading to the kiosks. The chain ensures that necessary raw materials such as golgappa, other locally made supplementary snacks and leaf-made plates are manufactured by a second string of 'entrepreneurs', namely, poor tribals and women running their own cottage industry.

The idea needed good investment to make Streets India a reality. Here her professional acumen comes to the fore. Tanishk roped in Punjab National Bank as the financier for building the carts and utilised some other initial investments.

Currently a single kiosk is making Rs 500-600 as profit after paying for all the daily expenses that include raw materials, water and service charge that the vendors pay to the 'company' for repaying the loan.

Involvement of financial institutions such as PNB, some government officials and agencies have worked as umbrella for the vendors, keeping local goons at bay. The quality-driven brand has also ensured growing customer base for Streets India services.

The initiative has also brought a paradigm shift in the economic condition of the vendors. Increased income has ensured education for their children and ameliorated food security for the whole family. Vendors have also been covered with ` one lakh insurance, extending the fruits of social security to them.

Ramcharan is one such vendor who was working as a plumber before joining Streets India. He has six children and his wife was working as a maid with no dignity and socio-economic security in his life.

"It has really transformed my life in a short span of time. It would not have been possible for people like us to arrange for money and think about business," says Ramcharan's wife. Similar testimonies came from the 30-odd families, whose members are part of the entrepreneurship.

There are more vendors willing to join the venture. As part of the future plans,"We are planning to increase the number of the Streets India carts to 100 in the coming days," Taniskh says foreseeing a good future for the vendors.

Trending Now: