How a visionary built a Rs 12,500 crore deposit private bank starting with a Rs 2 lakh microfinance company
Gurvinder Singh
&nbsp | &nbsp Kolkata
16-May-2016
Vol 7&nbsp|&nbspIssue 20
Moved by the plight of poverty-stricken women in West Bengal villages, and seeking to empower them with loans to start small businesses, Chandra Shekhar Ghosh, 55, started a microfinance company with a tiny capital of Rs two lakhs in 2001.
Fifteen years later, Ghosh heads the Kolkata headquartered Bandhan Bank, the first private bank founded post-Independence in eastern India.This bank, with a whopping Rs 12,500 crore in deposit has set a record as the first microfinance institution to receive a banking licence in India.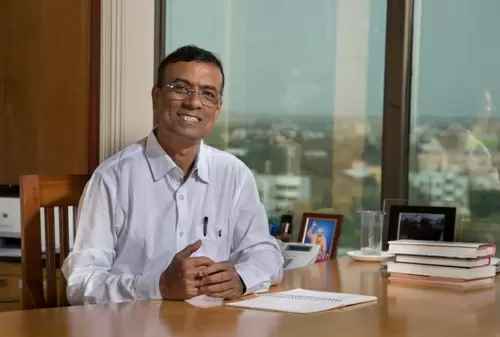 Chandra Shekhar Ghosh, Chairman and Managing Director of Bandhan Bank, has achieved incredible success in microfinance in a short span of time

In the remarkable prologue to this success story, Ghosh himself came from a poor family. "I was born in 1960 in Ramchandrapur village in Greater Tripura where my father ran a small sweet-shop," he says. "I was the eldest of six siblings in a joint family of fifteen."
The income from the shop could barely feed the family and his father struggled to provide education for his children.
Ghosh studied up to Class XII in a government school in Greater Tripura and then Statistics at Dhaka University, Bangladesh, in 1978.
His accommodation and food in Dhaka was arranged by Brojonand Saraswati, a seer whom his father revered, and who had an ashram in the University. To pay for his fees, Ghosh gave private tuitions.
He spent his first income – all of fifty rupees – to go back to his village with a shirt for his father. "He told me to give it to my uncle as he needed it more," Ghosh recounts. "He made me realize how important it is to think of others."
The life-changing moment came in 1985 when, after completing his Masters, Ghosh joined Dhaka-based BRAC, an international development non-profit working for women empowerment in small villages in Bangladesh.
"The condition of women brought tears to my eyes," he says. "Ill-treated by their husbands, they were confined to their houses and deprived of health facilities."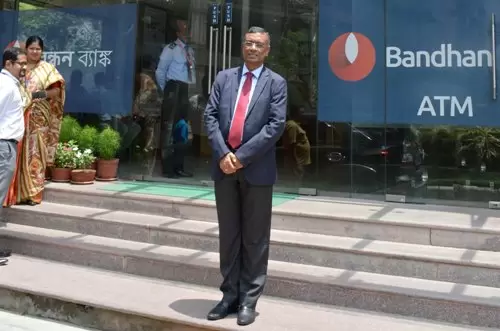 Ghosh, in front of Bandhan Bank's headquarters in Kolkata (Photos: Monirul Islam Mullick)

Strongly believing that women hold the key to the future generation, Ghosh worked with BRAC for more than a decade before coming to Kolkata in 1997.
In 1998, he began to work for Village Welfare Society, a non-profit, to create awareness among people about their rights. Travelling extensively in villages, he found the situation of the women here no different than in Bangladesh.
"Women could stand on their feet only if they had the money to start their businesses, but most were illiterate, had no knowledge of banking and were exploited by private money leaders."
That was when Ghosh decided to start a microfinance institution to provide loans to women, but he had left his job and was finding it difficult even to make ends meet for his mother, wife and son.
His brother-in-law came to his rescue and handed him Rs 1.65 lakh. Ghosh raised an additional Rs 35,000 from a private lender and with Rs two lakh he started the microfinance company, with just three employees.
Bandhan-Konnagar, a non-profit, with microfinance as its main component, came into existence in July 2001 at Konnagar. "The name Bandhan was chosen with care as it means togetherness, I was on mission to connect society," Ghosh says.
"I travelled to small villages in Hooghly district to convince women to taken loans from us for their business or fund their children's education, but initially they eyed me with a suspicion," he says.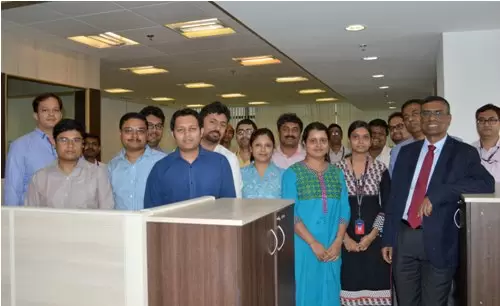 Ghosh with some of his colleagues at their Kolkata corporate office. Bandhan Bank has more than 20,000 people on its payrolls now

The groundshift occurred in 2002 when the Small Industries Development Bank of India (SIDBI) agreed to provide a loan of Rs 20 lakh to Bandhan-Konnagar.
Another branch of Bandhan came up in Bagnan in Howrah district, around 40 kilometres from Kolkata, the same year. The next year, Bandhan provided loans of around Rs 15 lakh to 1,120 women.
However, they were forced to charge higher interest because Bandhan had to repay the bank loan and factor in payment of salaries and other expenditures for running the organisation, which now had around 12 employees.
But they have reduced the interest now.
"We began by charging 30 per cent interest per annum, which has now dropped to 20.5 percent with no processing fee, the lowest being charged by microfinance companies in the country," he declares.
In 2009, Ghosh registered Bandhan as a NBFC (Non Banking Finance Company) with the Reserve Bank of India (RBI). To date, Bandhan's microfinance programme has given loans only to women, the majority of them in rural areas, and changed the lives of an estimated 79 lakh women.
One such woman is Aparna Paria from Champahati in Hooghly district. In 2005, she took a first loan of Rs 2,000 from Bandhan to sell fish in her locality. With her savings, she opened a grocery shop, which turned very profitable, and now she sells bottled water and the Dish TV connections.
She has five employees working for her enterprise, and her son, who has graduated in commerce, currently manages his mobile phone shop. Her current loan from the bank is Rs 1.5 lakh.
Such life stories are the cornerstones of Bandhan's exemplary progress. In 2013 it applied for the universal bank licence. On 23 December 2014 Bandhan Bank was incorporated as a wholly owned subsidiary of Bandhan Financial Holdings.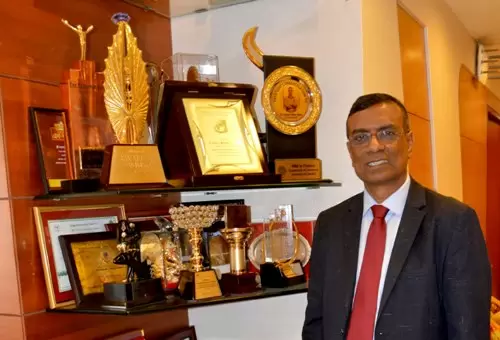 Bandhan and its founder have won more than two dozen awards

On April 2014, it got the nod in principle for a bank licence from the Reserve Bank of India (RBI) and the final approval to start operations came on 17 June 2015.
Fittingly, Arun Jaitley, Minister of Finance, Corporate Affairs and Information and Broadcasting, inaugurated Bandhan Bank on 23 August 2015 in Kolkata, with two wings: microbanking and general banking.
The RBI's licensing norms stipulate that a new bank must have a Rs 500 crore capital; Bandhan Bank started with a capital base more than five times that – with Rs 2,570 crores.
Bandhan's67 lakh microfinance borrowers and their accounts were formally transferred to the new entity, creating a nearly Rs 10,000-crore loan portfolio to start with.
The investors - GIC Private Limited, International Finance Corporation (IFC) and the Small Industries Development Bank of India (SIDBI) – provided a solid backing. The Bank commenced its operations as a universal bank on Day 1 with 501 branches, 2,022 Doorstep service centres (DSCs – the erstwhile microfinance branch offices) and 50 ATMs spread across 24 States. Currently Bandhan Bank has 670 branches spread across 29 states and Union territories.
The bank has outstanding credit of Rs 15,500 crore with an impressive repayment rate of 99.5 percent. In the last seven months, 10 lakh new customers have been added to the bank.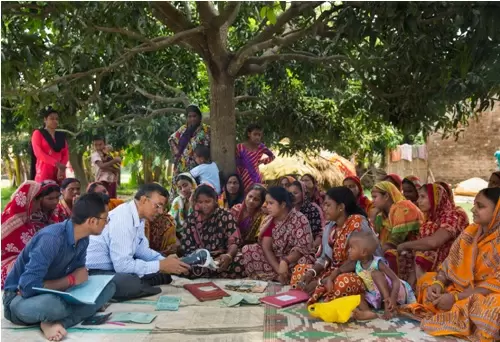 Bandhan's microfinance programme has changed the lives of at least 79 lakh women

Bandhan has a deposit of Rs 12,500 crore and 84 lakh customers - both borrowers and non-borrowers. Ghosh now has 20,600 people on his payroll, of which 90 percent are from rural areas.
The microfinance portfolio of Bandhan-Konnagar has been transferred to the bank. However, the organisation continues to exist and carries on holistic development programmes for the underprivileged involving education, health, livelihood promotion, market linkage, enterprise development, employment generation, renewable energy and the like in 11 States through a network of 470 branches.
Deservedly, Bandhan and its founder have won more than two dozen awards, including the Microfinance India awards in the category 'Institution of the Year' from HSBC-ACCESS Development Services in October 2009 and the Genius HR 'Entrepreneur of the Year' Award from the AIMA Managing India Awards 2014. Bandhan was recognised as a Global Growth Company by the World Economic Forum in 2014.
Ghosh, now the Chairman and Managing Director of Bandhan Bank, is already implementing his larger plan. "We fund non-formal education for underprivileged children up to Class three," he says.
More than 1,200 such zero-fee and homework-free non-formal primary schools are spread across West Bengal, Assam, Bihar, Jharkhand and Tripura where more than 39,000 children between 6-12 years are taught through edutainment.
Seven schools called 'Bandhan Academy' operate as low-cost formal schools from Nursey to Class three in West Bengal with 150 students each. Besides, several health and water projects are being run in several districts of West Bengal.
His mission is to educate children in every poor family and alleviate poverty – a difficult path, but then, Ghosh has never chosen the easy one.

This Article is Part of the 'Amazing Entrepreneurs' Series

MORE AMAZING ENTREPRENEURS

Raghunandan Kamath, Founder, Natural Ice Cream

Supriya Roy, MD, The Sugrarr and Spice

Aasife Ahmed, Founder, Aasife Biryani
VKC Mammed Koya, Founder, VKC Footwear

Trending Now: