This son of a poor fruit vendor built a Rs 108 crore turnover ice-cream brand
Somma Banerjjee
&nbsp | &nbsp Mumbai
25-April-2016
Vol 7&nbsp|&nbspIssue 17
Mulky Raghunandan Srinivas Kamath, the son of a poor fruit vendor, made his way from a mud house in a Karnataka village to Mumbai, the city of dreams, a few decades ago, and today heads a Rs.108-crore turnover ice-cream company.
The Founder Director of Kamaths Ourtimes Ice Creams Pvt Ltd, Raghunandan Kamath is the man behind the popular and unique brand - Natural Ice Creams.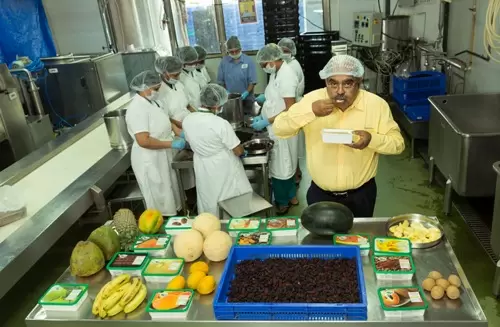 Raghunandan Kamath's Natural Ice Creams offers a range of delicious flavours made from 60 varieties of fruits as well as dry fruits (Photos: Rohan Potdar)

The company is known for its ice creams flavoured naturally with a variety of fruits, and a loyal clientele including Bollywood celebrities!
However, life has not been all sweet for Kamath, who hails from Mulki, a blink-and-miss village in the Puttur taluka of Mangalore in Karnataka.
His father barely earned 100 rupees a month from leasing trees seasonally and selling the fruit. Neither this meagre income nor the rice and vegetables grown on the small patch of land the family owned were enough to feed Kamath and his six older siblings.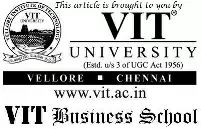 Having curry was a luxury; coffee made with jaggery and pieces of ripe jackfruit plucked freely off the village trees were all Kamath's mother could offer her children as snacks.
The children would routinely roam around bare-bodied. "In our village that implied one was yet to take a bath and put on fresh clothes," Kamath, now 62, recalls.
"Under this pretext we hid the fact that we did not have enough clothes. I wore sandals for the first time when I came to Mumbai at the age of fifteen."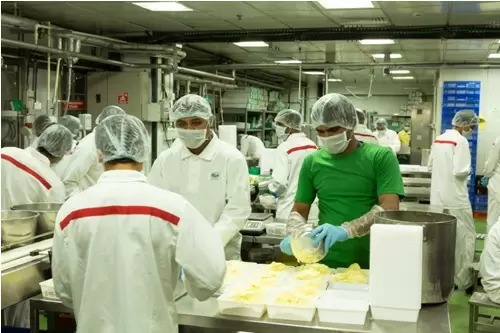 Workers packing the ice cream at the factory

Off and on, Kamath and his siblings attended the privately run village school where one or two teachers taught a huddle of children of varying ages.
"I was taught topics for the fifth standard before I could complete my third standard, so you can understand what kind of education we got," says Kamath.
With such random instruction, school was the last place to interest young Kamath, who would cut classes, fish in ponds, swim, loiter around and play football with balls made from grass.
What he enjoyed most, however, was hanging around his father and the fruit trees, even if they incurred more loss than profit due to theft or stormy weather.
"I loved the company of the labourers, the buzz around plucking the mangoes or other fruit. I liked seeing ripe fruits hanging from the branches just the way people like watching blossoming flowers," says Kamath, who discontinued his education after Class ten.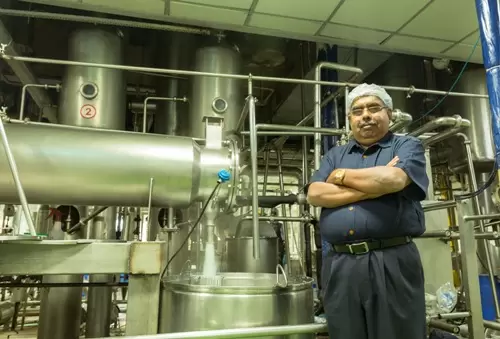 About 20 tonnes of ice cream is made daily at Kamath's factory in Charkop, Kandivali West

Accompanying his father to village fairs to sell the fruits, Kamath unknowingly developed a connection with fruits that inspired him to use them in making natural ice creams later.
"Knowledge of fruits – quality, storing, ripeness, the right time of use – gathered in those days came handy when I actually started using them in my ice cream business much later," he says.
Decades ago, in the early 70s, much before the journey of Natural Ice Creams began, Kamath moved with his parents and other family members to Mumbai.
The family lived in a 12 by 12 foot room (kholi) in a chawl at Juhu Koliwada. Being the youngest, Kamath had to sleep under a cot.
His eldest brother, G.S. Kamath, 20 years his senior, who had come to the city earlier, ran an eatery business given to him by a usal pav vendor he worked for. He had developed it under the name of Gokul Refreshments, serving south Indian food and ice cream made in-house.
Kamath began to help his brother at the eatery, where he noticed that customers especially enjoyed eating ice cream and sharing it with one another.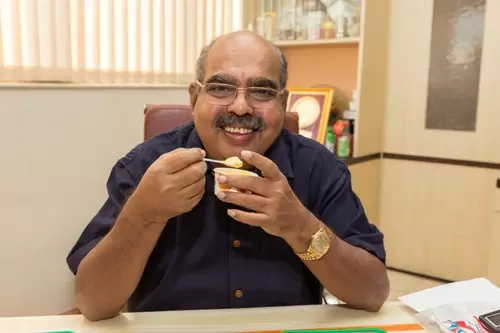 Like thousands of others, Kamath is a big fan of his ice cream

The thought of delightfully surprising the customers with an unusual variety of ice creams made with real fruit pulp and pieces, and no artificial flavour or preservatives, came to him then.
Nobody took his business idea seriously, but Kamath waited for the right time and opportunity. When the brother offered him his share in the family inheritance, Kamath bargained for a one-time sum of one lakh rupees instead of smaller monthly pay-outs.
Soon, the newly married Kamath, now in his early thirties, realised that this seed capital was too small to underpin an independent business. However, his wife Annapurna encouraged him to follow his instinct and vision.
Emboldened by her support, and with another three lakh rupees raised from his friends and relatives, in 1984 Kamath entered the Indian ice cream market, currently valued at 3,000 crore rupees, with his niche product idea.
While living in another brother's house, Kamath started his first shop offering hand-made, artisanal ice cream, in a tiny 350 square feet space at Juhu Ville Parle Development Scheme (JVPDS), Andheri West, an upscale western Mumbai suburb.
With just six staff members including himself and his wife, he started making 10 to 15 kg of around 10 varieties of natural ice creams and managed to sell 1,000 cups on the first weekend.
It wasn't long before word of mouth made Natural Ice Cream a destination for locals and tourists alike.

"I used to roam around the upmarket areas of Juhu, Bandra and Pali Hill on a bicycle, looking in awe at the bungalows of film stars and other famous people," reveals Kamath, now the owner of two top-of-the-line Mercedes cars and a bungalow at ritzy Lokhandwala.
"When I identified the kind of ice cream I would make and sell, I looked for a shop here as I was sure the people around were going to be my customers."
At the end of the second year, Kamath's turnover was 14 lakh rupees and it grew year on year, crossing Rs. 40 crore in 2010-2011. In 25 years, he had expanded to 50 outlets.
Today he owns a fully equipped state-of-the-art factory on 25,000 square feet in Charkop, Kandivali West.
His wife Annapurna and two sons Srinivas and Siddhant are the other directors in the company, which has more than 125 exclusive company or franchise outlets across Maharashtra, Gujarat, Madhya Pradesh, Karnataka, Telangana, Chhattisgarh, Delhi NCR and Rajasthan, catering to a loyal and burgeoning customer base.
Every day, as many as 125 staff members contribute to the production of 20 tonnes of ice creams from the range of 100 Natural Ice Cream flavours using natural pulp from about 60 varieties of fruits as well as dry fruits.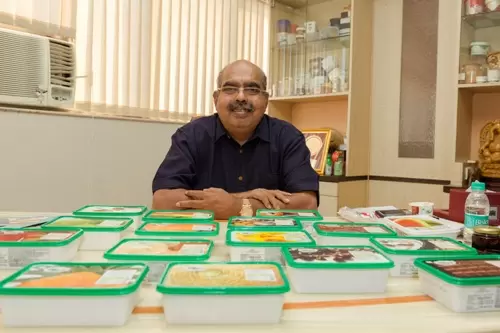 Natural Ice Cream offers 100 flavours in all and makes 30 varieties every day from fruits like custard apple, chikoo, pineapple, banana, peach, and mango

They make around 30 varieties every day, varying the flavours daily, including everything from custard apple, chikoo, tender coconut and papaya, to pineapple, banana, peach, mango, and all types of berries, besides more exotic varieties such as caramel walnut, apple cinnamon, pina colada, pomegranate, kiwi lime, turmeric, cucumber, prasadam, gajar halwa, and tilgul.
"When I was a child, I was fascinated by aeroplanes flying over our village," says Kamath.
"I was spanked so many times by my teacher for running out in the middle of the class to look at them. I could never imagine that one day I would be in one of those planes, that too in business class, and look at my school from high above."
That is why Kamath tells youngsters: "Do not just mug up and write what you learn in exams. Apply it in your life. Work hard. Be an entrepreneur. Only then you can bridge the gaping gap between poverty and riches."

This Article is Part of the 'Amazing Entrepreneurs' Series

MORE AMAZING ENTREPRENEURS

Supriya Roy, MD, The Sugrarr and Spice

Aasife Ahmed, Founder, Aasife Biryani
VKC Mammed Koya, Founder, VKC Footwear
Wish to share your story?
Trending Now: