Sacked labour leader is now helmsman of a Rs.1500 cr turnover footwear brand

Renitha Raveendran
&nbsp | &nbsp Kozhikode
07-December-2015
Vol 6&nbsp|&nbspIssue 49
Wonders shall never cease in entrepreneurship. One such is VKC Mammed Koya, 75, who is both an avowed Communist and the helmsman of the successful footwear brand VKC - worth a turnover of Rs 1500-crore.
Recently elected as the Mayor of Kozhikode Municipal Corporation in Kerala, this septuagenarian's rise from humble beginnings is the stuff business legends are made of.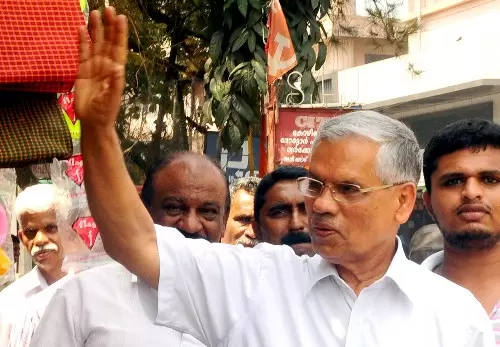 The Mayor of Kozhikode Municipal Corporation, VKC Mammed Koya, who belongs to CPI (M), heads the Rs.1500 cr turnover VKC footwear brand

Koya is a rarity all by himself – a staunch Communist turned business tycoon. Far from finding this contradictory, Koya believes that it is the communist within him that helped him excel in business.
Having toiled for several years as a chaiwallah and a contract employee, and having contoured his life with determination, hard work and compassion, it is hardly surprising that he has initiated several employee-friendly policies at VKC.
Born in a peasant family, Koya spent a childhood mired in poverty. His formal schooling ended in class seven.
Pushed to fend for himself, he worked in a matchstick manufacturing company in Kozhikode for a few years but was sacked after he took up the cause of the employees, participating in worker agitations and becoming a Communist Party worker.
In the late 60s, he left for Kanyakumari in Tamil Nadu where he worked as a contract employee with the electricity board, before setting up a teashop.
But he was made for bigger things, even if that meant starting small.
Returning to Kerala in 1967, Koya, along with two friends, started a fledgling business of supplying raw materials for matchsticks.

It was their initials -V Mammed Koya, K Seithalavi and C Seithalikkutti – that made up the brand VKC – and later even the initials of its top man.
The business progressed well until countless such companies mushroomed in the region in the early 80s. The market's decreasing demand for matchstick raw materials and the scarcity of softwood for making matchsticks led to the closure of the business in '84.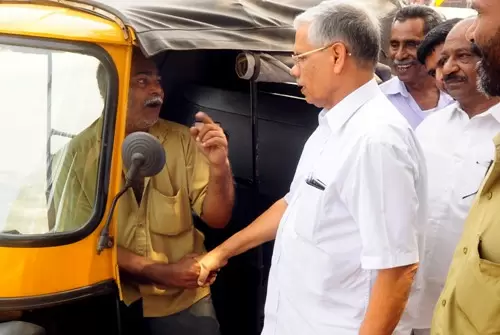 Koya seen campaigning during the municipal elections

But Koya kept his options open and scanned opportunities, finally deciding to manufacture Hawai-sheets instead.
"There was high demand for these," Koya recalls, "as there were many small Hawai chappal- making companies in Kerala then, who made chappal soles from the sheets."
Koya used the matchstick company premises for the new business, obtained initial capital from a bank loan and local chit funds, and was off the mark.
The VKC Footwear Company, set up at Nallam in Kozhikode by Koya with the support of his two brothers, had a modest beginning with fewer than 20 employees and a Rs 30 lakh investment.
However, the sands shifted once more in 1985 when VKC started its own production of Hawai chappals (flip-flops).
The relatively affordable footwear was popular among labourers because of its durability, quality and comfort – and totally in accordance with Koya's Communist ideology.
Low-cost good quality footwear was a basic need for the masses and his ideology went hand in hand with his work.
It was the Hawai chappal that propped the brand VKC up and sent it beyond the borders of Kerala.

Koya took charge as Mayor of Kozhikode Municipal Corporation in November

"Tamil labourers who came to Kerala for work popularized Hawai chappals in Tamil Nadu, which prompted us to enter that market slowly," says Koya.
Today, VKC has production units in Karnataka, Tamil Nadu, Andhra Pradesh, Gujarat and West Bengal besides the four units in Kerala.
Despite his lack of knowledge about technical aspects, Koya purchased the latest machinery from Europe and introduced the latest trends in the market.
However, by the 90s, the road twisted again. The Hawai chappal was replaced slowly but surely by the PVC chappal, which came to Kerala in large numbers from Taiwan and Thailand.
Koya thought ahead, invested in a calculated risk and VKC became the sole manufacturer of PVC chappals in Kerala.
"Though we did not have much technical expertise, we were willing to experiment and learn," says Koya. "That's what I think helped us surge ahead."
Gradually, PVC chappals too lost their sheen, and were replaced by polyurethane (PU) footwear in 2006-7. Cashing in on the demand, VKC became the largest manufacturer of PU footwear.
The next turning point in VKC's graph came with the active participation of the next generation.
Koya's sons Rasaq, an MBA, and Noushad, an M.Tech in Polymer Science and Rubber Technology, are now leading the group along with their cousins. They have brought in more professionals on the board of directors, giving a further impetus to growth.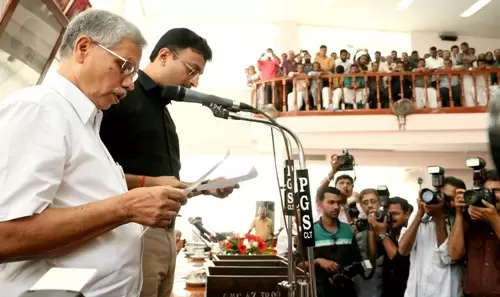 Koya being sworn in as the mayor

While Koya's own wife and daughter are home-makers, Rasaq's wife recently started designing footwear for VKC. The VKC group now comprises 17 private limited companies, overseen by 30 directors.
This uphill winding journey traces not only the trajectory of an individual's life but also chronicles the progress of an entire region, which transformed into a 'footwear nucleus'.
Today, the industrial belt of Kozhikode in Kerala, once dominated by traditional tile, timber and wood industries, has become the crux of an exponentially growing footwear business, thanks to Koya's initiative.
And, with more than 10,000 employees and a countrywide market, VKC leads among over 150 small and large-scale footwear, and around 50 footwear-accessory-making companies in the region.
"Once we had the technology and expertise, we decided to impart the knowledge to others interested in setting up footwear manufacturing units," says Koya.
The Kerala State Small Industries Association in collaboration with major stakeholders like VKC has conducted many footwear exhibitions in Kozhikode, which has opened up a stream of opportunities especially in the export sector.
However, every action is underpinned by supportive employee policies. The Footwear Design and Development Centre, an initiative under Koya's chairmanship, conducts design festivals and empowers women, especially home-makers, by giving them training in making footwear accessories under a project called 'footwear village'.
So far, 1,600 women have been thus trained and around 80 have been given jobs. Those trained have the option to work from home after their daily household chores. Companies deliver and collect the materials at their house.
Koya attributes the brand's huge success and wide acceptance to the company's employee-friendly policies.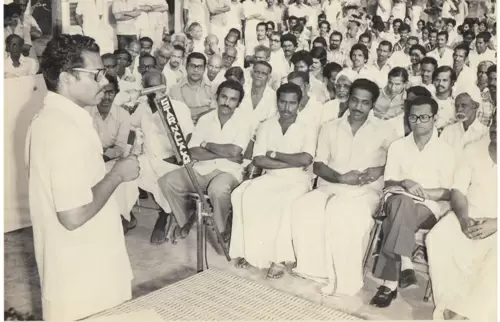 A younger Koya sharing his thoughts during a factory inauguration at Kozhikode in 1985

One such is employee accommodation, under which the company provides its workers clusters of decent flats, such as those in Malappuram and Wayanad districts, with comfortable rooms, dining space, canteen, cook and a TV room.
The company also conducts basic English literacy classes for employees and gives educational scholarships to their wards.
Besides, the VKC Charitable Trust and Beypore Development Mission Charitable Trust are involved in projects and missions that range from adopting schools to building hospital blocks and sponsoring free dialysis, improving the quality of life of the common citizen.
If still chasing the paradox, you ask him whether he is a businessman first or a communist, and he instantly chooses the latter.
"I have been a Communist Party of India (Marxist) activist long before I became an industrialist," he says, adding that it is largely in the movies that businessmen are portrayed as enemies of the party.
"Businessmen, especially in this region, are not the enemies of the party," he says. "We have very good relationship with our employees, the unions. When there is a problem we discuss and find a solution. We are committed to the welfare of our employees."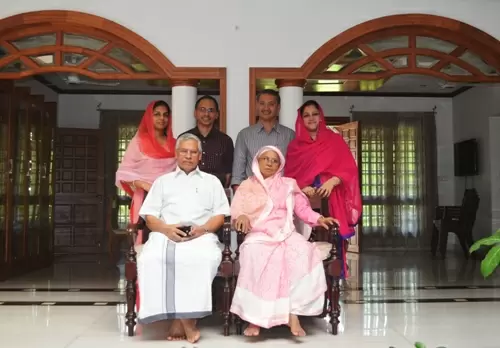 Happy family: Koya with his wife, sons, and daughters-in-law

After its successful foray into the markets of Singapore, Malaysia and GCC countries, VKC is now planning to explore other international markets, especially Europe.
Having been a Member of the Legislative Assembly representing Beypore constituency in Kozhikode district from 2001 to 2006, and having held positions in various civic bodies such as the Gram Panchayat, the District Council, the District Panchayat and Cooperative firms, Koya was elected the Mayor of Kozhikode Municipal Corporation in November.
As the unblemished face of CPI(M) – he was the area committee member of the party and the district committee member of Karshaka Sangham, its peasant association – Koya has several plans for the city.
He wants to develop an effective waste management and traffic system, better street lighting facilities, and create an efficient corporation office service with a speedy grievance redressal mechanism.
It's another challenging ascent ahead, but as his past displays clearly, Koya knows how to walk the talk - with determination, hard work and compassion.

This Article is Part of the 'Amazing Entrepreneurs' Series

MORE AMAZING ENTREPRENEURS
Chayaa Nanjappa, Founder Partner, Nectar Fresh

Dr. Nayana Patel, Medical Director, Akanksha Infertility Clinic
Raj Kumar Gupta, Chairman, Mukti Group

Trending Now: