From rags to riches and beyond to design the Prime Minister's wardrobe

P C Vinoj Kumar
&nbsp | &nbsp Ahmedabad
04-January-2016
Vol 7&nbsp|&nbspIssue 1
Imagine a scenario when the sole bread winner of a family, the father, suddenly decides to take sanyas, leaving behind five small children and their mother to fend for themselves.

It would certainly be a devastating experience. But finding themselves in a similar situation, the family of Jitendra Chauhan and Bipin Chauhan, decided to pick up the threads – quite literally – and carry on the family tradition of tailoring, with a vision to become the best in the trade.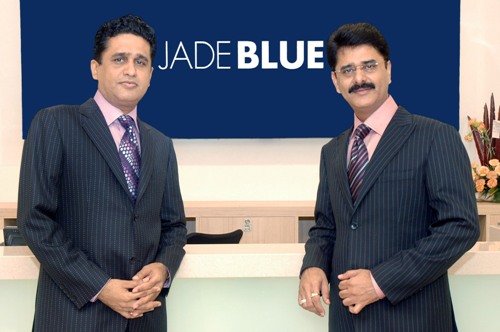 Jitendra Chauhan (right) and Bipin Chauhan, personal tailors for Prime Minister Narendra Modi, worked in tailoring shops as children

The Ahmedabad based brothers, Jitendra and Bipin, personal tailors of Prime Minister Narendra Modi, and owners of the Rs.225-crore turnover Jade Blue chain of menswear stores, worked in tailoring shops as kids, learned the skill the hard way, and set up their own shop in 1981 to embark on an exciting entrepreneurial journey.

Today, the brothers are living their dream, stitching clothes for powerful politicians like Modi, Congress leader Sonia Gandhi's political secretary Ahmed Patel, and industrialists like Gautam Adani and Karsanbhai Patel.

Around 1200 employees work in their stores across the country; they hobnob with the rich and famous, and travel around the world on business.
But if you had met them, perhaps about fifty years ago, you would not have imagined that the little boys who lived with their family in a chawl, on the outskirts of Ahmedabad, would reach these heights.

The sixth generation tailoring family hails from Limbidi, a small town about 100 km away from Ahmedabad.

Bipin, the last of five siblings, was around four when his father, Chimanlal Chauhan, left home to become a sanyasi (ascetic) in 1966.

"Father was a master tailor and a stickler for perfection. He had travelled to many places and set up shops in Limbidi, Mumbai, and Kolkata. But he wouldn't stay longer than three to four years in a place.

"He was a spiritual person and kind hearted. He was someone who would remove his shirt and give it to a person who didn't have one," says Bipin, now 53.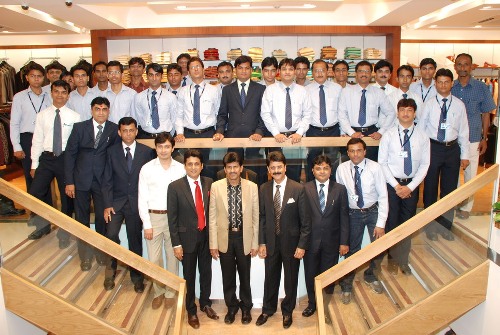 Bipin and Jitendra, seen in the photo with some of their staff, have more than 1000 employees on their rolls

When their father left for the Junagadh hills – a popular spiritual destination in Gujarat - to take up sanyas, he had a tailoring shop near Sabarmati Ashram in Ahmedabad.

"The shop was called Chauhan Tailors. He was passionate about the shop and even advertised it in cinema theatres through slides," says Bipin.

Though it was hand to mouth existence during those days, the family led a respectable life. But after their father went on his spiritual quest, they fell into harder times.

Within a year of their father's sanyas, the family moved to Ratanpole in Ahmedabad city and came under the care of their nana (maternal grandfather) and mama (maternal uncle), who owned a kurta shop called 'Makwana Brothers'.

"It was a famous shop, where they used to stitch 100 kurtas daily. Our brother Dinesh – who is elder to both Jitendra and Bipin – worked in the shop and learned the basic skills. The rest of us went to work there after returning from school," says Bipin.

Their mother worked the hardest, from morning 6 to midnight. "She was an expert in hemming work and stitching buttons," says Bipin of his mother, who seemed to make up for their father's absence by toiling doubly hard to bring up her children.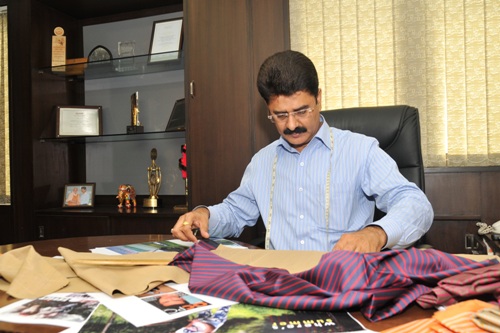 Bipin, like his father, is a stickler for the 'perfect fit'

Bipin, his two brothers, and two sisters, studied in a municipal school.

"All credit goes to our nana and mama for giving us education. They ensured that each of us got a college degree," says Bipin, who did his graduation in psychology.

Dinesh, their elder brother, then 22, started his own tailoring shop in 1975, with the support of their nana and mama. He named it Dinesh Tailors.

Bipin was 15, still in school, and Jitendra 19, studying in college, when Dinesh launched out on his own. The brothers cut their professional teeth at Dinesh's shop, honing their tailoring skills, working for hours on end after their school and college hours.

"Jitendra used to work for 14-15 hours daily and stitch around 16 shirts per day. It is not easy to get that output, but he did it," says Bipin, who is all praise for his brother with whom he joined hands to launch Supremo Clothing and Menswear, a fabric cum tailoring shop at Ahmedabad in 1981.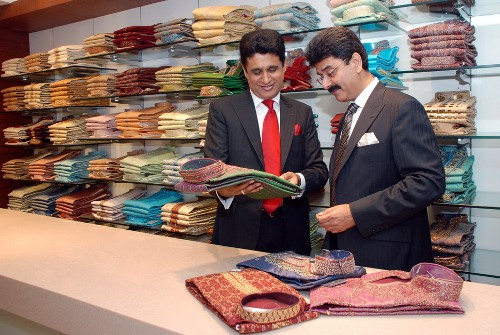 There are 51 Jade Blue stores across the country spread over a total area of 168,193 sq ft

With an investment of Rs.1.50 lakh - which the duo managed to raise through a bank loan - they set up a shop in a 250 square feet space at a commercial complex near the landmark Ellis Bridge located on the edges of old Ahmedabad, not far away from where their flagship Jade Blue store stands today at the upmarket CG Road.

Supremo was the launching pad for the brothers, who complemented each other quite well and started growing from strength to strength.

Jitendra is the visionary, who plans the growth of the company. "He is a go-getter," says Bipin, who is more of a creative person.

Not that he is any less ambitious than his brother. Even when they were little known tailors in the city during the 1980s, Bipin had this burning desire to make clothes for influential people in the country, including the Prime Minister.

He had no clue then that one of their customers, a low ranked RSS pracharak, who went by the name of Narendra Modi, with a liking for half-sleeved kurtas made of poly khadi fabric that did not wrinkle easily, and was a bit fussy about the fit, would become the PM one day.

Business grew steadily, as their shop gained traction, and attracted footfalls of people like Modi and Gautam Adani, whose best days were still lying ahead in the future.

"Modi has been our customer since 1989," says Bipin, who meets his VIP client couple of times in a year to get the measurements.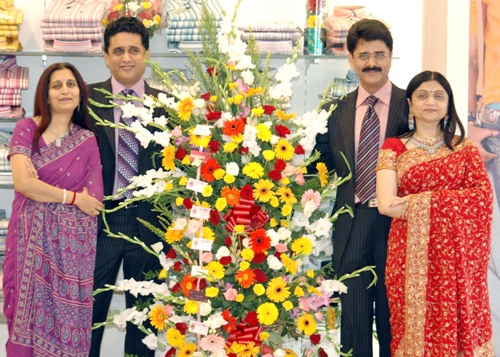 The brothers with their spouses

It was Bipin who created the much talked about bandhgala with the monogrammed pinstripes that had the letters 'Narendra Damodardas Modi' all over the fabric, which Modi wore during a meeting with the US President Barack Obama last year.

They started making readymade garments in 1986 and named the brand D' Peak Point.

Nine years later, in 1995, they re-launched themselves as Jade Blue and moved into a 2800 sq ft space at CG Road, a posh commercial centre in the city.

They had taken the giant leap in faith due to the insistence of one of their loyal customers, N G Patel, a businessman, who felt the brothers could fare well if they moved to a more prestigious location.

The expansion was funded mainly through bank loans and some assistance from Patel.

"We were looking for a name that would resonate with a global market and have the initials J (for Jitendra) and B (for Bipin).

"A friend of ours who was working in an ad agency took six months to come up with Jade (the name of a precious stone) Blue, (which is a predominantly men's colour)," says Bipin.

Two decades later, Jade and Blue occupies 20,000 square feet in the same building, where its corporate office and a warehouse too are located.

Currently, they have a total of 51 stores across the country with a total area of 168,193 sq ft, where they retail both other brands and their in-house brands like Jade Blue and Green Fibre range of menswear.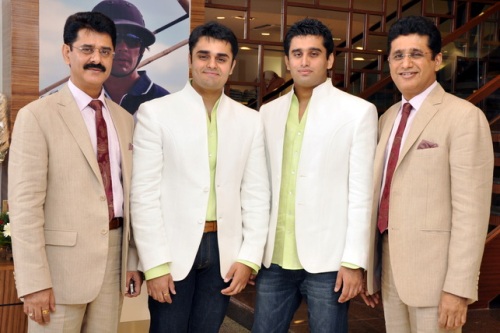 Jitendra's son Shambhav (2nd from left) and Bipin's son Siddhesh have joined the family business

'Modi kurtas' and 'Modi jackets' are among the hot-selling collection in their stores.

The Chauhans continue the family tradition of bespoke tailoring, though it is no longer easy to find skilled workers for the job these days. Five stores of their store– Ahmedabad, Surat, Hyderabad, Pune, and Jaipur– offer customised tailoring.

"It's about getting the perfect fit. Only customised tailoring can offer you this satisfaction," says Siddhesh Chauhan, 26, Bipin's son, who studied design at London School of Fashion.

Siddhesh, his sister Khushali, who manages the e-commerce operations of the company, and Jitendra's son, Shambhav, who takes care of administration, represent the seventh generation of Chauhans in the family business.

This Article is Part of the 'Amazing Entrepreneurs' Series

MORE AMAZING ENTREPRENEURS

VKC Mammed Koya, Founder, VKC Footwear Company
Chayaa Nanjappa, Founder Partner, Nectar Fresh
Dr. Nayana Patel, Medical Director, Akanksha Infertility Clinic
Raj Kumar Gupta, Chairman, Mukti Group

Trending Now: