Designer of borewell robot has more innovations up his sleeves

P C Vinoj Kumar
&nbsp | &nbsp Madurai
23-November-2015
Vol 6&nbsp|&nbspIssue 47
A father, who snatched his three-year-old son from the jaws of death as he was about to fall into an open borewell, was shocked to learn that many children were less fortunate and had met their death in borewells.

The man, a fitter by education and a plumber by profession at that time, went on to develop a 'borewell robot' for rescuing children trapped in borewells, which is now deployed at some Tamil Nadu Fire Service stations and the Vijayawada unit of National Disaster Response Force (NDRF).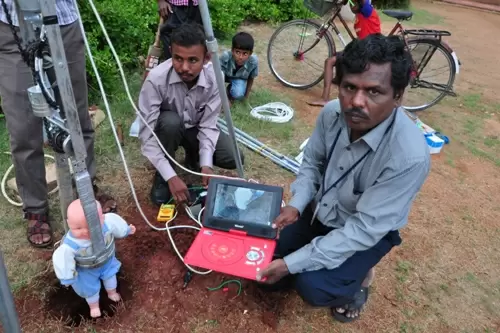 M Manikandan's 'borewell robot' is now ready for use by NDRF and Tamil Nadu fire service personnel to rescue children trapped in borewells (Photos: H K Rajashekar)

"I hope borewell deaths will be a thing of the past," says the grassroots innovator M Manikandan, who is ready with his next innovation – the solar bicycle.
Manikandan, 44, is an instructor at TVS Community College in Madurai, where he teaches plumbing, wiring, and welding.

He had developed the first prototype of the 'borewell robot' in 2003, but had to wait for 12 long years to convince the authorities to order a couple of his robots for use during borewell rescue operations.

In April this year, the Tamil Nadu fire service department finally purchased three robots and has placed them strategically at Vellore, Villupuram, and Madurai, to rush the device to any part of the State at short notice.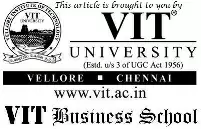 In November, the NDRF unit at Vijayawada ordered a device. Manikandan spent a couple of days with the NDRF personnel and trained them in using the device.

"They were very satisfied with its performance. The NDRF has plans to keep one robot in each of its 17 units located across the country," he says.

Manikandan is happy that at last he is seeing the fruits of his labour. "Unless the device reaches the spot on time, it will not be of much use. So it is important that at least one device is available in every district in the country.

"We had lost many precious lives in the last few years, because we failed to reach the spot on time," says Manikandan, who has been called several times by senior civil servants and top police officials to rush with his robot during borewell rescue operations.

During one incident in 2014, he was asked to rush to Bijapur in Karnataka to save a child. He got the information late, but took a car and reached Bengaluru. From there he was flown to Bijapur - a distance of 650 km - on a helicopter.

Even then it was too late. "Forty eight hours had passed since the child had fallen into the borewell. We lost the child," says Manikandan.

His robot is likely to save many lives if it gets into the hands of NDRF personnel, who may be able to respond to distress calls in quicker time.
Borewell deaths are a regular feature across India and many children die before they are pulled out.
At present, the rescue teams usually dig parallel trenches using earthmovers to reach the trapped children. It is not only time consuming, but other factors like rocky terrain or rains hamper rescue efforts.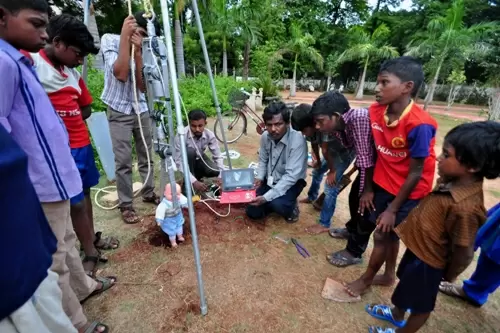 Curious onlookers watching Manikandan's demonstration of the 'borewell robot'

"The NDRF units can reach the accident spot faster and many lives can be saved," he says.
The authorities began to see value in his machine only after his successful rescue mission at a village in Tirunelveli district, about 150 km from Madurai, in April 2014.
A four-year-old child, who had fallen into a 16-feet deep borewell at 8 am in the morning, was rescued using his robot at 2.30 pm the same day.

"That mission was successful because we could rush to the spot in quick time," he says.

At a public park in Madurai, he and his assistant, M Thirunavukarasu, dig up a narrow pit that resembles an open borewell and demonstrate the working of the 'borewell robot' using a baby doll.
"The robot, which has 'metal hands' and a camera, is guided into the borewell with the help of a remote control handled by personnel on the ground.
"The personnel monitor the robot's movements on a laptop and make it grasp the child stuck in the borewell and pull it up to safety," he explains, as the baby doll is safely pulled out from the pit.

As a crowd of curious onlookers gather around us to watch the demonstration, he shares the backstory on how a simple village plumber turned an innovator.

"In 2003, while I was fixing a motor to a borewell in my village, my son wandered off and almost slipped into an open borewell. I noticed him at the nick of time and saved his life.

"A few months later, there was a report that a 4-year-old child had fallen into a borewell near Salem and died.
"Such incidents were regularly taking place all over the country and I got this idea to develop a robot for use in such situations," says Manikandan.

Born in a poor family, his father was an agricultural pumpset mechanic, who also knew a bit of plumbing and electrical work.

Manikandan always had a flair for his father's trade, and as he himself says, "the spanner, cutting player and pipe wrench were my toys as a child."

After Class 10, he did a diploma in fitter course and later worked as an instructor in the same subject at National Engineering College in Kovilpatti from 1990 - 2006. In 2007, he joined TVS Community College.

Since 2003, when he developed the first prototype of 'borewell robot', he has constantly improvised and upgraded the device. He often sold his wife's jewellery to fund his research.

In 2006, Chennai IIT recognised his innovation and gave him an award and a cash prize of Rs.20,000, but it took nine more years before the Tamil Nadu fire service department decided to buy the equipment from him.

He says he barely makes any profit selling the equipment at around Rs.60,000 per piece. "My objective is to save lives, and not to make money," he adds.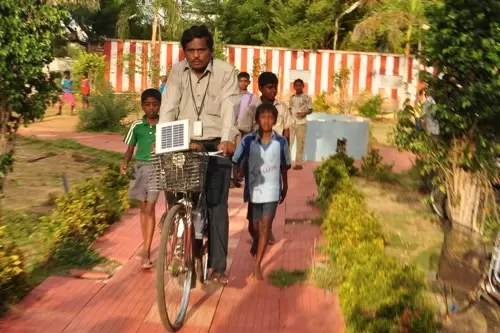 Manikandan on his solar bicycle

Meanwhile, he has developed the know-how to convert a regular bicycle into a solar powered one by spending just Rs.5000.

Read Article: Solar bicycle is now a reality in India

Manikandan has two sons, Dinesh, 16, and Jayaselva, 8.

This innovator needs a lot of encouragement that would spur him on to work on more social innovations. If you can offer a word of encouragement, you may write to him at [email protected]

This Article is part of the 'Unsung Heroes of Tamil Nadu' series

More Articles in the Series
Model leader: Kamala Balakrishnan
Saviour on street: S M Venkatesh
Caring by habit: Sridevi Ramesh

Trending Now: