Solar bicycle is now a reality in India
P C Vinoj Kumar
&nbsp | &nbspMadurai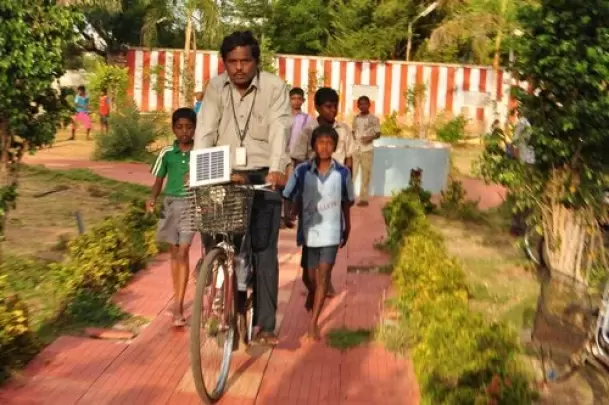 Madurai based innovator M Manikandan has developed a solar bicycle that runs on a pair of 12-volt batteries, powered by a solar panel and a DC motor.

An instructor of plumbing, wiring, and welding at the TVS Community College in Madurai, Manikandan demonstrated the working of the solar bicycle at a park in the city, and showed us how it can be made to run at "slow, medium and high speed."



"At slow speed it goes at 8 km per hour, at medium speed it can touch 10 km per hour, and in high speed it can cruise at 15 km per hour," said the innovator, who had earlier shot into limelight when he developed a robot to rescue children who fall into borewells.

Manikandan said the solar bicycle offered the rider the option to set their desired speed level. "You can adjust the speed while riding, or shift to the pedalling mode while on the move," said the 44-year-old innovator.

The batteries take about seven hours for a full-charge. "You can ride non-stop for three and a half hours when the batteries are fully charged. I am planning to add one more battery and an additional solar panel to increase the running time," he said.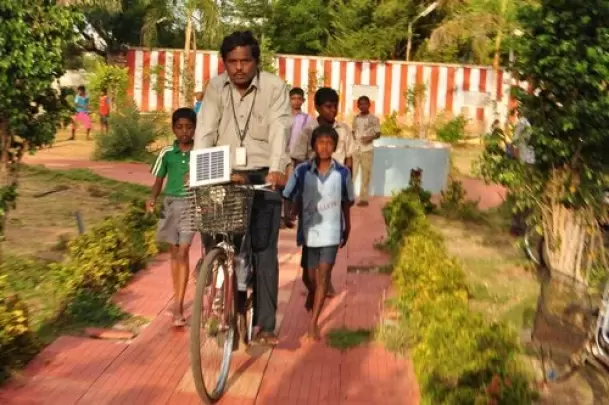 Manikandan is using the solar bicycle to commute to his college (Photos and Video By H K Rajashekar)

Manikandan said he found it challenging to stop the pedal from rotating when the bicycle ran on solar energy.

"I have fixed that issue now. But I am trying to improve on a few other things," he said. As of now the solar mode is cut off when the brakes are applied and it's a bit inconvenient to reset to solar mode again.

"I will make the shift back easier," said the innovator, who has spent just Rs.5000 to modify a regular Hercules bicycle into a solar powered one.

Manikandan said if someone helped him with an investment of Rs.10 lakh he will be able to set up a workshop to make 100 solar bicycles daily.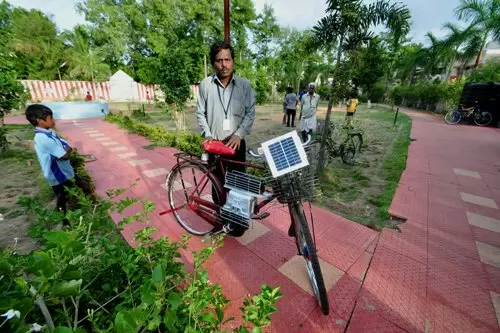 Manikandan finds great satisfaction in his innovations that are always meant for the public good

"We need a lathe, a welding machine and a drilling machine to set up a workshop with a capacity to modify 100 bicycles daily to run on solar power," he said.

Manikandan said he has been using the solar bicycle prototype to commute to his college every day. His said his savings will be Rs.1000 per month, the amount he usually spends on bus fare.

"My wish is that a large number of people should use my solar bicycle, but there should never come an occasion to use my other innovation, the borewell rescue robot," he concludes.

Manikandan can be reached at [email protected]