Inspiring children and even the old newspaper dealer to care for and help others

P C Vinoj Kumar
&nbsp | &nbsp Chennai
22-June-2015
Vol 6&nbsp|&nbspIssue 25
Sridevi Ramesh grew up in a home where poor youth from nearby villages stayed with their family for months trying to build a career for themselves. They would arrive in their city to join coaching classes, typing institutes, or for doing a diploma course.

"We lived in Warangal (a city in Telangana) and at any given time some people would be staying with us at home.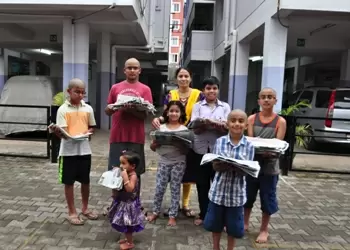 Sridevi with her team of young volunteers after collecting old newspapers from residents of an apartment in Chennai (Photos: H K Rajashekar)
"My mother would cook for them and they would live as part of our family as long as they stayed with us," says Sridevi, who continues the family tradition of caring for the underprivileged in Chennai, where she has been living since her marriage to L S Ramesh, a musicologist, in 2003.

A resident of IIT Colony near Velacherry, she collects old newspapers from houses in the area, and uses the money from the sales to support a couple of orphanages in the city.

"We buy things that the orphanages need for their daily use, like a couple of bags of rice, depending upon the money we have in hand. A bag of rice would cost around Rs.1200," says Sridevi, 36, who now has the support of many women and children in her neighbourhood.

At Kurunji Apartments in her colony, Jyothi, secretary of the residents association, helped her by sending a note to all the families in the apartment urging them to support Sridevi and donate their old newspapers to her.

"Isn't she doing a great job," remarks Jyothi, whose son Suhrith Sistla, a Class Five student at DAV Public School in Velacherry, helps in the collection of newspapers from homes in the apartment.

Encouraged by the impact of the project, and its benefit to orphanages, he plans to motivate his classmates and teachers at school to start a similar initiative in their neighbourhoods.

S Muruganandham, the local kabadiwala, is part of this simple initiative that has successfully involved the community for a social cause, and he visits the houses to collect the newspapers, which fetch a price of about Rs. 10 per kg.

While kabadiwalas are notorious for false weights and scales, he has vowed to be honest in his work.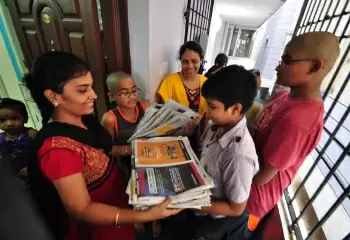 A resident of Kuruji Apartments cheerfully handing over the old newspapers to volunteers
"I have been working with Sridevi madam for the last three years. Since it is for a social cause, I don't mind going that extra mile on my tricycle even to collect small quantities, which I normally don't do for others. It gives me great satisfaction to be involved in this work," says Muruganandham.

Sridevi has plans to involve schools and colleges in the project, while also trying to extend the project to more areas in the city. Recently, she introduced the scheme at Chettinad Enclave in Pallikaranai.

There was good response from the residents and they collected around 150 kilos of old newspapers in their first outing.

On an average, they collect around 250-300 kilos each month, but the quantity is expected to go up in coming months as they add new communities like Chettinad Enclave to the project.

This initiative is being promoted under the banner of FACES - acronym for Food, Aid, Clothing, Education, Shelter – and has already been introduced in Warangal and Bengaluru.

Sridevi's husband, Ramesh, who is a senior executive at a shipping company, is a pillar of support to her. It was he who named their initiative FACES.

A musicologist, he developed a 'music chakra,' which is a self-help chart to learn Carnatic music on the keyboard. Priced at Rs.500, (US $50 outside India) it is sold online as well.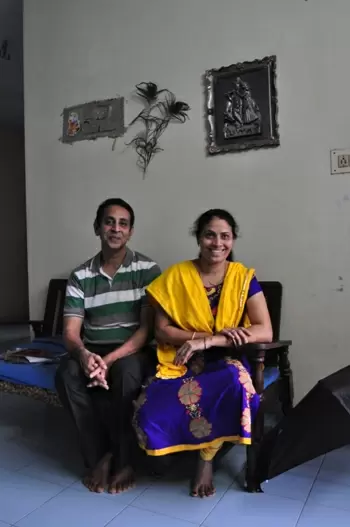 Sridevi's husband has been actively involved in FACES
The profit of Rs. 300 (it can be as high as Rs.3000 if it is shipped abroad) on each chart is donated to FACES.

"This is another way of raising funds for the orphanages. I am now working on a single sheet 25-year calendar, which also we plan to sell to raise funds for our projects," says Ramesh.
At Bengaluru, one of Sridevi's friends Revathi launched the newspaper project in their apartment in Amruthahalli two years ago. Several women and children in the apartment volunteer to collect the papers from the families.

They raise around Rs.2500-3000 each month and use the money to support a nearby orphanage for the blind.

"Sometimes we hand over the cash to the orphanage authorities. If we have the time, we try to find out about their requirements and buy them the things they need," she says.

Sridevi's father worked as a community health officer in the medical and health department of the Government of Andhra Pradesh.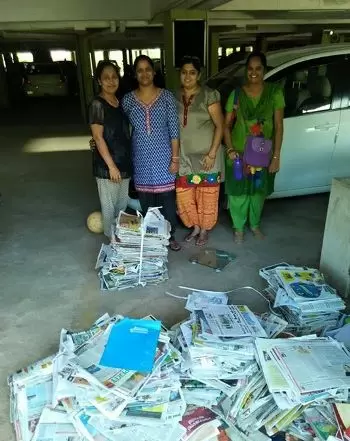 Revathi and her friends in Bengaluru with their collection
"He was a kind hearted man, and he was willing to open up his house to needy young men who had no money to find accommodation in a new town. I think I have inherited his qualities," says Sridevi, who joined the NSS programme while she was doing her bachelor's degree in commerce at Andhra Balika College in Warangal.

A trained Kuchipudi dancer, she had been a volunteer with Nehru Yuva Kendra Sangathan, a union ministry of youth affairs programme, before her marriage, and had worked in villages creating awareness on various social issues and providing the youth career guidance.

"My wish is that many more people who read this story should start doing what we are doing in their neighbourhood and support local orphanages," she says.

This Article is part of the 'Unsung Heroes of Tamil Nadu' series

Other Articles in the Series
Dreamers' dream: R Sravanan

Life Coach: Logammal Arumugam
Wish to share your story?
Trending Now: