A man of scientific temper, a literacy activist and an honest politician, he lost the polls

P C Vinoj Kumar
&nbsp | &nbsp Vellore
23-May-2015
Vol 6&nbsp|&nbspIssue 21
With child-like enthusiasm, K Viswanathan takes us around his village showing the development schemes that had been implemented in the period when he and his wife held successive terms as president of Kattuputhur Panchayat.
Between 2001 and 2011 the couple brought in many changes in the panchayat that grabbed the attention of the district administration and numerous ministries of both the state and central governments.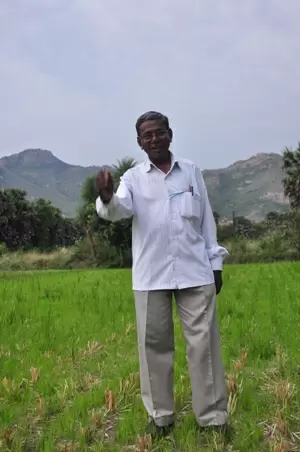 Viswanathan is a model panchayat leader in Tamil Nadu, who initiated several progressive schemes in his village (Photos: H K Rajashekar)
The panchayat bagged several awards including the Nirmal Gram Puraskar from the Union Ministry of Drinking Water and Sanitation for its successful programme of constructing toilets in all the homes in the village, and the prestigious Uthamar Gandhi award of the State government for good governance.
Even in the height of summer it is surprising to see a lot of greenery in the village, and some signs of agriculture activity.
In Vellore district, where rainfall is scanty, wells generally run dry in summer and there is hardly any farming during the season. It is difficult to even get fodder for the cattle.
But the scene is refreshingly different in this village. Though wells are not exactly brimming over, people still get water from borewells to feed their cattle and grow crops.
According to residents, water table in the village went up after Viswanathan and his wife implemented various water conservation schemes.
Viswanathan says they had built 75 check dams with financial assistance from the State agriculture and forest departments and the State and Central government aided afforestation projects.
Ten ponds were renovated; some of them deepened to hold more water, and few others cleared of encroachments and brought back to life.
The panchayat identified the ponds that had been encroached upon from village records and persuaded the families occupying it to vacate the land.
"We spoke to the families about the importance of protecting the water bodies, which was in the interest of the whole village and also our future generations. The encroachers vacated the land and we restored the ponds," says Viswanathan.
Besides building the regular check dams with cement and bricks, he has also built 'loose rock check dams' on streams across the village. A loose rock check dam is a pile of rocks and boulders arranged one over another from a depth of 2-3 feet and jutting out 3-4 feet above the ground.
"We built 24 such structures under the drought prone area programme, a central government scheme. These structures help in storing the flowing water, and raise the ground water table," says the 54-year-old former panchayat president, who is also the district secretary of Tamil Nadu Science Forum.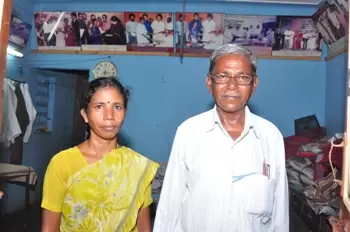 Viswanathan with his wife Chandrika, who was president of Kattuputhur panchayat between 2001 and 2006
A Mathematics graduate from Government Arts and Science College in Vellore, he got elected as president of Cooperative Milk Society in his village in 1981 while he was in college, and continued to hold the post for several years.
Later, he became a volunteer in the adult education programme, a literacy project for adults initiated by the government. Since the early 1990s he became involved in 'Arivoli Iyakkam,' a mass literacy movement of the State Government, through Tamil Nadu Science Forum.
As a socially conscious individual, he always had the desire to contribute in some way for the development of his village.
When their village panchayat was declared reserved for dalit women in 2001, he prevailed upon his wife Chandrika to contest for the post of president. She got elected and the couple began to introduce new projects and schemes in the village.
Viswanathan was elected as president when the panchayat was de-reserved and slotted in general category in 2006.
"Ours is a plastic free village. We educated our people on the harmful effects of plastic covers thrown on the soil and encouraged them to carry cloth bags when they go to shops. We also persuaded the shops not to sell cigarettes and all kinds of tobacco products," says Viswanathan.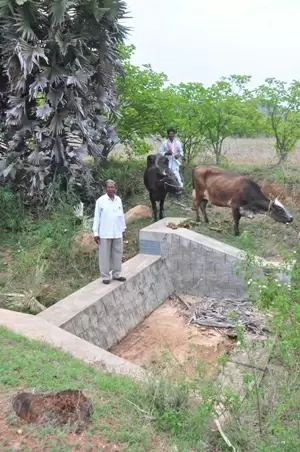 Kattuputhur panchayat has a total of 75 check dams - like the one seen in photo - and 24 loose rock check dams
Though he could not get re-elected in 2011 – the buzz is that he was defeated by the money power of his rival, who is alleged to have spent a huge amount in stark contrast to Viswanathan's 'no-cost' campaigning - people are voluntarily staying away from plastic bags and some shops are still not selling cigarettes.
"I don't sell cigarettes or paan products," says Vimal, one of the shopkeepers in the village still enforcing the ban.
Located on the foot of the 800 feet high Kailasagiri hill where the ruins of a British fort are found, and 10 km from the historic Vellore town, around 5500 people live in the six hamlets falling under Kattuputhur Panchayat.
Unlike many panchayat presidents in the State, who invariably belong to one of the major political parties and drive in swanky SUVs, Viswanathan does not even own a motorised two-wheeler, leave alone a car.
He enjoys a clean reputation and locals describe him as an honest leader, who has the interests of the community above everything else.
"He is a down-to-earth person, and leads a simple lifestyle. He created awareness on hygiene among the villagers and successfully eliminated open defecation in all the villages falling under his panchayat," says a senior journalist in Vellore.
Viswanathan uses a bicycle to commute, even when he travels to nearby towns, where he is often invited to address students in schools and colleges on science topics.
Having been associated with Tamil Nadu Science Forum since last two decades, he has developed several low cost experiments for explaining scientific concepts like gravitational pull and capillary action.
"I make science interesting for the children. For example, to explain the distance of the sun from the earth, I tell that it would take a person 14,000 years to reach the sun if he or she walks 30 km daily," says Viswanathan, who uses his skill as a service and not for profit.
He is a resource person for the State Institute of Rural Development in Chennai, the Regional Institute of Rural Development, and the National Institute of Rural Development and Panchayati Raj in Hyderabad.
"I would have addressed at least 15,000 panchayat presidents in last ten years. I talk to them about the various government schemes that they can use to develop their villages," he says.
As panchayat president, Viswanathan went around his panchayat every morning on his bicycle making announcements through his battery operated megaphone on issues like health and hygiene, and informing people about the government programmes they could benefit from.
"There are several government schemes for benefit of people. Most panchayat presidents are not aware of the schemes. We can accomplish great things with the funds allocated by different government agencies," he says.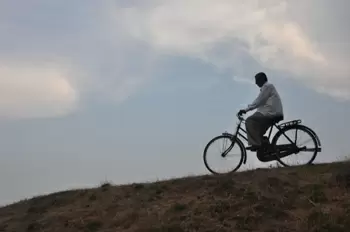 Viswanathan commutes on his bicycle to nearby towns, where he addresses school and college students
At his tiny two-room house in the village, the walls in the front room are covered with framed photos of him and his wife receiving various awards
His wife Chandrika does not speak much, but she says she is proud of her husband and is happy for what he has been doing for the community.
"My father had served in the army as a soldier. He was a kind hearted man. After his retirement, he always helped youngsters from our village find jobs.
"When we were living in Bangalore for some years, youth from our village used to stay in our house till they got jobs," recalls Viswanathan, who admits that his dad had been a great influence on his life.
The family has three acres of agriculture land, where they cultivate paddy, ragi, and vegetables through organic farming. "It is my only source of income," says Viswanathan, who gets a measly amount for his guest lectures at schools and government institutes.
He has a son, who has completed diploma in electrical and electronic engineering, and a daughter who has just passed higher secondary school.

This Article is part of the 'Unsung Heroes of Tamil Nadu' series
Other Articles in the Series
The hearts of these former Chennai Presidency College students beat for village kids
A life devoted to giving dignity and a home to the unwanted and abandoned
Priya Amma's tuition centres are changing the lives of underprivileged children

Wish to share your story?
Trending Now: