Education, discipline and harnessing of technology takes village high on development index

P C Vinoj Kumar
&nbsp | &nbsp Kovilpatti
26-October-2015
Vol 6&nbsp|&nbspIssue 43
In a State where movie stars are deified and it is common for youth to form fan clubs for actors, a village in southern Tamil Nadu has bucked the trend and set new standards.

The village, headed by a woman panchayat president, has no fan club, no party or caste flag, and no liquor shop. The youth here are well educated and many work in Gulf countries as engineers.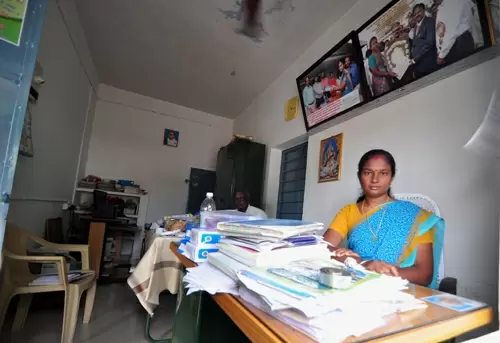 Twenty-seven-year old Kamala, president of Zamin Devarkulam Panchayat, has big plans to develop her village (Photos: H K Rajashekar)

Located about 110 km south of Madurai in Tirunelveli district, Zamin Devarkulam Panchayat has embraced technology in such a way that even its streets and public spaces have been brought under CCTV surveillance for better security.
The single village panchayat lies about 15 km from Kovilpatti off NH 7 - the route almost resembling an off-road track.

The land around is mostly fallow, but as you enter Zamin Devarkulam you notice 10-15 feet tall trees on either side of the road. In a water-scarce region it is a clear sign that people of this village care for their environment and have made an effort to green their barren landscape.
This village has a strong desire to change, and is in a hurry to do so.

In the vanguard of this progressive movement are 27-year-old Kamala, president of Zamin Devarkulam Panchayat and her husband Balakrishnan, who are rallying the people behind them to break barriers of caste and develop the village.

"Many of our educated youth are settled abroad and have high paying jobs. They give us ideas for development and also provide financial help to implement some of the projects," says Balakrishnan.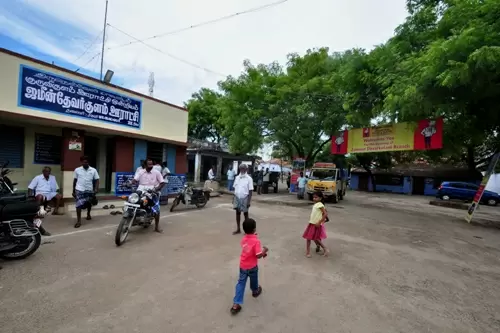 People from different castes live peacefully in Zamin Devarkulam Panchayat

The youngsters working abroad stay in touch with each other and also with elders back home to learn about the needs of the village and to suggest solutions.
It was their idea to install CCTV cameras in the village, for which they contributed Rs. 2 lakh. Eight cameras have been installed across the village.

"It has given us a sense of security. Sometime back police were able to locate a vehicle that was used to transport stolen goats from a neighbouring village using our CCTVs.
"The police checked our CCTV footage, saw the vehicle crossing our village, and got its registration number," says Kamala.
The cameras have also reduced incidents of petty quarrels and drunken brawls in public places.

"No one can now lie about who started the fight. We can play the footage to find out the truth," says Balakrishnan.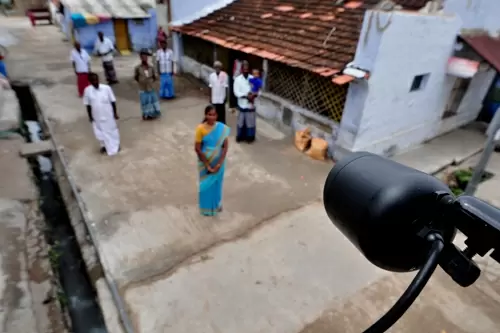 A view from the top: CCTVs have been placed across the village for security and to control crime

Around 1500 people belonging to different castes live in the village in peace and harmony. The village received the state government's 'untouchability free village' award and won a cash prize of Rs.10 lakh in April this year.

"There are around 100 scheduled caste families in our village. We all attend each other's family functions," says Balakrishnan.

M Marichamy, a panchayat ward member from the dalit community, shares that dalit women prepared the food for all the guests at a recent function in Kamala's family.

There have been four inter-caste marriages in recent years, one of them involving a dalit groom.

Neither Kamala nor Balakrishnan are graduates, but their lack of higher education has not stopped them from being tech savvy. Kamala dropped out of school after Class 11 and her husband did not complete his diploma in civil engineering.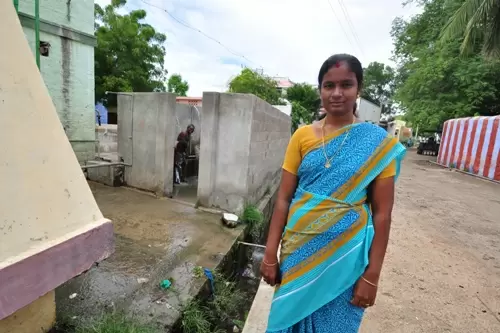 Kamala received the State government's 'untouchability free village' award this year. Seen in the background is the public bath room with the showers

Kamala, who was elected president in 2011, has introduced many amenities in the village, according to the locals.

She has built four overhead tanks - of two 60,000 and two 10,000 litres capacities each - which receive water from borewells dug at a source that is 2 km away from the village.

The panchayat has built a public bath room with five showers, which even visitors to the village make use of.

"The private bus plying between Kovilpatti and our village halts here for the night and the driver and conductor of the bus use the shower regularly," says Subbaraj, a panchayat ward member.

In keeping with the village's hi-tech image, the motors at the pumping station are operated remotely through a mobile phone that Kamala handles herself. A call to a specific number switches on the motor and another call would turn it off.

Through her efforts an ATM of Vijaya Bank was opened at the village recently. Earlier, people had to travel about 15 km to Kovilpatti to open a bank account or find an ATM.
Kamala has also set up a public address system at the panchayat office, through which announcements regarding various central and state government schemes, NREG (National Rural Employment Guarantee) work schedules, and local festivals are made.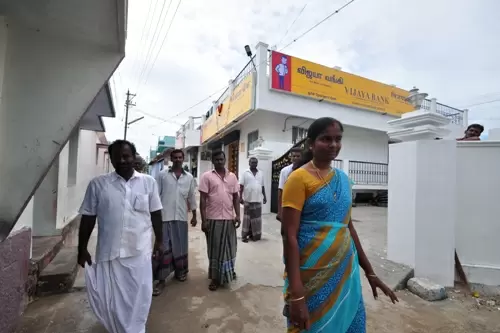 Kamala requested the bank authorities to open an ATM in her village

Loud speakers installed in 16 places across the village relay the message to the public.
The villagers are also proud of their 'talking clock', which too is connected to the PA system and announces the time every one hour along with a quotation or a proverb.

An inverter at the panchayat office ensures that there is no breakdown of the PA system during an outage and the talking clock and some of the street lights also receive uninterrupted power supply.

Kamala's priority now is to construct toilets in the few remaining houses in the village that do not have one before the end of her term.

As we leave the village and take the bumpy road to Kovilpatti, we could only wish that every village leader in India was like Kamala.

This Article is part of the 'Unsung Heroes of Tamil Nadu' series

More Articles in the Series
Saviour on street: S M Venkatesh
Caring by habit: Sridevi Ramesh
Wish to share your story?
Trending Now: