Giving a hope and focus to children who cannot afford engineering colleges otherwise

P C Vinoj Kumar
&nbsp | &nbsp Chennai
15-June-2015
Vol 6&nbsp|&nbspIssue 24
It is common for people to face disappointments in life. But how each person responds to those experiences determines their future.

Some bounce back, shaking off the dust – that's what these negative experiences are - with new vigour and fresh energy; but others give up on their dreams and go about life with a sour attitude.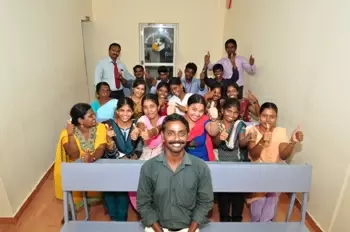 Saravanan has helped more than 200 students from poor families get free seats in engineering colleges (Photos: H K Rajashekar)
When R Saravanan, 36, son of an auto driver, could not admit his younger sister in an engineering college though she had scored 1142 marks out of 1200 in her Plus Two exam due to financial constraints, he was devastated.

The year was 2005. His sister eventually joined a polytechnic in Chennai, and did a diploma course, got married and settled in Hyderabad.

Though disappointed that his sister could not achieve her dream of becoming an engineer, Saravanan resolved that he would support students from poor families to pursue their higher education.

"My sister is a housewife today. Her life would have taken a different direction if she had done her engineering course. I want to help as many students as possible who want to study engineering but lack the financial resources," says Saravanan, turning emotional and fighting back the tears.

Four years ago Saravanan started Dhanalakshmi Raja Educational and Charitable Trust to fulfill his dream.

Till date, he has helped more than 200 students from around Tamil Nadu get free seats in engineering colleges located in and around Chennai. He has built a good rapport with the top management of few colleges, who allot a few free seats each year for the candidates he recommends.

Some of the students who have benefitted from his initiative would have stopped their studies and taken up a job, if they had not met him.

Saravanan helps deserving students, even if they do not have high scores. In fact, the first batch of six girls he helped get "free seats" in ARM Engineering College in 2011 had scored less than 60 per cent marks.

But they were all district level volley ball players and had the advantage of SC/ST reservation benefit. One of them, Reethi, had even played for the state volleyball team.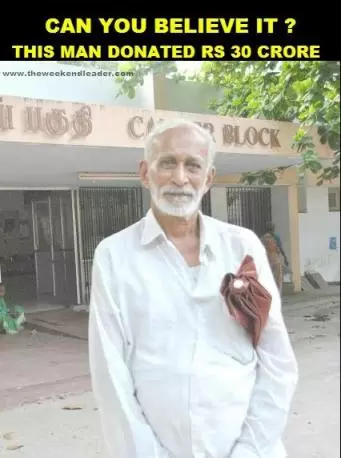 You Will Find It Hard To Believe
That Such A Man Lives Among Us
To Read His Story Click Here
The girls had got admission in top colleges under caste and sports quota, but they had no money to pay the fees and were left in the lurch.

They heard about Saravanan who had just started his initiative and approached him for help. Saravanan admitted them in ARM College. The college had waived their tuition fees and provided them with free books and hostel accommodation as well.

The girls, who will be graduating next year, are grateful to Saravanan and say that but for him they would have never studied engineering.

For Maheswari, who had completed her schooling with great hardship, and with the support of her grandmother, a construction worker, this assistance has been a great mental relief.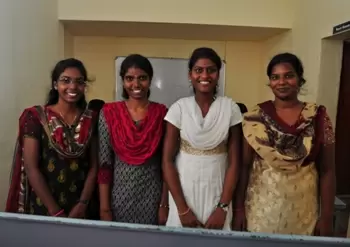 The Volleyball Players, who are studying at ARM College, hope to land good corporate jobs
"It was my grandmother who paid my school fees, but it was beyond her means to pay for my engineering course," she says.

The girls who have taken their academics seriously are entering the final year with no arrears, and hoping to get placed in a good company.
"Our only appeal to the big corporate companies is give us a chance to appear for the interview and we will prove our skills," the girls say.

Like these girls, two boys from Kovilpatti, Senthil Arumugam (1045/1200 marks) and Madhavan (1068/1200 marks), secured free seats and hostel accommodation at RRASE College of Engineering last year.

"The boys come from poor families. Their parents work in matchbox factories for meagre wages," says Saravanan.

Another beneficiary, Balamurugan, who scored 1048/1200 in Plus Two last year, was fighting a brave battle against the odds to fund his education.
"My family wanted me discontinue my studies, but I was desperate to study," he says. He worked at a stainless steel vessels shop to raise Rs.1000, the fee for counselling, a mandatory procedure in Tamil Nadu to get a seat in engineering colleges under government quota.

Later, he came to know about Saravanan and with his help got a free seat at RRASE College, where he is now doing mechanical engineering.

A beneficiary, G Sivamani, 25, a MBA graduate, is one of the volunteers assisting Saravanan in identifying deserving candidates for educational support.

Dhanalakshmi Raja Educational and Charitable Trust paid Rs.80,000 for his MBA education at Galaxy Institute of Management in Chennai.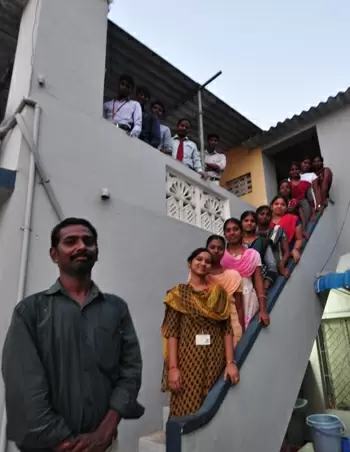 Climbing up the social ladder: Student beneficiaries with Saravanan
"I had cleared the government entrance exam for MBA, but was unable to pay the high fees demanded by colleges. I am indebted to Saravanan for his support," says Sivamani, who landed a job in TCS as Process Associate and earns Rs.18,000 per month now.

For Saravanan, who did his schooling at Chennai's Bishop Corrie Anglo Indian Higher Secondary School and B.Com from Vaishnava College, it is the satisfaction of fulfilling the dreams of several youngsters that has convinced him to devote his whole time for the cause.
After his graduation in 1999 he worked in several educational institutions, starting his career as a junior assistant and rising to the level of administration officer in one of the reputed schools in Chennai.

In 2014, he quit his job to focus fulltime on his social activity. "My wife supports my work and she is one of our volunteers," says Saravanan, who has a six-year-old daughter, and a five-year-old son.

This Article is part of the 'Unsung Heroes of Tamil Nadu' series
Other Articles in the Series
Life Coach: Logammal Arumugam

Ideal leader: K Viswanathan

Trending Now: