Making e- vehicles or selling shirts, innovation determines success
G Babu Jayakumar
&nbsp | &nbsp Vellore
19-December-2019
Vol 10&nbsp|&nbspIssue 50
Innovation and a readiness to adapt to new models of business processes is the key to entrepreneurial success. This was the simple message of two young men, Sri Harsha Bavirisetty and C M Faizal Ahamed, both 32 years old, and recipients of The Weekend Leader – VIT Amazing Entrepreneur Award.
In conversation with P C Vinoj Kumar, Editor of The Weekend Leader, before an attentive crowd of students and faculty of the VIT Business School, both the inspirational icons, who came from diverse backgrounds, shared their success stories after receiving the award at a function held at VIT Vellore.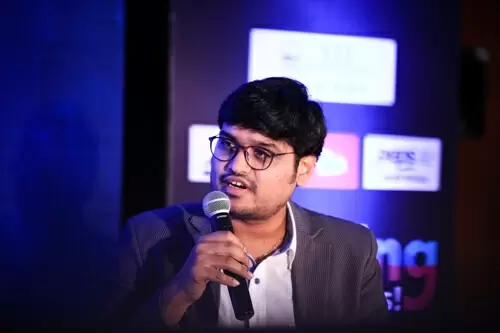 Sri Harsha Bavirisetty spoke on the future of electric vehicles in India (Photos: Sathish Kumar)

Bavirisetty, basically a techie from IIIT-Hyderabad, is into the development of next generation of e-vehicles, while Ahamed, despite hailing from a business family, started from scratch and went on to make a mark in men's apparels trade through his extremely low priced dresses, sold under the brand name 'Suxus.'
Ahamed could have bought a Rolls Royce with the profits that he made after letting go his dream business plan that turned out to be a fiasco and discovering a new model at a time of adversity, as he told a student, who was curious as to how he could buy an BMW sedan after selling his products at such low rates.
Similarly, it was at GMW (Gayam Motor Works), where Bavirisetty is the Chief Operating Officer, the Lithium-ion battery was first used in electric vehicles in India. He enlightened the crowd on the emerging technologies in the e-vehicle sector and dispelled many doubts.
He said that it was the battery that mattered most in an e-vehicle, both in terms of cost and also with regard to the drudgery of charging. He listed the challenges that the e-vehicle sector is facing in creating the infrastructure to help drivers charge their batteries on the go.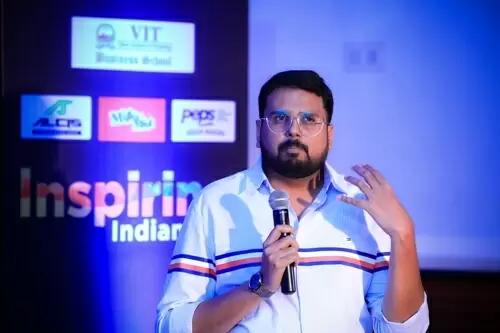 Faizal Ahamed, founder of Suxus, revealed how he cuts costs in production to deliver clothes at cheap prices for customers

The GMW honcho explained how the two major systems of recharging –providing stations with plug points all through the highways or setting up battery swapping facilities everywhere – could throw up business opportunities for those outside the realm of manufacturing and selling e-vehicles.

The success of the Suxus brand was demystified by Ahamed, who took pains to explain in academic terms that the crowd would relate to. Ahamed, who sells his shirts, T-Shirts and trousers for prices ranging from Rs 30 to Rs 399, said that it was through Return on Capital Employed that he made money and explained how it was different from single point profit.
Bavirisetty, too, enunciated the cost cutting advantages in owning e-vehicles. He drove home the point that even after reckoning the higher price of the vehicle, the maintenance cost and every other extra expenditure - the cost of petrol and diesel would always be higher – e-vehicles were value for money.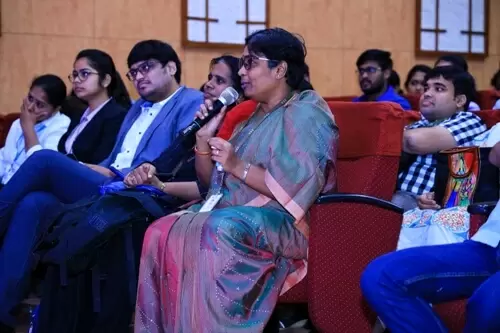 Dr P Subhashree, Dean, VIT Business School said that they would take up Suxus success story for a case study

However, he acknowledged that moving into a complete e-vehicle regime would take a long time in India.
He made it clear that the idea of charging on the move and autonomous vehicles, which are called 'driverless' automobiles, can only be a distant dream or remain in the realm of fantasy in the Indian context at the moment. He blamed the Indian roads for the unfeasibility of both the concepts.
The road to success was discovered by Ahamed through serendipity. Having grown up with a perception that he was born with a silver spoon in the mouth into a successful business family, he wanted to go abroad for higher studies after completing class 12.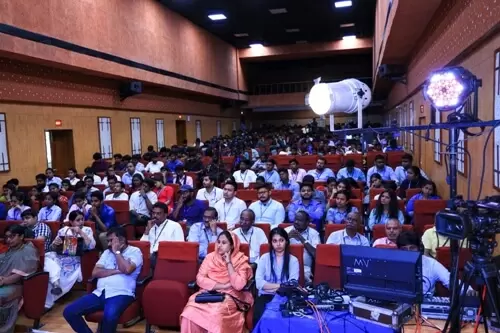 A packed auditorium listened keenly to the stories of the two young successful entrepreneurs

It was then his father shined the light on the dark underbelly of their family business that was in doldrums, driving home the point that he had to start earning. The father also mobilised Rs five lakh – three lakh of it by selling their Tata Indica car – as the capital for the venture, which was to supply stitched shirts for retail outlets like Pothys.
Since the business was doing well with Ahamed procuring fabrics from north India at low cost and having his own tailoring unit, he thought why not sell the products on his own. He did just that and chose shops adjacent to popular brand outlets and launched the Suxus retail chain that quickly flopped.
It was while clearing the stocks of his shop in Erode he learned that cutting costs could sell more shirts. He introduced an offer 'seven shirts for Rs 1000' to get rid of the stocks and shut the store. But the demand from customers for the shirts in the three days when almost everything was sold out, gave him the new business idea.
GMW's business idea to enter the e-vehicles market started at their workshop in Hyderabad, where they did years of research and development to come up with models. They even converted a Tata Nano car into an e-car, but realised that converting petrol or diesel cars into e-vehicles did not make business sense.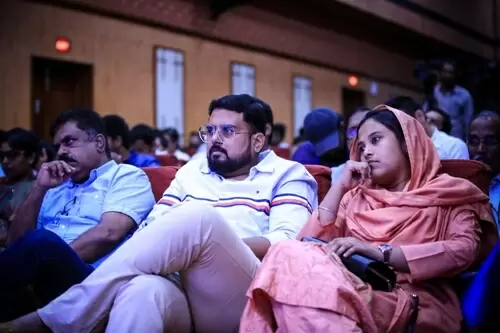 Faizal seated with his wife Nazia engrossed in the GMW success story shared by Bavirisetty

Bavirisetty observed that India has missed the bus on the hybrid car concept that was a rage in many countries including the US some years back. Both the US and China have now moved to making e-cars and India will soon catch up with the trend, he said, pointing to the fact that many automobile companies had already invested in R and D for developing e-vehicles. Ashok Leyland, Mahindra and Maruti were some of the companies that he identified.
His company, as of now, is manufacturing passenger and cargo three-wheelers and e-bikes, supplying them to companies like Amazon, Ikea, Flipkart and so on. The cargo vehicles are used for delivery of goods by the companies that have installed charging points at the warehouses, which are located well within the distance of 120 km that the vehicles can cover in a single charge.
Their e-bikes can be used in three modes - one, as a bicycle by manually pedaling, two in an assisted pedal mode and three as an electric powered moped. Though the company has more orders than it could execute, the company's vision is to enter the Indian market to produce and sell passenger and cargo vehicles for the common people, Bavirisetty said.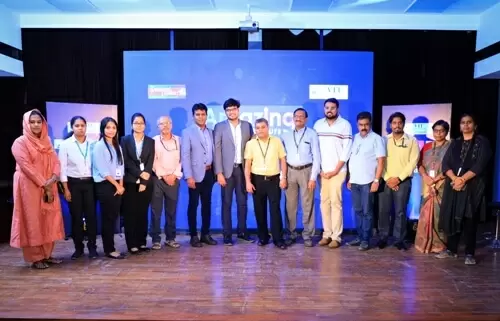 Sri Harsha Bavirisetty and Faizal Ahamed with the faculty and student coordinators of VIT Business School. Also seen are P C Vinoj Kumar, Editor, The Weekend Leader (sixth from left) and Dr P Subhashree, Dean, VIT Business School (second from right)

Focus is a common denominator in both companies. Suxus operates with a clear vision of concentrating only on men's wear and not get deviated into women's clothing, Ahamed said, in reply to two questions from students. He might move into other segments after capturing the entire men's apparel market, he said in a lighter vein.
He uses his focused campaigns through Facebook and Instagram not just to sell his products but also to break the mindset that low price cannot get good products.
In fact, the dean of VIT Business School Dr. P Subhashree, who presented the award to Ahamed and Bavirisetty said that her department would ensure that Ahamed's story was taken up for an in-depth case study by the business school while applauding his success.
The writer G Babu Jayakumar is Contributing Editor, The Weekend Leader

Trending Now: