How a college kid built a Rs 50 crore apparels brand with Rs 5 lakh, 7 sewing machines and 3 tailors
P C Vinoj Kumar
&nbsp | &nbsp
22-August-2019
Vol 10&nbsp|&nbspIssue 33
You can buy a T-Shirt for the price of a cup of tea at any of our outlets, says C M Faizal Ahamed, founder of Suxus, a Madurai-headquartered men's apparels brand that has taken the garment retail market in Tamil Nadu by storm.
Long queues extending over a kilometre are seen outside their stores when customers turn up in large numbers for branch openings in new cities. On August 15, it was the turn of Chennai to witness this spectacle as a new store opened in Anna Nagar.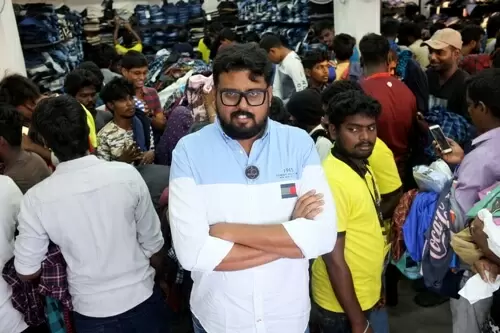 Faizal Ahamed started Suxus with seven sewing machines and three tailors in Madurai in 2006 (Photos: Ravi Kumar)

Ahamed gets these crowd videos posted on their social media pages, which in turn trigger more footfalls leading to more business. "Our stores are crowded on all days, not just on the opening day," shares the 32-year-old entrepreneur.
"We sell t-shirts, shirts, trousers, and denims in the price range of Rs 30 to Rs 399. Our per sq ft sale per annum is Rs 55,000. It is higher than the industry standard of Rs 7,000 per sq ft and the industry high of Rs 13,000 (D Mart)."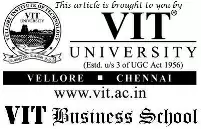 Ahamed invested Rs 5 lakh while studying in college to start a shirt making unit with seven sewing machines and three tailors in the historic city of Madurai in south Tamil Nadu.
He has built Suxus into a Rs 50 crore turnover brand, learning from his mistakes, making course corrections on the way, and finally hitting upon the 'low-price' formula, which became the key to his success and might be the subject of B-School case studies in the future.
Hailing from a family that has been into textile trading for two generations, Ahamed was forced to step into business to assist his father who had a debt of Rs 65 lakh that was settled by selling off a family property.
"My grandfather started Indian Cloth Depot (ICD) during the 1940s along with his two brothers at Vilakuthoon in Madurai. The business flourished during the 70s and 80s," says Ahamed. "ICD was the wholesale dealer for Binny, Mafatlal, and Premier Mills. We supplied shirtings, suitings, saris and blouse bits to all the top retailers in Tamil Nadu."
However, the next generation could not run the company professionally and the business took a hit. "By the time I was in class ten we were in a bad shape. We were like a lower middle class family and lived in a rented house. My father fell into deep debt and I remember those difficult years vividly when I was in school, from class nine to 12," Ahamed reminisces.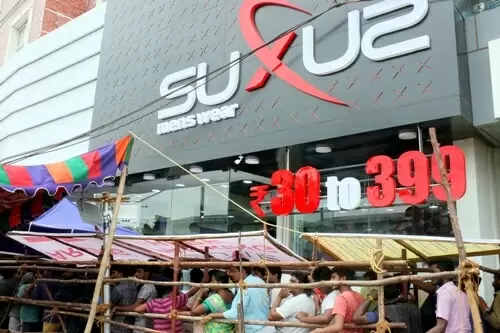 Crowds waiting for their turn to enter the Suxus store in Chennai

"We sold family assets and repaid the debt. I had to abandon my dream of going abroad to do higher studies and enrolled for the B.Com course in American College, Madurai."
Ahamed would soon revive the family fortunes by starting a new business. He was 17 and in college first year when his father took him to meet Pothiraj, a director of Pothys (a textile chain in Tamil Nadu), who told the duo to make shirts and supply it to their outlets.
Heeding his advice, Ahamed started a shirt manufacturing unit with Rs 5 lakh. It was a venture that would leverage on the family's traditional knowledge of fabrics and grow on the strength of its contacts with textile retailers in the state.
"We sold our Indica car for Rs 3 lakh and took a loan of Rs 2 lakh to finance the business," says Ahamed, who started from a rented place at South Masi Street in Madurai, making initially 100 shirts daily under the brand name Suxus.
They supplied solely to Pothys at the rate of Rs 250 per shirt and made a profit of Rs 15 on each piece. From the beginning, Ahamed diligently worked on the costing and used his knowledge in accountancy and commerce to good effect.
"We set out to produce about 2,000 shirts per month so that we could make a profit of around Rs 20,000 to 30,000," he says. "I calculated the cost of buttons, fabric, and increased our margin by reducing the wastage during the cutting and tailoring process. Soon, we started making Rs 1 lakh profit each month."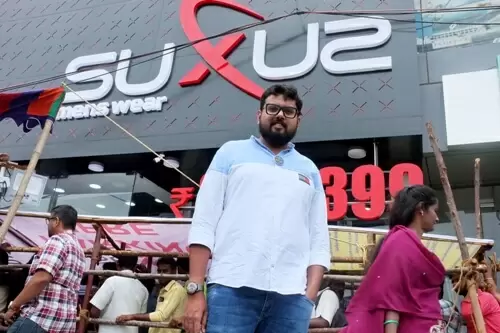 His family's textile trading background helped Ahamed to cut down cost of Suxus products

Ahamed worked hard to regain the family's lost prestige and economic status. "I got motivated seeing the children of businessmen whom I had known as kids doing well in life. I wanted to lift the status of our family too and toiled day and night to achieve my dream."
Riding a TVS XL and sometimes using public transport, Ahamed successfully juggled college and work.
"I would be in college daily from 8 a.m. to 3 p.m. After that I'd go directly to the unit and work past midnight. We continued to increase production," he recalls. "In the third year, I purchased a Maruti Swift car. By the time I finished college we had 110 employees, produced 800 shirts a day and supplied to about 30 stores including Pothys."
In 2010, at the age of 23 he got married to Nazia, a BBA graduate from Thanjavur, whose family too was into textile retailing.
The next year, Ahamed opened an exclusive brand outlet (EBO) in Madurai and six months later followed up with one more in Erode. By 2013, they had five outlets. But the stores did not bring in the expected sales and the company started bleeding.
"We had made huge investments but the returns were low," says Ahamed. "In Erode, the rent was Rs 1 lakh, but we were doing daily sales of just Rs 800-1,000. I realised I had made mistakes and failed to consider a lot of factors such as stock turns and refilling issues that had caused the debacle. We lost all the liquidity and profits we made in the past years and I decided to shut down all the stores."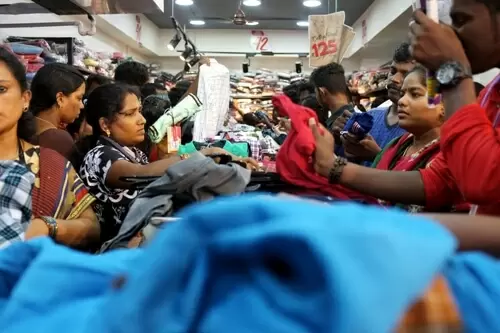 Stocks get quickly sold at Suxus outlets and the maximum shelf life of products is 10 days

They decided to clear the stocks at their Erode outlet by offering a discount sale. Ahamed shot down the idea of 'Buy One Get One Free' and told the store manager to put an offer of 7 shirts for Rs 1,000 and send the message to their customers. They had a customer database of 3,000 and all of them were informed.
"I didn't want to spend any more money in bringing back unsold stocks, but the response to the offer was the game changer," says Ahamed. The store made sales of Rs 3.5 lakh on the first day – December 22, 2015. Sales continued on the same scale until stocks got over and the manager requested for refill.
Ahamed had to rework their costing, sourcing methods, reduce margin, and focus on backward integration to make the model sustainable. For next one year, they experimented with the low-price strategy at Erode before trying it in Madurai and other places.
"We work on negative working capital. We procure raw materials on credit and pay the vendors after sales. The entire process from manufacture to sales is very fast. Stocks are sold within 10 days," says Ahamed, adding that they follow a light asset model and adopt a lot of thumb-rules on a daily basis.
For instance, they rent their outlets at 60 per cent of the market value and pay only six months advance.
"The landlords agree to this because they are facing problems with tenants who pay high rents, but close down their business in a few months. Then their properties lie vacant until they find a new tenant. Ours is a sustainable model," explains Ahamed. They work on a lean margin and as a rule keep their interiors simple and low-cost.
"This is how we cut down costs and pass on the benefits to the customer," says Ahamed, who plans to add four more stores in the next few months and take the total number of outlets to 12 by end of this financial year.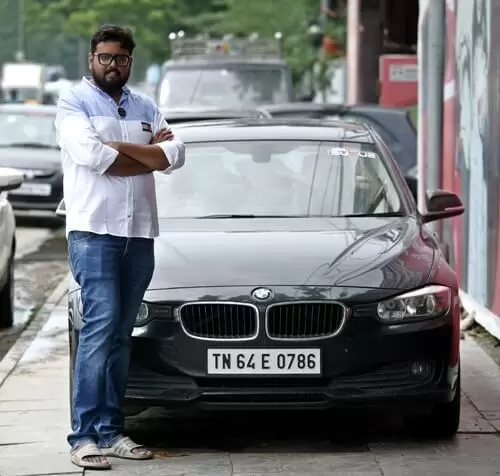 Ahamed used to ride a TVS XL moped when he started Suxus, but today drives a BMW

But what about the quality of their products, especially the t-shirt they sell at Rs 20? How long would it last?
"It's a myth that if you pay more you get high quality product and if you pay less you get cheap quality. We have launched a campaign to break this mindset among the people. As for the Rs 20 t-shirt, it can last for six months and withstand any number of washes in this period," he claims.
The father of an 8-year-old son Zarif, Ahamed spends Sundays with his family, and is an active member of entrepreneur forums such as Young Indians and Young Entrepreneur School (YES).
An ardent follower of motivational speakers Shiv Khera, Robin Sharma and financial expert Anil Lamba, he loves to attend leadership programs offered by leading institutions. He had attended a 10-day program at Oxford and has registered for another one at Stanford this December.
This Article is Part of the 'Amazing Entrepreneurs' Series
Wish to share your story?
Trending Now: