The Rains Set the Cash Registers Ringing at Pratik Doshi's Startup
Deven Lad
&nbsp | &nbsp Mumbai
24-January-2018
Vol 9&nbsp|&nbspIssue 4
How many times have you wished that you could find an umbrella with a nice fun design rather than the plain old boring ones? A 25-year-old Mumbai-based entrepreneur may have answered your prayers.
In 2015, Pratik Doshi started manufacturing colourful designer umbrellas with doodles and catchy slogans on them and he has found himself a niche space in the market.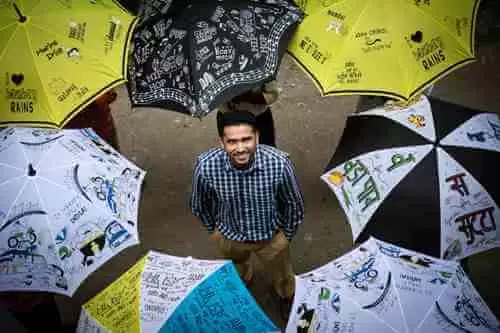 Pratik Doshi started Cheeky Chunk umbrellas with his savings of Rs 1.35 lakh in 2015. His current turnover is Rs 35 lakh (Photos: Manoej Paateel)

He started Cheeky Chunk umbrellas with Rs 1,35,000 from his savings and today his start up's turnover is Rs 35 lakh.
The figures may not be sensational yet but it's the innovative thought that counts – not many people would've thought of using the humble umbrella to their advantage!
"I always wanted to do something different from others so I thought of this," says Pratik, explaining the germ of his unique idea.
He was raised in a middle class business family in South Mumbai's Wadala but he always wanted to become an entrepreneur instead of joining his father, Jayesh Doshi, in the family business.
Pratik's grandfather, Bhagwan Doshi, had started a small business of making paper boats and corrugated boxes, which was running well but did not interest Pratik.
Instead, after completing his MBA from Welingkar Institute of Management in Mumbai, he put his mind to doing something of his own.
"My family supported my decision and even gave me some money to begin with," says Pratik, when asked how his father reacted to this choice.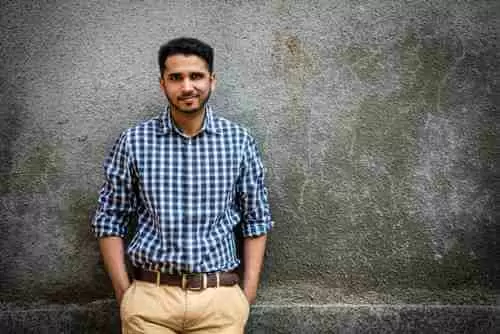 Pratik completed his MBA from Welingkar Institute of Management in Mumbai

Pratik came up with the business idea in 2014. "Everyone uses umbrellas and I thought why not design it in a way that people will get emotionally attached to it and then carry it for the love of it rather than just for its utility… and that's how Cheeky Chunk was formed," says Pratik.
Pratik set about researching doodle designers and started work with art students who wanted to showcase their talents.
He had saved money from giving tuitions to students during his college days and invested all of it into his business idea. His father allowed him to manufacture the umbrellas at the factory of his company, Doshi Agencies.
In June 2015, Pratik started his unit with four workers and made 700 umbrellas in the first month. But business didn't take off and no one bought any of his umbrellas.
"I had showcased my umbrellas online at Amazon India and social media platforms but there was no sale, so I was disappointed," says Pratik. "I went to retail stores too, but faced disappointment again."
Pratik was seriously worried. "I was tense, I was irritated, I thought I had wasted money on this but then one day changed everything," says Pratik.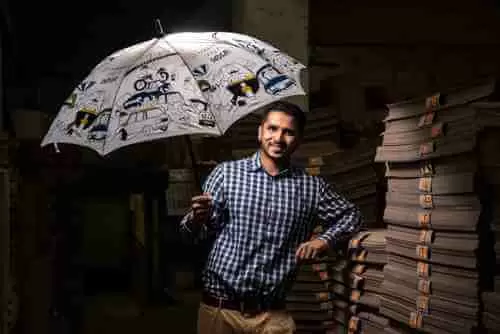 Cheeky Chunk brand umbrellas are priced between Rs 499 and Rs 699

"There was heavy rain one day that monsoon," he tells us. "I was low because of my business not taking off but, suddenly, the next day my umbrellas started selling!"
No less than 400 people bought Pratik's umbrellas online. Luck favours the brave, as they say, and that rainy day helped Pratik's business finally take off.
After that he didn't look back and by now has manufactured 10,000 umbrellas. He now hires freelance designers to whom he pays anywhere between Rs 1,000 to Rs 10,000 per design.
The cost of an umbrella ranges from Rs 499 to Rs 699 and there are different designs and themes, like Mumbai City, Why I love rains, Bollywood and more, to choose from.
"I always knew this idea will work because of its novelty value," says Pratik. "They used to buy plain old umbrellas and now, in similar costs, they can get something pretty and unique. Who wouldn't like that?"
Word of mouth has helped his business. Bloggers and models promote his umbrellas, including some celebrities like Karan Singh Grover, Mahesh Bhatt, and Boman Irani, who use Cheeky Chunk umbrellas.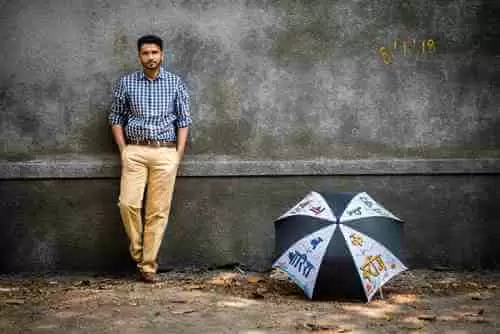 Pratik is now eyeing the Amazon US market

"People like my umbrellas and they recommend them on their own, so I guess my product is good," says a satisfied Pratik. "But to reach this stage was very difficult."
Around seven people are working with him now. Cheeky Chunk umbrellas are produced under Doshi Agencies, his father's proprietorship firm.
"Our growth is all because of online marketing and we want to go big in next few years and go out of India," says Pratik, revealing his future plans. "I am now looking forward to the Amazon US market."
Well here's a man who truly understands the value of a rainy day!
This Article is Part of the 'Super Startups' Series
MORE SUPER STARTUPS
Santosh Sharma, Founder, Indima Organics Private Limited
Wish to share your story?
Trending Now: