Quitting a corporate career he started a cattle farm that's now grown into a Rs 2 crore turnover dairy business
Gurvinder Singh
&nbsp | &nbsp Jamshedpur
11-January-2018
Vol 9&nbsp|&nbspIssue 2
Santosh Sharma could have led the ordinary life of a management professional but a chance meeting with the former President, APJ Abdul Kalam, not only inspired him to think 'out of the box' but to go ahead and 'destroy the box' and create new opportunities for both himself and the younger generation.
Santosh, based out of Jamshedpur in Jharkhand, opened the M'ma dairy farm in 2016 and today provides employment to over 100 people, mostly youths below 30 and tribals of the Naxal-affected Dalma village.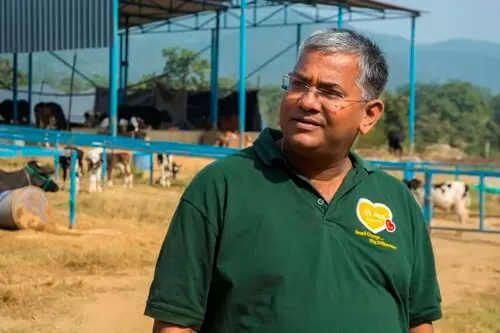 Santosh Sharma's M'ma dairy provides employment to more than 100 tribal youth from the Naxal-affected Dalma village (Photos: Samir Verma)

He started out with 8 cattle and an investment of Rs 80 lakh, and now has 100 cattle and the turnover for his company, Indima Organics Private Limited, stands at Rs 2 crore for 2016-17.
By opening an organic dairy farm inside Dalma Wildlife Sanctuary, an area in the Naxal belt, around 35 km from Jamshedpur, the 40-year-old entrepreneur has made a difference in the lives of the youth in the area, whose odds of getting employment were low thanks to the trouble in the area.
Apart from this, Santosh has also been pursuing a parallel career of an academic and a motivational speaker, authoring two books – Next What's In and Dissolve The Box – and lecturing students at IIMs and other top management colleges in the country on making a difference.
Born on 29 June, 1977, at Jamshedpur, Santosh is the youngest of five siblings. His father, (Late) SR Sharma, was a class four employee at Tata Motors and his income was too paltry to run the family.
"The financial condition of my family was not good when I was born. My father retired in 1978, just a year after my birth," recalls Santosh. "Our well-wishers suggested we shift back to our ancestral house at Chapra in Bihar but my mother put her foot down as Chapra didn't have good educational facilities."
His mother, RK Devi, decided to take up the financial responsibility of the family when a kind neighbour gave her a cow as a goodwill gesture. She started to sell milk.
Santosh completed his class 10 in 1994 from Gulmohar High School. "I was a good student and the family somehow managed to fund my education. My sisters took care of the house while I, along with my brothers and father, used to sell milk door-to-door," he says. "I still remember the days when I went to my friend's house to supply milk in my school uniform before going to school in his car!"
Slowly the number of cows increased to around 25 by 1994 and the family's financial prospects improved.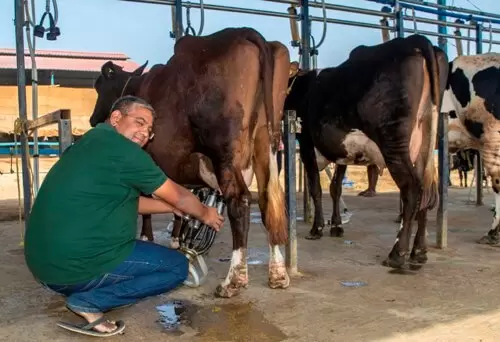 M'ma Dairy has more than 100 cattle and supplies milk to customers in Jharkhand

He cleared his class 12 in the commerce stream in 1996 from Little Flower School and then went to Delhi and joined Delhi University to do B.Com (Hons). Simultaneously, he also joined a course in Cost Accountancy and completed both in 1999.
Santosh's first job was with Maruti, in the management auditing team, at a stipend of Rs 4,800, though he only worked there for six months.
In 2000, he got a better job at Ernst and Young as an analyst and drew a salary of around Rs 18,000 per month.
"I quit that job in 2003 and decided to sit for the UPSC exams with the dream of becoming a civil servant," reveals Santosh. "I came back to Jamshedpur and began to seriously prepare for UPSC."
However, he eventually joined a multinational bank in Jamshedpur in 2004, as the branch manager, at a salary of Rs 35,000. In the same year, he got married to Ambika Sharma, also from Jamshedpur. The couple is blessed with a son and daughter.
He worked at the bank for six months and then joined another bank as head of Jharkhand, Bihar and Odisha at a salary of Rs 50,000 per month.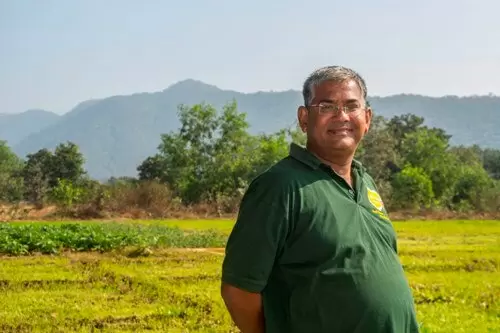 Santosh was earning Rs 85,000 per month when he quit his job at Air India

In 2007, after working there for three years, he joined Air India as Assistant Manager in Kolkata, at a salary of Rs 85,000 per month. He then took a sabbatical of three years, from 2011 to 2014.
"I got interested in writing and authored Next What's In, a book on management, which was published in 2012. My second book, Dissolve The Box, came out in 2014 and became an instant hit," says Santosh.
"The book got endorsements from people like Oprah Winfrey, Sachin Tendulkar and around 50 CEOs across the globe. After this, I began to give training to the top guys of corporate houses, as well as students of IIMs and top B schools in the country."
During one such talk, when he was talking about 'destroying the box', he met APJ Abdul Kalam, who invited him for a meeting in 2013. This meeting changed the course of Santosh's life. His second book dealt with breaking mental cages to unblock the energy of the mind.
"He was impressed with my ideas and invited me to his residence in Delhi," explains Santosh about his encounter with Kalam.
"He asked me to work for the younger generation. We decided to work on projects in villages and tap the energy of the 40 crore youth in the country. Unfortunately, he passed away in 2015… I still remember that he was very humble and down-to-earth and I never got the feeling that I was in front of a great scientist."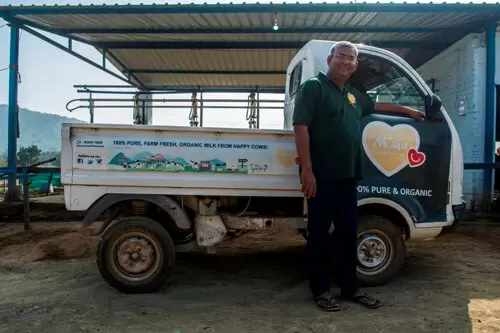 M'ma Dairy sells around 15,000 litres of milk every month

Santosh decided to work towards the dream he shared with Kalam. "I already had the knowledge of dairy farming from my family so I decided to begin there, and began looking for a land for the farm," he says.
He zeroed in on a land inside Dalma Wildlife Sanctuary in 2014 and got into a co-owning partnership with the land owners. He took up around 68 acres of land from the owners and paid them Rs 30,000 per month.
The M'ma (Mama for short and so named because of his love for his mother) dairy farm opened up in January 2016 with 8 cattle, at an investment of around Rs 80 lakh. "I arranged the money by squeezing out the savings of the whole family to start the farm," says Santosh. "My friends were against my decision of opening the farm as it is in a Maoist area but I decided to go ahead with it and my risk paid off."
M'ma dairy is the only farm in Jharkhand supplying organic milk – the cows are fed with five types of organic grass grown in the Dalma village.
"We started with pure organic milk and are now producing paneer, butter and ghee," says Santosh. "At present, we sell around 15,000 litres of milk every month in Jamshedpur. Our products are sold within four-to-five hours. We don't add preservatives and the foods are sold fresh." Santosh is grateful for the support he received from his friends, Kamlesh and Niraj, both IITians settled in the US and who have invested in the venture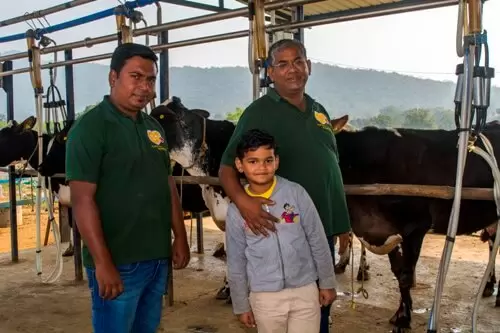 Santosh with his nephew, Rahul Sharma (left) and son

As Santosh remains busy in conducting management training across the country, the major work of the farm is handled by his nephew, Rahul Sharma. Other team members include Kunal, Mahato, Shinu, Lokesh, Ashish, Ashok, and many other villagers. Santosh has been awarded with Star Citizen Honour award in 2013, Alankar Award by Tata in 2014 and Youth Icon Award by Government of Jharkhand in 2016.
The entrepreneur says that he wants to expand on agriculture and tourism to give employment to hundreds of youths. He also wants to open a school and hospital for the villagers.
His mantra for success: Always follow your dreams with a passion, but never forget to give back to the society.
This Article is Part of the 'Super Startups' Series
MORE SUPER STARTUPS
Revathi Roy, Founder, Hey Deedee

Trending Now: