Student Housing Startup 'Placio' Promoters Hit Pay Dirt with Amity University Tie-Up

Partho Burman
&nbsp | &nbsp New Delhi
25-November-2017
Vol 8&nbsp|&nbspIssue 48
When in March 2017, the trio Rohit Pateria, Ankush Arora and Atul Kumar Singh tied up their one year old start-up student housing venture, Placio, with Amity University, even they did not expect the meteoric growth. Their turnover went over Rs 10 crore between April and August – in just five months.
Rohit (40), Founder & CEO, is a chartered account, Ankush (40), Co-Founder & Director, has a post-graduate degree in hospitality management, and Atul (35), Co-Founder & COO, who joined the company a year later, did his MBA from IIM Ahmedabad and B.Tech from IIT Roorkee.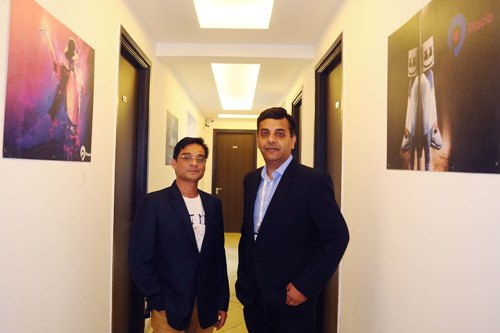 In March 2016 Rohit (right) and Ankush (left) founded Placio and Atul Kumar Singh joined them a year later. Placio raked in revenue of Rs 10 crore between April and August this year (Photos: Navnita)

Derived from a Spanish word, Palacio, which means a beautiful place for living, Placio is a Private Limited Company founded by Rohit and Ankush in March 2016. They had worked together for various companies from 2001, and incorporated Placio with a capital of Rs 25 lakh. Primarily, they rented apartments in builder-developer properties on three-year's lease agreements.
Atul founded Click-a-Home, a company that dealt with real estate in Noida, which was taken over by Rohit and Ankush in March 2017 and Atul became the third part of Placio student housing project.
Together, they have redefined off-campus student housing in India by providing branded rental accommodation to students who do not find rooms in university hostels.
Within a kilometre's radius of Amity University in Noida, Placio offers quality homes with every modern facility available in the market. It still operates by renting buildings on three-year leases, in which they offer three different categories of accommodation – Placio Luxury, Placio Prime and Placio Dorm .
It operates separate properties for girls and boys and at present houses 700 students in all. Totally they have 18 properties and 1,200 beds.
The accommodation tariff ranges from Rs 10,000 to Rs 24,000 per bed, per person, per month. While it provides services such as safety, security, house maintenance, laundry and food for all the categories, the luxuries lie in the size of the room, quality of bedding, quality of food and comfort add-ons.
"Parents with deep pockets look at the high-end stay option for their wards," explains Rohit. "The property structures of these are different, with lounges, balcony, open areas etc., and we set the menu in consultation with our tenants."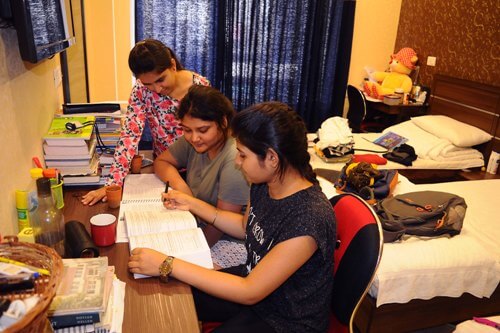 Placio provides accommodation for tariff ranging from Rs 10,000 to Rs 24,000 per bed, per person, per month

Students from across the country, including the north-east, Tamil Nadu, Kerala and Kashmir stay at Placio homes.
"It is an inclusive housing option," says Rohit. "Placio is not just about student housing. We create an experience, provide a social connect, and this is more about community building-cum-living. We want to build a platform where students can have an elevated experience."
All three partners were once corporate employees who were itching to do something of their own in the real estate sector. They quit their respective jobs to become entrepreneurs for the same reason: a corporate job could get you the comfort of a monthly salary but it restricted thinking and innovation.
Rohit and Ankush immersed themselves into finding a large-scale problem in the real estate sector, the solution to which could be simple and profitable. After several months of rigorous research, they zeroed it down to student housing, which, according to a survey conducted by Jones Lang LaSalle (JLL), a real estate investment management company, is a US$ 50 billion business in India.
The duo then researched the demand of student housing versus structured supply available in the market – the gap was huge. The data collected during their research states that around 35 million students are pursuing higher studies and 70 per cent students move out from their hometown for this.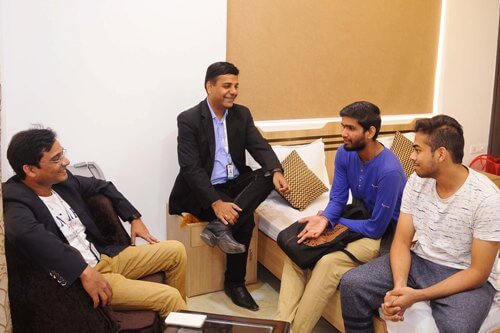 Placio promoters Rohit and Ankush immersed in a conversation with student inmates

Next, they narrowed down their research to find out the universities that don't have large-scale hostel facilities, the markets which have this demand-supply gap, which town had the potential to raise campus student housing, and so on. Finally, they focused on Amity University that has 28,000 students.
"We started our communication with Amity University; we filed as start-up incubation and our offer was accepted," says Rohit.
In a short span of time, they have redefined themselves as start-up entrepreneurs. With the help of a Singapore-based multi-billionaire investor, they are planning to come up with an additional 10,000 beds this year, across cities like Greater Noida and Lucknow (Uttar Pradesh), Gurgaon (Haryana), North Campus, South Campus and Laxminagar (Delhi), and Indore (Madhya Pradesh). They are eyeing a turnover of Rs 100 crore in 2018-19.
"Our plan is to set up 8,500-bed capacity in Delhi-NCR, 1,000-bed capacity in Indore and 500-bed capacity in Lucknow," reveals Rohit.
Rohit belongs to a middle-class family from Panna in Madhya Pradesh. His father was a primary school teacher and the family moved to Indore – however by then Rohit had already got through to Ramkhiriya boarding school in Panna and he studied there till 1993, experiencing hostel life from 6th-12th standard.
He completed his CA in 1999-2000 and worked with several multinational companies, including Edelweiss Broking Limited, his last job, which he quit in January 2016. In January 2001, Rohit married Sarika and they have two boys and a girl.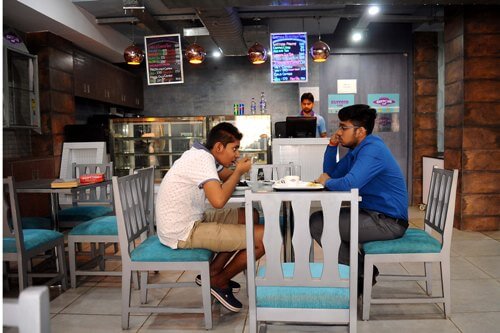 Menu at Placio is fixed in consultation with the inmates

During these 16 years, he had official and private opportunities to visit countries like USA, Singapore, Indonesia, Malaysia and Thailand, where he mostly preferred to stay in hostels. On account of this, he gathered first-hand experience of how these hostels connect university students.
Sharing one such experience during his stay in a hostel at Brooklyn in New York, Rohit says, "I stayed in dorms for 15 days with backpackers from across the globe. It was a multi-cultural experience with an open kitchen, where one could cook one's own food, and there was a lot of focus on networking."
He inculcated some basic ideas from these hostels, such as cleanliness, courteous staff, professional attitude, timely cleaning, grievance redressal, etc.
Ankush was born and brought up in Lucknow. His (late) father was an engineer with Uttar Pradesh Rashtriya Nirman Nigam. He finished his schooling from St. Francis College, Lucknow and completed hospitality management from MJP Rohilkhand, Bareilly in 2001, on the behest of his father's friend (late) Kuldeep Singh Rana, who had a resort in Miami, USA.
He applied for H1B visa after finishing his course but the tragic 9/11 incident in 2001 shattered his dream. "By that time the hospitality business had slowed down," recalls Ankush. "So I decided to explore the service industry, which eventually led me to meet Rohit and start-up Placio."
With 17 years of experience in capital marketing and international real estate, his last job was with Century-21 Real Estate, a US-based company, as International Sales Head. Ankush married Neha in 2009 and the couple has two daughters.
Son of a judicial officer, Atul has had a fascinating career. He attended several educational institutions because of his father's transferable job, and finally finished his 12th standard from St. Paul's Academy in Ghaziabad.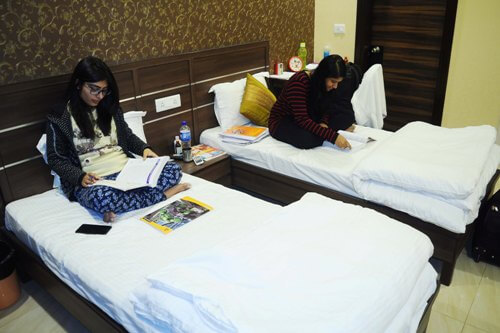 Placio aims at providing comfortable living space for the students

He then went to IIT Roorkee to complete his B.Tech in 2005. His specialisation was in chemical engineering and he got placed in the campus recruitment drive with Tata Consultancy Services.
In 2008, he resigned from TCS and refused an HIB visa for USA. Instead, he started Rentbhai.Com, a real-estate company with a friend in Noida, which served corporate employees.
However, the start-up collapsed during the recession, which was a great setback for him and, taking his father's advice, he sat for CAT exams and got through IIM Ahmedabad.
While pursing his MBA, Atul got married to his childhood sweetheart Preeti in May 2010. The couple has two boys. He passed out in 2011 and got two campus offers in Price Water House and RPG. He joined PWC as a consultant.
"I wanted to be in a real-estate company but the campus didn't have an option," says Atul. "I had always wanted to become a real estate developer."
His rollercoaster career induced him to quit one job to join another. He wore multiple hats and even joined the Aam Aadmi Party in 2013 and got the Lok Sabha ticket for his hometown Hamirpur constituency.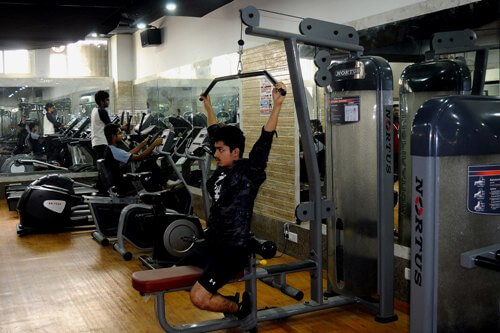 The in-house gym at Placio is popular among fitness conscious students

"I contested the election," says Atul, "Hamirpur in Uttar Pradesh is a rural constituency with 1,100 villages. It was a totally different experience. I liquidated my flat and spent Rs 30 lakh for the election. I got some donation from friends and family as well. However, the BJP won the seat and I got only 10,000 votes. The election broke me financially."
After this, he borrowed Rs 1 lakh and started Click-a-Home, which eventually merged with Placio in March 2017.
The three pillars of Placio hail from three different backgrounds, but they have the same path: they all follow their hearts. They shoot for the moon… even if they miss, they will land among the stars.
This Article is Part of the 'Super Startups' Series
MORE SUPER STARTUPS
Revathi Roy, Founder, Hey Deedee

Trending Now: