Young Entrepreneur Finds Niche Space in Digital Media with Out of the Box Idea
G Singh
&nbsp | &nbsp Kolkata
30-August-2017
Vol 8&nbsp|&nbspIssue 33
Hailing from a middle-class family, having received a good education, and landing a good job with a fat salary on top of that may seem like a dream – but Dipak Agarwal wasn't satisfied with the mundane 9-to-5.
One fine day he decided to step out of the comfort zone to start his own venture and, in just over four years, his digital media company in Kolkata has a client base of around 3,000. Its turnover is set to cross Rs 10 crore by the next fiscal year.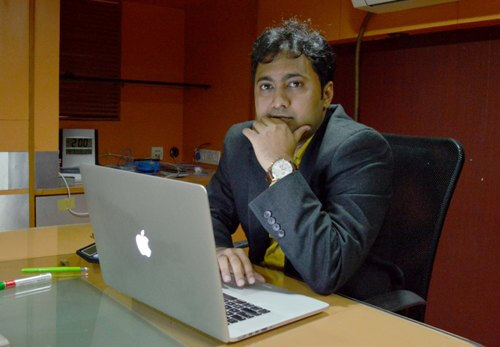 Dipak Agarwal quit his job at Ernst & Young where he was earning Rs 70,000 per month to launch OneX Solutions in 2012 (Photos: Monirul Islam Mullick)

On 31 January, 2013, Dipak launched OneX Solutions Private Limited, a bootstrap with an investment of around Rs 1 lakh from his savings.
Today, his plush office is near the iconic Lal Bazar in Kolkata. He employs 23 people and his long list of clients includes reputed names like Pizza Hut, KFC, Shoppers Stop, Tech Mahindra, Tata Motors and Asian Paints.

Born on 13 June, 1987, in Kolkata, Dipak is the eldest of three children, with a younger brother and sister. His father, Hari Kishan Agarwal, ran a shop that sold watches and other gift items, which was a fairly profitable business.
"The income from the shop was enough to bear our expenses," says Dipak, about his comfortable early life, "but I always wanted to create a niche for myself and was not content with assisting my father."
He went to Chandrabani Memorial High School till class seven after which he joined Nopany High School till class 10, finishing his 12th from Shree Jain Vidyalaya in 2007.
"During my school days, I also worked as a freelance journalist with a newspaper," he talks of his early days, "I used to meet different personalities and interview them. I still remember meeting political heavyweights like Lalu Prasad Yadav and Sitaram Yechury. Though I was not paid for my work, it helped me enhance my communication skills."
Onex has employed 23 people at its Kolkata office

He took an active part in school debates and that helped him become an extrovert. In 2007, he got admission at St Xavier's College and completed his graduation in commerce in 2010.
"Alongside my graduation, I enrolled myself for Chartered Accountancy (CA) and Company Secretary (CS) courses simultaneously in 2007," says Dipak.
In March, 2010, he shifted to Delhi when he got his first job as an intern with Ernst & Young with a monthly remuneration of Rs 18,500.
"I worked in Delhi as an intern for a year and then got transferred back to Kolkata in June 2011," explains Dipak. "I continued to work in the Kolkata office before deciding to quit in December 2012."
By then, the seeds of entrepreneurship had already begun to germinate in his mind. "The good thing about my family was that they never pressurised me for doing anything," explains Dipak. "In my college days I used to often assist my father in his shop, but he never forced me to join his business."
They did worry, however, when he left his job that paid Rs 70,000 in 2012. "They were sceptical about my future but I believed in myself firmly," says Dipak.
His business idea was out of the box, and initially it was difficult to explain it to his family or even to his girlfriend, Harsha, who later became his wife. "Everybody thought I had gone crazy because I quit a cushy job to plunge into a risky business," remembers Dipak.
"I was trying to start a company that would digitise the advertising concept. I realised that the retail sector was not organised and businessmen never thought of keeping a database that could be an asset to their company. My goal was to help such clients build their database and make them understand that day-to-day trading is not enough in this digital era."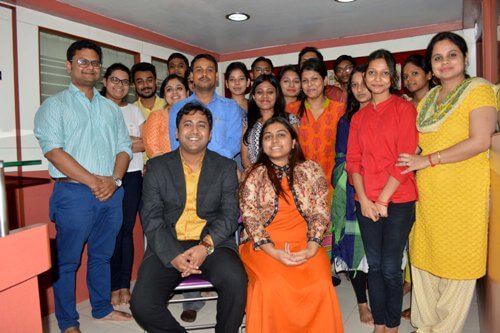 Dipak with his wife Harsha and other team members

He went to potential clients and explained how it was important to update their database with contact numbers and email addresses, as it not only helped to keep existing customers in place but also enhanced their business opportunities.
"My company deals in the bulk Short Message Service (SMS) business, which are of two types, transactional and promotional messages," explains Dipak.
Transactional or non-promotional messages are the ones sent to every customer to pass on information necessary for using the product or service.
Transactional messages include a message sent by a bank to an account holder regarding their available account balance or a message sent to the client by a company regarding an invoice amount after they have done an online transaction.
"My brother, Ashok Agarwal, was already into advertising," says Dipak. "We decided that he would look into hoardings and print along with other advertisement methods while I would focus on digital advertising."
He started the business from home and invested Rs 1 lakh in buying 1 crore SMSes at 1 paisa each from service provider companies. "The plan was to sell the SMSes to our customers at a premium to make our profit," says Dipak.
Apart from the two brothers, they had just one person to help with the paperwork. "It was difficult to convince people about bulk SMS service because they still believed in conventional forms of advertising," shares Dipak.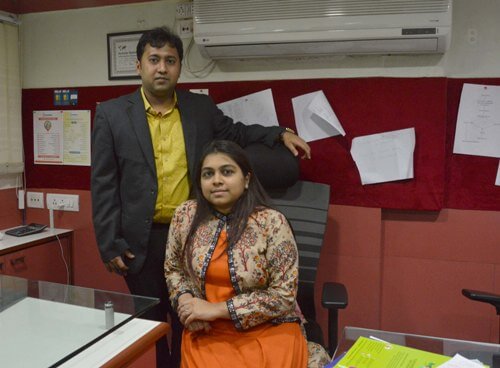 Like Dipak's family members, even his girl friend, Harsha, who would later become his wife, was worried about his decision to quit his job and start a business

"It was a daunting task to explain the benefits of digital advertising. I went from one business house to the other, travelling mostly by public transport, to make them understand the fruitfulness of digital advertising."
Initially he got a cold response but he had faith that the concept would be successful and refused to give up. "Eventually, later in 2013, an educational firm agreed to advertise through SMS after I relentlessly pursued them for more than two months!" says Dipak.
Once he had one client, the business began to snowball. In the first year itself, the company recorded a turnover of around Rs 32 lakh with around 500 clients. "Clients started referring us to other clients," he explains this boom, "and we always gave the best, transparent service, which worked in our favour."
Soon, he shifted his office out of his house and rented a 600 sq ft office for Rs 20,000 per month in Lal Bazar.
In 2015-16, the company touched a turnover of around 1.4 crore with 2,500 clients. In November 2015, he also rented a bigger space, 1,700 sq ft, in Lal Bazar for Rs 50,000 per month.
Next year, the turnover crossed 2.7 crore with a 3,000-strong client base that included different multinational companies. Now, Dipak is eying a turnover of Rs 10 crore in 2017-18.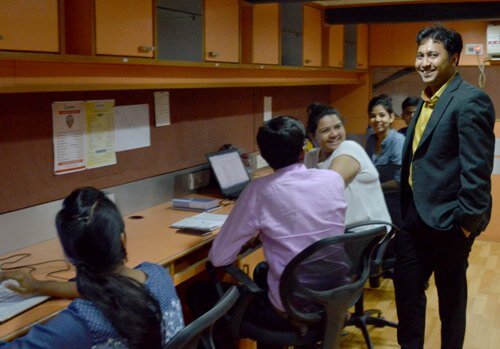 Onex has franchises in Mumbai and Shillong
"We charge Rs 4 lakh for a franchise and the company already has two of them in Mumbai and Shillong," says Dipak. His wife, Harsha Agarwal, who is also a director along with Dipak, handles the back office and HR while he looks into sales and marketing.
Harsha, who also hails from Kolkata, says, "I wasn't convinced when he told me about quitting his job; I thought he had gone insane. But it was a risk that paid off."
Currently, Dipak sells around 4 crore SMSes every month and OneX Solutions Private Limited was awarded the best mobility company by Silicon Review magazine in 2016.
The entrepreneur has just one piece of advice for youngsters: "Chase your dreams and never give up. Nothing is tough if you decide to go for it."
This Article is Part of the 'Super Startups' Series
MORE SUPER STARTUPS
Sriram Gopal, Founder, Future Farms

Abhay Hanjura and Vivek Gupta, Founders, Licious

Trending Now: