How a daughter of a shoe salesman fought the odds and built a Rs 10 crore turnover restaurant chain
G Singh
&nbsp | &nbsp Kolkata
17-August-2017
Vol 8&nbsp|&nbspIssue 33
Monica Liu is the epitome of courage and determination. In combating all the challenges life threw her way, she has shown extraordinary willpower – her courage and presence of mind eventually became the force behind her successful restaurant business in Kolkata that, today, has a turnover of Rs 10 crore.
Monica's is not the ordinary rags-to-riches story. From having to live the life of a refugee in her own country to being a successful women entrepreneur is no ordinary journey.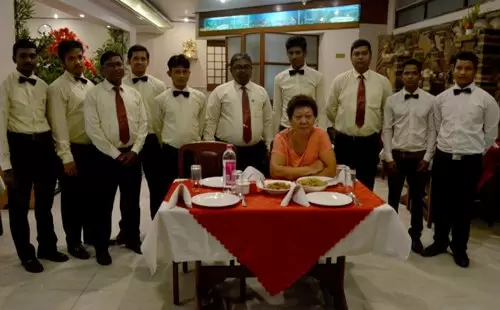 Monica Liu's father came from China in search of a livelihood to Kolkata at the age of 14 and struggled to feed his family. He later opened a small eatery (Photos: Monirul Islam Mullick )

She lived through it all with her trademark pragmatism. "Life is never easy," she says. "One has to deal with whatever it throws at you."
Monica spent her childhood in extreme poverty, to the point of starvation, at times. Her father Leong Tonseng was a salesman in a shoe shop in Kolkata – he had come from China to earn a livelihood for his family at the age of 14.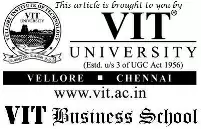 "The financial condition of my grandparents was not good and they were old and ailing," recounts Monica. "As a teenager, my father had heard a lot about the employment opportunities in India, so he decided to come to Kolkata where his distant uncle lived."
This was in the 1940s – he earned Rs 50 a month and used to send back whatever money he could save. He got married to Wong Mei Yong in 1950, in China, and they returned to Kolkata, where Monica was born on October 14, 1953.
"My father's salary from the shoe shop was not enough to run a family," remembers Monica. "My mother breast-fed me for much longer to save money. The aim back then was to save as much money as we could."
She recalls her days of struggle sitting in her air-conditioned restaurant, Beijing, in Tangra, an area of the city also known as Chinatown because of its many Chinese restaurants. The third of her five restaurants, this is where she sits daily and even cooks some dishes herself.
The family plunged into uncertainty when her father lost his job in 1955, due to an argument with his boss. They decided to shift to Kalimpong the same year where his parents opened a small eatery with whatever little money they had.
"It was a very small rented shop and they sold thukpa and some Chinese curries," says Monica. The earnings were not much but it kept them afloat.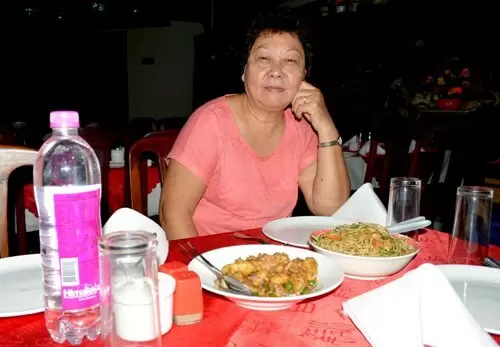 Today Monica employs around 250 people in her five restaurants located in different parts of Kolkata

Then, things started derailing. Due to border tensions in the area in 1958, they had to shift again – they went to Shillong where they had family friends.
"Our eatery business was dependant on people who came from Tibet to shop for everyday household items as they were cheaper here," she recalls, "but now the border was closed and our business collapsed." One of her father's friends rented out a plot to him and they started a small eatery again.
This continued till 1962, by which time Monica had four other siblings and the conditions were far from ideal.
"My school in Shillong was eight kilometers away and my father would give me four annas to cover one-way travel expenses for me and my sister," she says. "While returning, we walked. I realised the value of money back then – something I will never forget."
But life was not done with Monica yet. In 1962, war broke out. "I still remember," she recalls the most difficult phase of her life, "it was a cold November day when the sound of boots woke us in the early hours."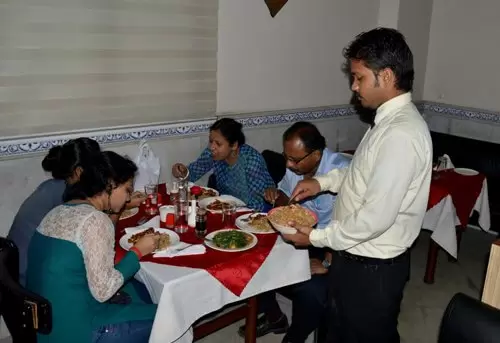 Some of Monica's customers had visited her restaurant along with their parents as children

The cops asked them to vacate the house with whatever they could pack. "My parents hurriedly stuffed the clothes in the trunks and sat inside the police van along with their five children. I had become a refugee in my own country in a span of few hours," says Monica.
They were taken to Guwahati by bus, where they boarded a train to Jaipur with thousands of other Chinese-origin people, and were put up at a refugee camp in Deoli city in the Tonk district.
She claims that the camp had over 20,000 refugees who were brought from various parts of the country. "It was a nightmare," she says, "several people died in the camp due to lack of proper facilities."
In 1968, when Monica was only 15, she had been living in this camp for six years. This is when she did something unexpected: she wrote to the Home Ministry complaining about their condition. "I was not scared of anybody. What was there to lose?" she says.
"I just wrote a letter directly to the Home Ministry telling them that our country had forgotten us and we were living like birds in a cage." Her moving letter prompted a visit by government officials and they were allowed to leave soon thereafter.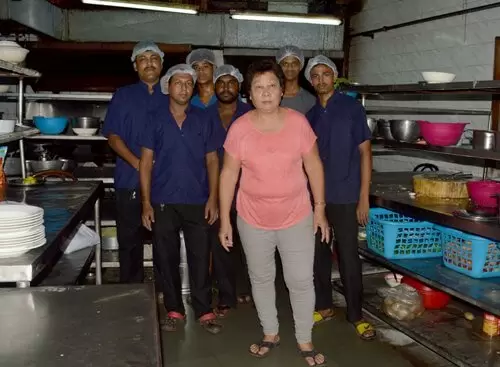 In the initial years, Monica's entire family helped her in the restaurant

The family moved once again – back to Shillong – where an acquaintance gave them a small 300 sq. ft. room to live for Rs 125 per month. "My mother took a loan of Rs 200 from a friend and began to sell thukpa outside two schools. Life began to gather momentum once again," remembers Monica.
In 1971, Monica got married to Liukuo Chao, who was into the leather trade in Kolkata. "My husband was a nice man and we were happy," she says, "but he didn't earn much."
She had a child that year itself, and two more by 1976 – one daughter and two sons. To supplement the income, she began selling chemicals of leather to shopkeepers in 1979. "I earned around Rs 50 on every transaction which was enough to buy ration for my house," she says.
In the meantime, her brother got married and together with his wife opened a salon in Shillong, which was doing very well.
Inspired by his success, she took a loan of Rs 2 lakh from a friend and started her own salon business. "I was good at basic beauty clinic work," she says, "and it did quite well."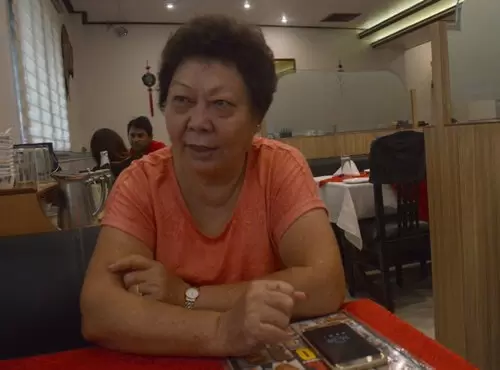 Monica's Success mantra is to make customers happy and to act on their feedback

She had to stop working when her children grew up and needed more attention, but the gene of entrepreneurship had already kicked in. In 1991, she decided to venture into the restaurant business like her parents – but on a bigger scale.
She was a good cook and knew the business well thanks to her parents, which prompted Monica to open Kim-ling, her first outlet in Tangra, with a loan of Rs 10 lakh from friends and family.
"For all my restaurants, I took loans from friends and returned them bit by bit," she explains. "I did not have land or property then so couldn't take a loan from a bank." This way she also had little or no interest to pay off. Her staff was her family too.
"My mother, brother, sister, husband, daughter and I did all the work," she says.
Today, Monica is known as the 'Don of Tangra', and not just because of the success of her restaurants. "Some goons of the locality began to harass us when my restaurant opened," she says.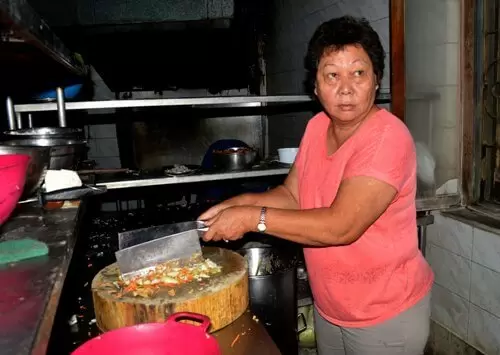 Monica prepares some dishes herself at her restaurant

"They wanted free food but I was in no mood to oblige. I fought with them and even beat them up! They ran away and never came back."
Soon she started earning Rs 1500 a day from the restaurant and the business mushroomed over the years. In 1993, the second restaurant, Mandarin, was opened in Landsdowne, for which she took an informal loan of Rs 20 lakh.
Beijing, in Tangra again, opened in 1998, which took an investment of Rs 50 lakh. In 2001 came Tung Fong, in Park Street, and then, the fifth restaurant, another branch of Mandarin, which is in Lake View.
Her restaurants did well not only because of the great food but because of her people skills. "I made sure that customers were happy and always incorporated their feedback," she says.
"I would take care of their children while they ate and even today, those children who once accompanied their parents come to meet me sometimes."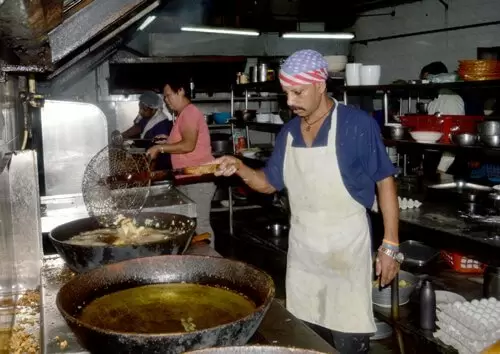 If you work hard, you can achieve anything in life,' is Monica's advice to the start-up entrepreneurs

Today Monica employs around 250 people and her restaurants are a raging success. She was awarded the Women Entrepreneur of the Year award by Calcutta Club in 2003.
Monica Liu smiles when I ask her if she has any word of advice for those starting out. "If you know how to work hard and struggle," she says, "you can achieve anything in life."
This Article is Part of the 'Amazing Entrepreneurs' Series
More Amazing Entrepreneurs
Kailash Katkar, CEO, Quick Heal Technologies
Wish to share your story?
Trending Now: