School dropout who repaired calculators as a teenager helms a Rs 350 crore turnover global software business
Prachi Bari
&nbsp | &nbsp Pune
21-July-2017
Vol 8&nbsp|&nbspIssue 22
From repairing calculators as a teenager to running a global software business whose turnover has crossed Rs 350 crore, Kailash Katkar, 50, clearly knows the code to success.
I am waiting to know this code outside his office, in the plush reception area. The seventh and eighth floors of the well-known Marvel Edge office complex in Pune are now their offices, the new headquarters of Quick Heal Technologies.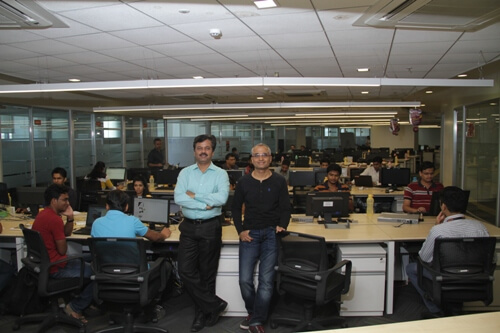 Brothers Kailash and Sanjay Sahebrao Katkar built Quick Heal Technologies from scratch into a Rs 350 turnover company (Photos: M Fahim)

The brothers Kailash and Sanjay Sahebrao Katkar have been spending nights fighting malware threats to the country. The team at Quick Heal Technologies has been constantly working on R&D to help predict, identify and clean up such threats.
CEO Kailash Katkar, known to all as KK, is a very busy man today. There is a constant stream of people going in and out of his office. After a little wait, I finally get to meet the brothers.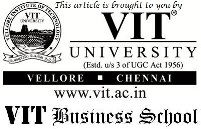 KK looks like the serious, sober, elder brother though he talks more than Sanjay, who adopts the role of the new age techie, dressed in smart casuals, and with a casual air about him. I soon find that in fact both are very down to earth and have a great cammerderie.
KK doesn't rate success with money. "It's not about the money," he says, "it's when everyone automatically looks at your product to help them out – then you feel you have truly arrived."
Born in Lalgun village close to Satara, KK's family soon moved to Pune, where his father worked as a machine setter with Philips. He dropped out of school just after Class 10; he thought he was not going to clear the exams (though he did).
"Within three months I got a job working as a repairman for calculators at Rs 400 a month," he says. "I was already good at repairing radio and tape recorders; I had picked up the know-how from watching my father repair radios at home."
When he first began working, KK's family used to live in a chawl in Tanaji Wadi, Shivajinagar. He never thought he would head a software firm one day, though he did dream of running his own business.
"In the 1980s the calculator technology was still new, and I was keen on learning new things so I took it up," he says. "While my basic skill was to be a calculator technician, I learnt all the aspects of the trade – of dealing with customers, keeping books, ledgers – on the job."
KK was 22 when he first saw a computer in the bank where he used to go to repair calculators. "I saw this TV kind of thing encased in a glass room," he recalls. "I was curious and asked what it was and was informed that it was a computer."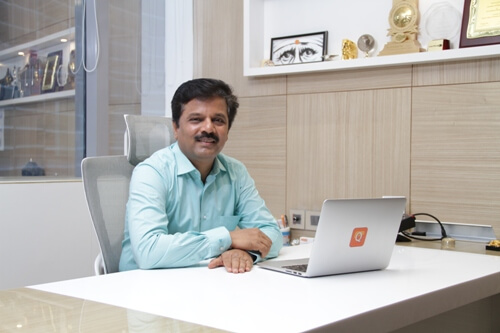 Kailash stopped his studies after Class 10 and found a job of repairing calculators for a salary of Rs 400

Soon he realized that this 'TV' would be the future – there was apprehension among the bank employees who were gearing up for a strike against this inanimate piece of equipment which they feared will make them redundant.
But KK wasn't frightened. "Their reaction became my driving force to know more about the computer," he explains, "I always had a curious mind, and wanted to learn new things." He bought books on computers with his little savings and read everything he could about them.
When he was ready to put his learning to test, he approached the bank to let him help repair the computer when it broke down.
"I pleaded with them to let me try my hand at it," he recalls, "I was already repairing ledger machines which were bigger and wider. After several requests, the manager allowed me to check the machine and I got it purring soon."
This impressed the manager and the bank began asking him for repairs whenever the computer broke down. KK seemed to have the magic touch.
His salary slowly rose to Rs. 2,000 a month, adding repairs of TVs and other machines. "I look at my brother Sanjay (now Joint MD and CTO) as an asset; he is smart intelligent and educated."
Though there's just a four year difference between them, at home Sanjay calls him "dada" – but in the office he is KK for everyone. Initially, Sanjay too wanted to give up studies post Class 12 but KK advised him to continue studies, as he repented not getting a formal education.
"I was keen on pursuing electronics," says Sanjay, "and following KK in the hardware business but his suggestion to look at software studies has now proved in handy."
The fee for studying computers was Rs 5,000, too much for the family, but Kailash provided a helping hand from his increasing salary. He opened a little shop in Mangalwar Peth.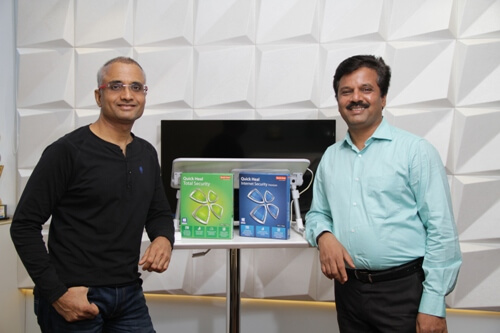 At the workplace, KK and Sanjay seem more like friends than brothers

"I earned enough money from my repair work to invest in new machines," he remembers. "Despite my mother constantly telling me to invest in a house, I didn't, not until 2002… For me, my first priority was always my work. I bought my first computer for Rs 50,000, which I proudly displayed in the shop. It was the first time that I was using a computer for billing and people would come to the shop just to see this machine!"
Sanjay used to hang around the shop and play with the computer. He was studying software in Modern College and learnt debugging in college, so he would toy with the virus which sometimes infected the computer.
In the college, four or five of the 10 computers were always down due to a virus attack, so he got a lot of practice. "Sanjay and I taught each other the nuances of both hardware and software," KK recalls fondly.
Adds Sanjay: "Playing around with the viruses helped me create new programs in DOS and I would clean up the virus manually. During that time, we didn't have access to the internet so there were fewer viruses too."
It was then that KK suggested to Sanjay that he should concentrate on creating a program against the computer viruses, which would help his existing customers who were facing virus problems. So, while Sanjay was still in the second year of his Masters, he wrote his first anti-virus program.
Over the next three or four years, he managed to develop a set of anti-virus software to heal infected computers. Kailash started using this collection of software in his computer repairs. In 1995, Kailash decided to commercialize these anti-virus products.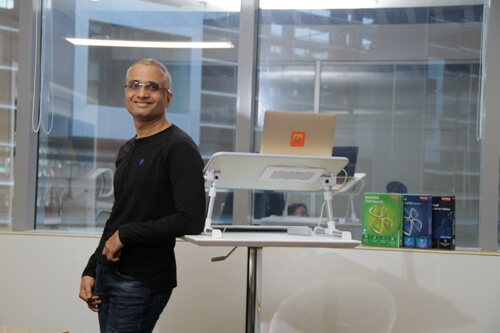 Sanjay preferred an English name for their company 'Quick Heal' instead of a Sanskrit one with the vision of creating a global brand

At the same time, he also insisted that his brother develop compact software with features to tackle multiple viruses. And by year end, he had the first version of Quick Heal anti-virus software.
"We named it Quick Heal at Sanjay's insistence," says KK, "I wanted a name in Sanskrit but Sanjay insisted that he wanted to take this program global and hence Quick Heal was a better name."
The program Sanjay created not just prevented virus but also cleaned up the computer, hence the product stood out over others in the market.
"It was literally healing the machines," says Sanjay. They called their company CAT Computers Services – CAT was the nickname for both the brothers, for they solved all problems stealthily, besides CAT was also short-form for their surname Katkar. They released their first product, Quick Heal Antivirus for DOS, in 1995 under that company.
Following its success, in 2007, the company's name was officially changed to Quick Heal Technologies Private Limited.
Today, Quick Heal is the market leader in the consumer and small office category in India, with more than 30 per cent share in the anti-virus software market, despite the presence of multinationals like Symantec, Norton, McAfee, Kaspereskey and others. Quick Heal is now taking the fight back to their turfs around the world.
The CATs have come a long way since 1995, when the first version of Quick Heal was released for Rs 500. Since day one Sanjay has been looking into the development and technical aspects of the product while KK handles the marketing, accounts and clients.
"We marked out our departments at an early stage," says KK. "We do consult each other, and even argue, but we are never found screaming at each other."
In India, small businesses still need to be "sold to" people in person, hence KK focuses his energies on building a large and trusted network in the country, taking care to treat his partners courteously and conducting his business with transparency.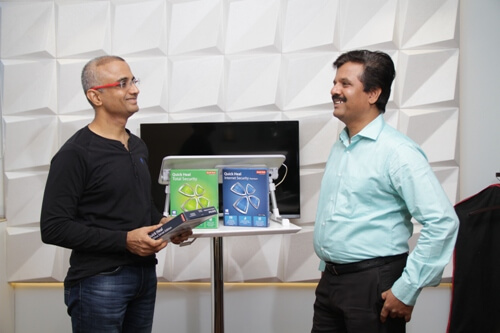 Sanjay (left) looks after the development and technical aspects of the product, while KK handles the marketing, accounts and clients

He has also invested extensively in customer support, even sending his engineers on house visits, almost unheard of in the anti-virus segment. Both of these factors help a lot when it comes to smaller towns, where people are not aware of global anti-virus brands.
In 2010, their company received an investment of Rs 60 crore from Sequoia Capital. The fund was utilized to open new branches in Tamil Nadu, followed by offices in Japan, the US, Africa and the UAE in a span of two years.
Today, Quick Heal has a presence in more than 80 countries. In 2011, they started developing security software targeted at enterprise customers, and by 2013, released the first Enterprise Endpoint Security Software for computers and servers.
This Article is Part of the 'Amazing Entrepreneurs' Series
More Amazing Entrepreneurs
Jyothi Reddy, Founder, Key Software Solutions

Trending Now: