How a girl who worked in Telangana for a daily wage of Rs 5 became a millionaire in the US
Ajuli Tulsyan
&nbsp | &nbsp Hyderabad
01-July-2017
Vol 8&nbsp|&nbspIssue 22
A girl who walked barefoot to school, now drives a Mercedes Benz, owns over 500 sarees and has more than 30 pairs of sunglasses. And those are the small things for Jyothi Reddy –CEO of Key Software Solutions Inc. in Phoenix, US – whose company has notched up a turnover of USD 15 million in 2016!
It is an extraordinary achievement by Jyothi Reddy, now 47, who was born the second of five children to the family of farmer Venkat Reddy in Narasimhula Gudem village in Warangal district, Telangana.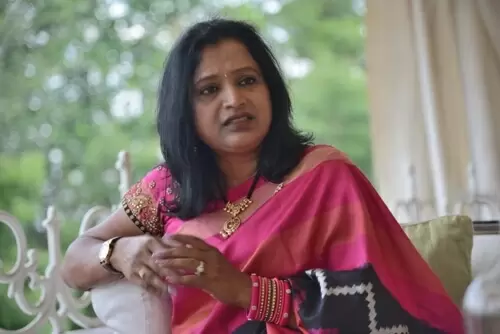 Jyothi Reddy, who grew up in an orphanage, is now the owner of Keys Software Solutions in Phoenix, a USD 15 million company (Photos: P Anil Kumar & Location Courtesy: Tansen, Ohris Group, Hyderabad)

Every day survival was a struggle for the family. When she was nine, Venkat decided to leave Jyothi and her younger sister at an orphanage in Hanamkonda near Warangal - he felt they would at least get food, a place to stay and learn some skills to earn a living. Her sister went back due to illness and homesickness, but Jyothi had to stay on, pretending to be motherless.
"I went through a horrible time," says Jyothi, who studied at the orphanage from Class five to class ten.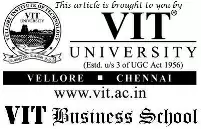 "There was an acute water shortage at the orphanage. There were no taps and no proper bathrooms. I stood for hours waiting to get just one bucket of water from the well. I missed Amma terribly but had to act as if I didn't have a mother."
And that was just a small part of her troubles. "There were bugs in the food that left me nauseated," Jyothi goes on. "I walked two and half kilometers to the Government Girls High School barefoot. On the way I crossed St. Joseph's School and envied the lucky students there - well dressed, with smart socks and shoes."
As a student Jyothi was always a back-bencher as she was very conscious of her torn clothes and 'not so presentable' looks.
Former Indian president APJ Kalam once said: 'The best brains of the nation may be found on the last benches of the classroom' and Jyothi proved this true by faring very well in Class ten.
While at school she had also been taking a vocational course, paid for by her father, in household chores such as tailoring, ironing, washing clothes and the theory of teaching. Jyothi helped the orphanage superintendent with household work. Soon she realized that to lead a good life, she needed a decent job.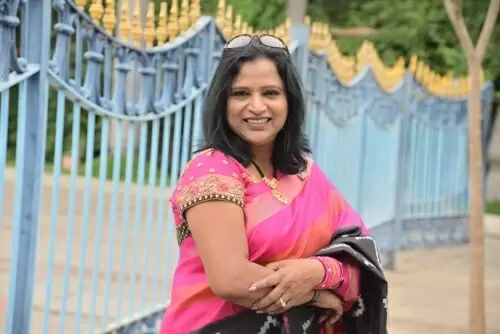 Jyothi Reddy is a self-made person and her story is inspiring many others

She begged her superintendent to give her Rs 110 for admission into Inter BiPC (Biology, Physics, Chemistry) in Andhra Balika College, but her father tore up the form in front of a petrified Jyothi.
Soon, after Class 10, barely 16, she was married off to her mother's distant relative, Sammi Reddy. Misfortune followed her as Sammi, a farmer, hardly had half an acre of land of his own and Jyothi was forced to work in the paddy fields to earn Rs 5 for 10 hours of hard labour.
Alongside the birth of two daughters, Beena and Bindu, within three years of marriage, she started to work as a Night School Teacher at the local Nehru Yuva Kendra for a salary of Rs 120. In 1988-1989 she joined as a National Service Volunteer there for a monthly honorarium of Rs 190. At night, she stitched petticoats at rupee 1 a piece to make more money. She worked here for a year and then joined as the Librarian in the Jana Shiksha Nilayam in Warangal for a monthly salary of Rs 120.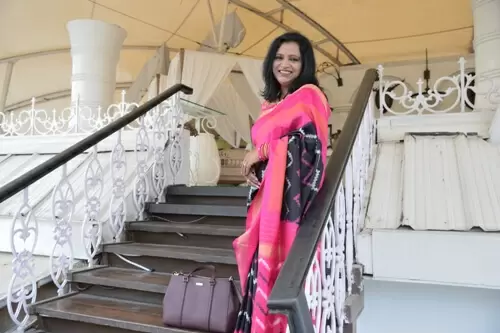 The stairway to the top was not an easy one, but Jyothi Reddy has no regrets

She determinedly obtained a BA degree from Dr B.R. Ambedkar Open University in 1994 and then got a postgraduate degree in 1997 from the Kakatiya University.
after her graduation she joined as a Government Special Teacher for a salary of around Rs 400. Staying in a small rented room, she juggled looking after her daughters and travelling for two hours to reach work. Even here, she utilized this time to sell sarees to her co-passengers at a small but useful profit of Rs 20 per saree, selling around four pieces a day.
She climbed a step up the ladder when she got the job of a Government Teacher for Rs 6,000 after her post-graduation. Slogging, raising her daughters and saving became her mantra to steadily doing better and better.
One day changed everything.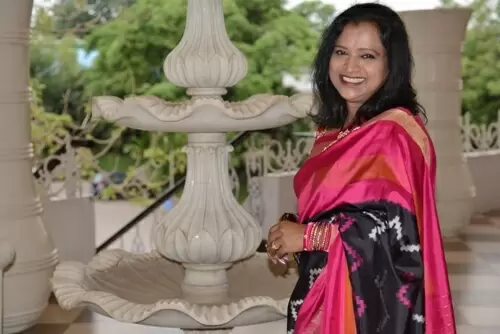 Currently around 100 people are employed in Jyothi Reddy's company in the US

A maternal cousin visited her from the US. As she confidently emerged from her fancy car, donning cool sunglasses, Jyothi was completely bowled over by her bold assurance. She started chasing, at top speed, her own dream of working in the US. She completed her post graduate diploma in computer application to get the eligibility to work in the US.
A friend, who had a company in California, sent her a job offer and on May 2, 2000 Jyothi flew to the US on a B1 visa, leaving her two daughters in a missionary hostel.
She took on jobs big or small to make a living –working in a gas station, baby-sitting, working in a video shop and a short-lived job as a recruiter. A year and a half of struggle and saving left her missing her daughters and she came back to India in September 2001 to visit them.
During this visit, she met a revered priest who told her that she was born for running her own business. This was playing in the back of her mind while she was in Mexico and waiting for her visa to be stamped before going to Phoenix, US.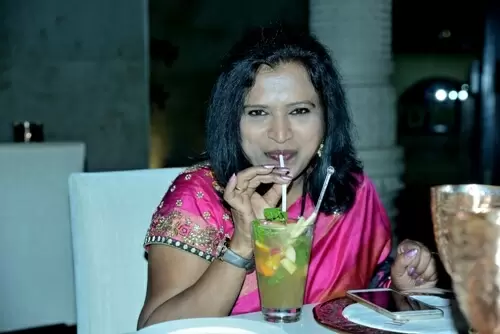 Jyothi Reddy started her company with her savings of USD 40,000 in October 2001

It suddenly burst into her mind that she could start a consulting company to help others with the paperwork involved with visa processing required for the US.
Her first entrepreneurship was on its way. With her savings of USD 40,000, on the auspicious day of Vijaya Dasami, she launched Key Software Solutions Inc., a private limited company, in Phoenix, on October 22, 2001. Her company extended services such as recruitment and developing software solutions.
Her entrepreneurial journey had begun. She planned to extend her business and make it more profitable by taking on her cousin as partner. Soon she got her daughters to the US and now both are married and working as software engineers. The whole family lives under one roof in Phoenix.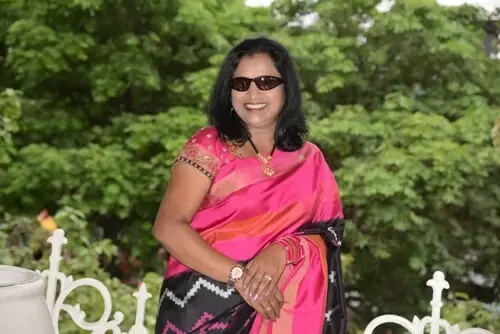 Jyothi Reddy is fond of her sunglasses and loves to wear them

Key Software Solution Inc. is clearly doing well under Jyothi's ace leadership. The very first year there was minimal profit of USD 1,68,000 and just after the third year she hit a million dollars.
Year on year she only went from strength to strength and the latest turnover of the company is USD 15 million with 100 employees placed in her company. Today Jyothi has four houses in the US and a mansion in Kompally, Hyderabad.
Not having forgotten where she came from, Jyothi is also passionate about the welfare of orphans and other unprivileged. Last year she got a hearing- and speech-impaired girl in Hanamkonda married to a similarly disabled boy, in such a generous way that the wedding made headlines in local news.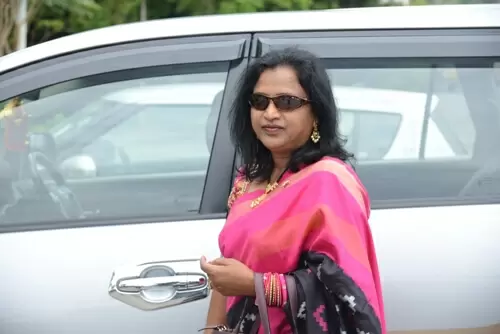 Giving back: Jyothi Reddy has special plans to help underprivileged people in India

"I vow to conduct 99 more such weddings for less fortunate people," says Jyothi Reddy.
Jyothi's story is so inspirational that year 2013 saw the publication of her autobiography titled 'Aina, Nenu Odipoledu' (Yet, I Have Not Lost) in Telugu by Emesco Publications. "Yes, I have it all today and I have no regrets," Jyothi signs off. "I am grateful for the hardships that came my way as they made me what I am today."

You might also like to read

How a Small-town Boy Who Lived a Carefree Life in His Farmland House Built a Rs 1450 Crore Turnover Company
Wish to share your story?
Trending Now: