Starting a diagnostics lab with Rs 20,000, he built hotels and a Rs 40 crore turnover business
Reena Nongmaithem
&nbsp | &nbsp Imphal
29-July-2017
Vol 8&nbsp|&nbspIssue 22
At 61, Dr Thangjam Dhabali from Imphal is unstoppable. Owner of a diagnostic chain and two star hotels, with an annual turnover of Rs 40 crore, he dared to venture into a field that was completely new to Manipur 30 years ago.
It was a big risk. "Pioneering in any field has its advantages and disadvantages; however, once you overcome the hurdle, you will always be the leader in the field, always one step ahead," says Dr Dhabali.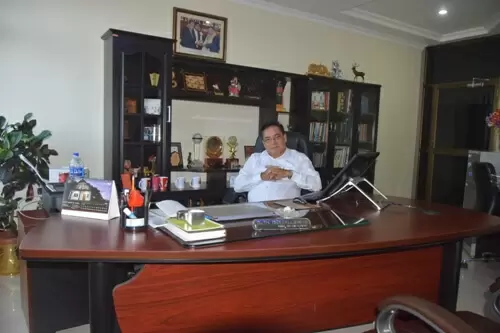 Dr Thangjam Dhaboli's diagnostics lab, started in 1983, was the first such lab in Manipur to be operated by a qualified pathologist (Photos: Vikram Y)

The Chairman and Managing Director of BABINA Group, he is now well respected as the pioneering entrepreneur in the healthcare and hospitality industries in Manipur.
It all started with a small diagnostics laboratory in Imphal in 1983… The fact that today BABINA Group has the best known hotels in Manipur and one of the biggest diagnostics centres in North East India is a reflection of his vision and sheer hard work.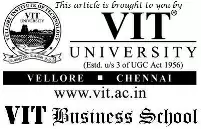 In 1983, his was the first diagnostics lab in Manipur operated by a qualified pathologist. "I had difficulties in the beginning; no banks were ready to sanction loans as I had no properties for collateral security," recalls Dr Dhabali.
At the time banks had no confidence in start-up projects. "The first bank loan I ever got was for a sum of Rs 8,000, for a refrigerator," he smiles.
Dr Dhabali grew up in a lower middle class household with his nine siblings and money was always an issue. His father, the late Thangjam Birchandra Singh, had a small cloth business, but he managed to give education to all his 10 children.
Dr Dhabali studied in government schools but he was good at his studies and got through the MBBS course at Regional Medical College, Imphal – now Regional Institute of Medical Sciences, or RIMS, where he later worked as Associate Professor in the Department of Pathology.
He was awarded a scholarship of Rs 100 a month, within which he managed all his expenses. After completing his MBBS in 1978, he got admission into the reputed Postgraduate Institute of Medical Education and Research (PGI), Chandigarh, for an MD in pathology.
He was married and had a child by this time, and his wife, Dr S Rita, now professor at the Department of Pharmacology at RIMS, joined him at PGI to do her PG. They left their daughter in the care of their parents. In 1982, Dr Dhabali graduated out of PGI, hopeful of getting a stable job at RIMS back home.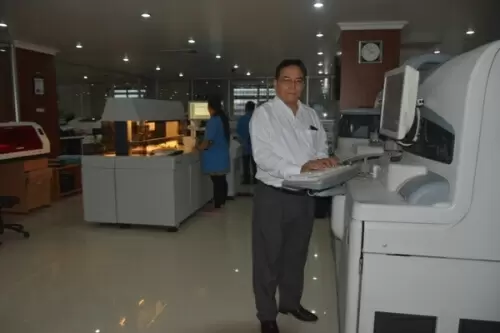 BABINA Diagnostics has 150 sample collection centres across Manipur and in Dimapur, Kohima (Nagaland), Agartala (Tripura), and Aizawl (Mizoram)

"When I didn't get that government job in 1982, I was crushed. It was the worst time of my life," he says. There were no vacancies at RIMS. As it turns out, this may have been a good thing.
He channelled his desperation to do something challenging and new. With almost no funds (he lived on Rs 1,000 a month scholarship at PGI), Dr Dhabali decided to start a private clinical laboratory – there were none in Imphal at the time.
But how? Where will the money come from? His wife came to the rescue. "My father in law offered to help and gave me a small commercial plot at Bir Tikendrajit Road, as well as Rs. 20,000," he says. The clinic was inaugurated on November 9, 1983, and he named it after his daughter. BABINA Clinical Laboratory came into being.
"To save labour expenses, I did everything from painting jobs to electrical fittings," he laughs. He hired four people and started work. Unable to afford the cost of purchasing any equipment, they hired the necessary medical devices.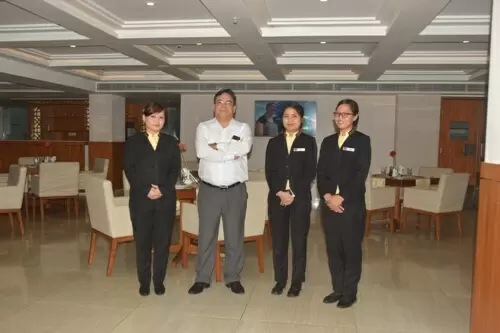 Dr Dhabali owns two star hotels - a three star and a four star - in Imphal

"We started with only basic tests like urine and blood tests for which the accessories, equipments and a monocular compound were hired at a cost of Rs 170 per month from a retired doctor," he recalls.
"Glassware, test tubes and some other small things I got for free from one of my friend's father-in-law who had a shop that sold laboratory equipments and accessories."
As his lab business was slowly growing, he finally did get a job at RIMS as Associate Professor in 1984. He continued his business on the side, and in 1994, he took voluntary retirement from the college to focus on his now flourishing laboratory.
Today BABINA Diagnostics, as it was rebranded in 1995, has its headquarters at Porompat, east of Imphal, as well as another branch near RIMS, and is one of the largest medical diagnostics centre in all of North East.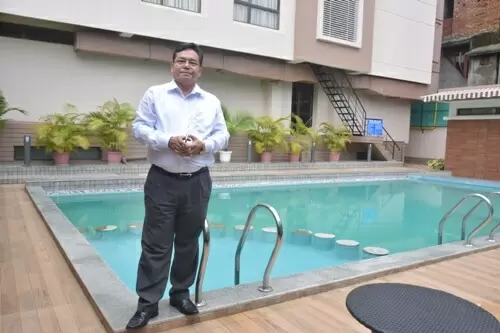 Dr Dhabali ventured into the hospitality industry after realising that Imphal did not have good hotels for visitors to stay at

They have over 150 sample collection centres across the state and in Dimapur, Kohima (Nagaland), Agartala (Tripura), and Aizawl (Mizoram).
BABINA Diagnostics offers a wide range of tests, including highly sophisticated molecular diagnostics tests, and is the first clinical laboratory in the North East region to get the National Accreditation Board for Testing and Calibration Laboratories certification.
In 2009, Dr Dhabali branched out into hospitality, offering Imphal its first decent star-category hotel, The Classic.
"Necessity is the mother of invention," he says, explaining this move. Colleagues from outside Manipur who would visit Imphal for medical conferences organised by his diagnostics centre often complained of inconveniences faced in hotels during their stay.
True to his nature, he decided to fill this gap himself. He got a loan of nine crore from State Bank of India and inaugurated The Classic on November 9, 2009.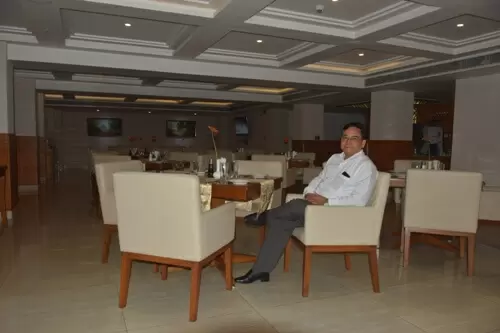 Tackling insurgency related challenges is part of the business plan for Dr Dhabali

November 9 is his magic date, and on that date in 2015, his new hotel Classic Grande was inaugurated with the help of a Rs 23 crore loan from North East Development Finance Corporation Ltd. He had made a success of this business too.
In insurgency-ridden Manipur, operating such a big business empire is not an easy task. 'Requests for donations' come in various forms, from different groups and outfits, and you have to live with it.
"You have to handle all this if you are going to run a business here," says Dr Dhabali with pragmatism. "Fulfilling these demands is now part of our business plan! We cannot challenge them and we have to keep them happy," admits the entrepreneur.
His three children have joined his business: Dr Babina is a pathologist; his elder son, Dr Momocha, is a radiologist; and his second son, Naoba, studied hotel management and is the director of the hospitality business.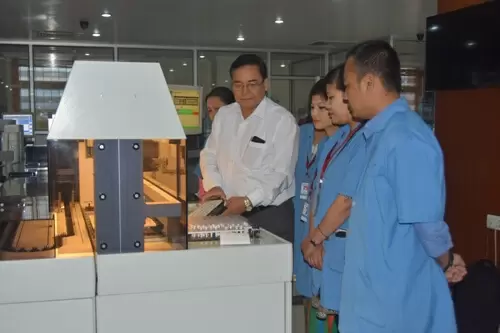 BABINA Group employs around 800 people - 500 in hospitality and 300 in healthcare

Dr Dhabali has become a symbol of success. He is the recipient of North East Excellence Award 2010, India Leadership Award for Excellence in Health 2010, Indian Achievers Award for Healthcare Excellence 2012, Mother Teresa Excellence Award 2012, and a host of other awards.
He built his empire bit by bit. "It is a reward of being positive and working hard," he says. Dr Dhabali now employs 800 people, with 500 in hospitality and 300 in healthcare. In the pipeline is a cancer speciality hospital and we can be quite certain that he'll make that happen, and make a success of that too.
This Article is Part of the 'Amazing Entrepreneurs' Series
More Amazing Entrepreneurs
Kailash Katkar, CEO, Quick Heal Technologies
Wish to share your story?
Trending Now: