His coffee shop started from a 30 sq ft space is now a Rs 15 crore turnover 46-outlet chain

Usha Prasad
&nbsp | &nbsp Bengaluru
28-January-2017
Vol 8&nbsp|&nbspIssue 5
There are several lessons that aspiring entrepreneurs can learn from the life of U S Mahendar, 44, founder of Hatti Kaapi, a fast-growing South Indian filter coffee chain based out of Bengaluru.
From serving 100 cups daily at a 30 sq ft store in Basavangudi in 2009, Hatti Kaapi with annual turnover of Rs 15 crore currently serves more than 40,000 cups per day across its 46 outlets in Bengaluru and Hyderabad, including an outlet each at the airport in both the cities.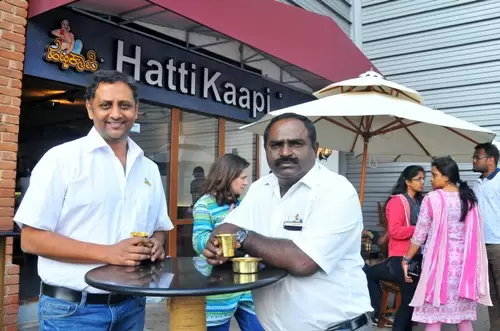 Hatti Kaapi promoter US Mahendar (left) with his partner Mahalinge Gowda at one of their outlets in Bengaluru (Photos: Vijay Babu)

Mahendar not only had the courage to become an entrepreneur dropping out of college, but also the resolve to stay put and start from scratch after his first business suffered huge losses after making profit initially.
The first generation entrepreneur, who hails from a coffee grower's family in Hassan, had quit college to plunge into coffee trading while he was a second year graduate student in science.
By age 25, Mahendar had become quite rich. "I couldn't handle the situation I was in. Money, success, fame – everything knocked on my door at once," he says.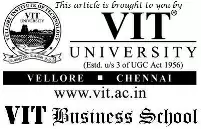 But the dream run did not last long and the business collapsed due to the risks he had exposed himself to because of hedging – the practice of fixing coffee prices a few months before the harvest.
Mahendar was down, but not out. He shifted base along with his business partner Mahalinge Gowda from his hometown Hassan, and came to Bengaluru in 2001 determined to make a new beginning.
Bengaluru embraced them with open arms. As luck would have it, the duo got a newly constructed huge mansion at a dirt-cheap monthly rental of Rs 4,000, because the owners had to suddenly move to Mumbai and they were looking for trustworthy tenants to occupy their house in their absence.
"We looked for a single room; instead we got a huge mansion. My mother also joined us in Bengaluru soon," says Mahendar.
As he was exploring various livelihood options, a business acquaintance during his coffee trading days, Srikanth of Swarna Foods, asked him to take over his loss-making roasting unit.
"Call it a coincidence, he was moving to Mysuru and asked me to continue the work at his 2,000 sq ft unit for Tata Coffee in Bengaluru. He introduced me to the officials at Tata Coffee," he recalls.
Though he did not shell out money to buy the company, a debt of Rs 3 lakh on the unit and rental dues on the premises for three months fell on him. But Mahendar tackled all the problems with great tact and steadfastness.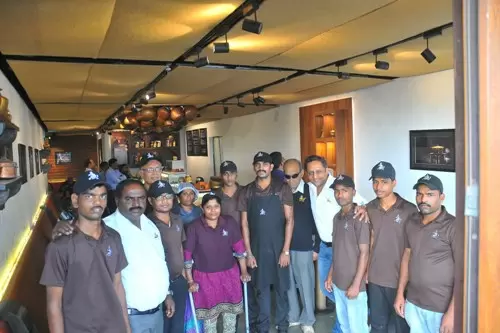 Happy employees: Every Hatti Kaapi outlet has four differently-abled people and two senior citizens on its rolls

"The landlord gave me three months time to clear the rental dues after hearing my story and struggle," he says.
Mahendar's next great challenge was to obtain new orders from Tata Coffee. "I made several trips to their office in Kumara Park West, but things were not falling in place. It was a big struggle for almost two years.
"I used up my father's retirement and pension money to clear the debts on the unit. We survived on whatever little savings my mother had and my maternal aunt too supported us," he recalls.
But just before he got the break at Tata Coffee, he had to go through one of the most humiliating situations in his life.
"The marketing manager at Tata Coffee directed the security to have me thrown out and not let me in again as he was unable to stand my torture of trying to meet him almost daily," he recalls.
Mahendar was in no mood to give up so easily. "Next day, I went to their office at 7.45 am and stood outside the gate. As the marketing manager was entering the office, he saw me and decided to give me a few minutes."
He was finally given an offer to supply a badam mix sample, which was tested along with the samples provided by five others.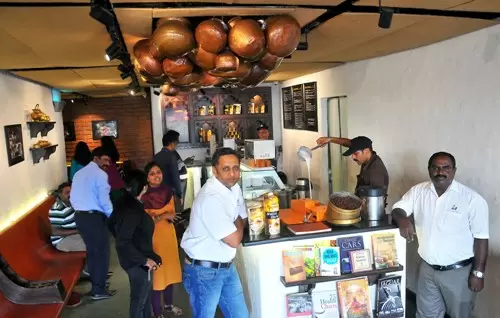 Mahendar and Mahalinge Gowda have stuck through thick and thin and built the coffee chain from scratch

"Around 30 people tasted our blend. Hard work paid; we topped in the blend quality and bagged an order for 35 kilos valued at Rs 3,500. We had to prepare 35 kilos in three days. I hired a blender and met the deadline.
"Slowly, we started getting orders for coffee and tea blends as well. It took almost 18 months to convince Tata Coffee," he quips.
Mahendar has since been supplying pre-mixes of coffee, tea, badam and malt to Tata Coffee, which are used in vending machines across the country.
Around 2008, he started making filter coffee powder. Initially, he supplied to a leading hotel chain in the city on a trial basis for a month
"Though we received good feedback from customers, the owner of the hotel chain said that his customers were not happy with the taste. Only he knows the reason why he said so.
"But I should thank him, because if he had retained us, Hatti Kaapi wouldn't have happened," says Mahendar, who started the first outlet of Hatti Kaapi with an investment of Rs 1.8 lakh in a 30 sq ft space below the staircase of a building in Basavangudi.
The rent was Rs 5,000 per month or a royalty of one rupee per cup sold at the shop, whichever was higher.
The store was inaugurated on Nov 27, 2009. "The first cup of coffee was served at 4.45 am at Rs 5 per cup. I wanted to reach 300 cups a day to break even," he recalls.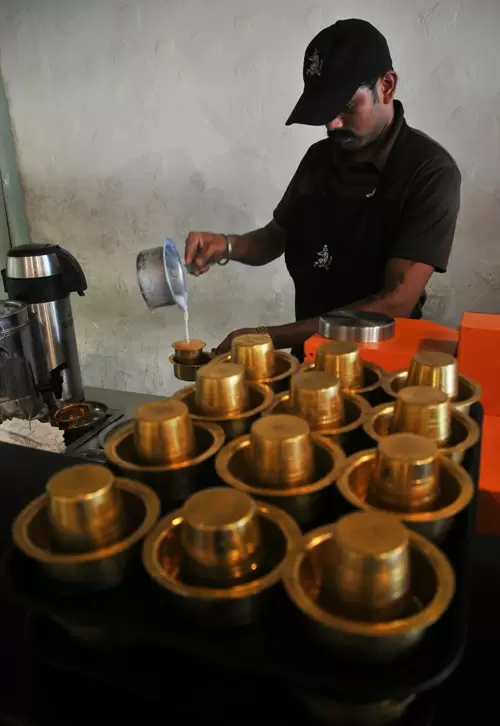 More than 40,000 cups of coffee are served daily across the 46 outlets of Hatti Kaapi in Bengaluru and Hyderabad

On the first day he sold 100 cups. From the third day it went up to 300 to 400 cups daily. "Morning walkers, mostly senior citizens, became our taste makers and critics. They would tell us if there was change in the blend or brew," says Mahendar.
The shop had one coffee maker, a cashier and one house-keeping boy. While Mahendar and another colleague looked after marketing, Gowda took care of the supply chain.
By the 27th day, Hatti Kaapi was selling 2,800 cups a day. "Media publicity about long queues outside our store brought in more and more people to taste our filter coffee at just Rs 5," shares Mahendar.
When some jealous people tried to create problems at his shop, he quickly opened a new outlet at a nearby locality, followed by two more stores in two theatres and at a mall. He shut down the first shop within two months of its opening.
Today, some of Hatti Kaapi's 46 outlets are located within corporate campuses like Infosys, Wipro, TCS, Cisco, Deloitte and Microsoft.
Hatti Kaapi also offers authentic south Indian snacks and beverages such as Malnad Akki Rotti, Akki Roll, Puliyogare, Nuchina Unde, organic Jaggery Kaapi, honey with black coffee, and Poorna organic cake at a few select outlets. The beverages are served in earthen and copper cups.
Filter coffee at Hatti Kaapi is now priced between Rs 9 and Rs 30, based on the location of the outlet.
Each of their outlets has four differently-abled people and two senior citizens on its rolls. In all, they have 30 senior citizens and 30 differently-abled people, including four visually challenged, at their various outlets.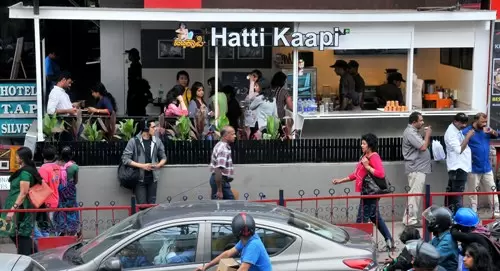 Hatti Kaapi outlets have become a favourite meeting place for youngsters

Mahendar and Mahalinge Gowda have equal stakes in Hatti Food & Beverages Pvt. Ltd which runs the outlets and have so far availed a bank loan of Rs 6 crore to fund their expansion.
While Mahendar's mother Rajani Sudhakar is a big inspiration for him, his wife Smitha, a homemaker, is a pillar of support to the family. Mahendar is blessed with a son and a daughter.
Hatti Kaapi - in Kannada hatti means rural house and kaapi means coffee – ironically has become one of the hottest joints for the young urban crowd to hang out in Bengaluru.
This Article is Part of the 'Amazing Entrepreneurs' Series
More Amazing Entrepreneurs
Wish to share your story?
Trending Now: