Starting with Rs 8,000 and a second-hand sewing machine, he built a Rs 6.5 crore turnover jute products company
Usha Prasad
&nbsp | &nbsp Bengaluru
21-October-2016
Vol 7&nbsp|&nbspIssue 43
Many would find it hard to give up a well-paying corporate job to become an entrepreneur. But at 23 years of age Bengaluru-based Saurav Modi decided to quit his job at Ernst & Young when his annual CTC was Rs. 1.6 lakh.
Looking back, 13 years later, as the proud owner and CEO of 'Just Jute', a proprietorship firm which clocked a turnover of Rs. 6.5 crore in 2015-16, he should have no regrets.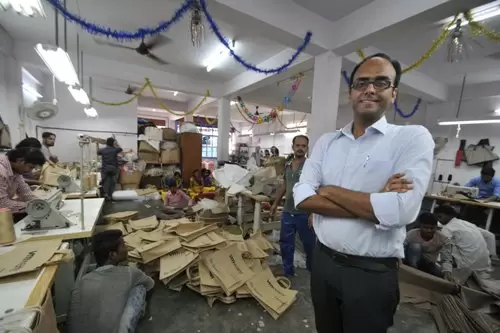 Saurav Modi started his business in 2005 with Rs 8,000 that he borrowed from his mother (Photos: H K Rajashekar)

His company is into manufacturing of jute products such as bags, folders, belts, wallets and corporate gifts. Their products are available at top retail chains in India and also exported to some European countries.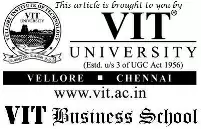 With zero experience in the industry, this self-taught entrepreneur has turned this novelty fabric, which is highly sustainable, into a fashion statement.
But Saurav, hailing from a middle-class family, started the business with just Rs 8,000 that he had borrowed from his mother.
He purchased a second-hand sewing machine for Rs 1,800, hired a part-time tailor, and began his venture from a 100 sq ft garage at their rented house in Vijaynagar.
"Our landlord was not ready to part with the garage. He asked me to pay a rent of Rs. 300," he recalls.
While his peers were enjoying their corporate jobs with good salaries, Saurav's initial days as an entrepreneur were quite tough.
He faced the worst crisis in 2007 when the entire workforce of 30 odd people suddenly went on a strike. But he tided over the difficult times with courage and determination.
Today, he has around 100 employees, who work in a 10,000 sq ft area spread across two units at Kamakshipalya.
After graduating in commerce from Christ College, Saurav joined Ernst & Young as a tax analyst and worked there for a year and a half.
He wanted to do his MBA in the US. But due to financial constraints and other family issues, Saurav couldn't realise his dream.
Saurav with wife Nikyta whose design background is a major asset to the company

"I had secured a seat to enrol for MBA in a University in California. But looking back, I realise that this was my destiny - making Jute products," he says.
Saurav got bored of the corporate job and decided to join his dad's business, where he worked for another two years.
They were distributors of different brands of Assam tea and they supplied to shops in Bengaluru and surrounding small towns. The business provided just enough income for the family to live comfortably.
Saurav's parents hail from Assam and they had settled in Bengaluru more than three decades ago. With his elder sister married and living separately, Saurav was staying with his parents and assisting his father in the business.
"I worked for two years with my father. It was a simple marketing job, where I had to take care of rural marketing.
"But, I wanted to be a part of the bigger ecosystem. I felt bigger the ecosystem, larger the satisfaction. One fine day I decided to call it quits. As my father was a self-made man, he supported my decision," says Saurav, who got the idea of making jute products while hunting for jute bags in the city.
His dad wanted to procure jute bags for gifting purpose. But they couldn't find any in Bengaluru and were told that they should source them from Kolkata.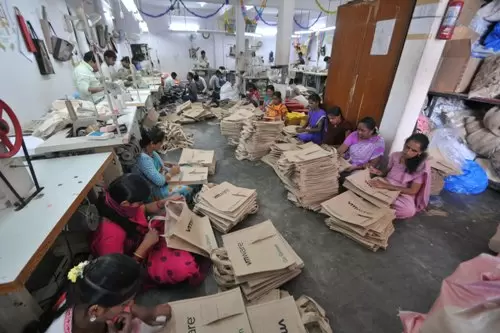 Workers engaged in making bags at Kamakshipalya unit

"There were hardly any sellers of jute products and not a single manufacturing set up in Bengaluru then. That's when the idea of Just Jute was conceptualised as I saw a dearth of quality jute bag suppliers in Bengaluru," he says.
Saurav visited retailers across the city and spoke to them about what kind of stuff moves in Bengaluru.
When he decided to start his venture, he couldn't find a good tailor. Saurav finally managed to find one who was willing to work part time, but he had to be picked up from his place 10 km away at 8 pm and dropped back after midnight daily.
Amidst these challenges, the only solace Saurav had was the help he received from his cousin Siddharth, who was doing his engineering in Bengaluru. "Even Siddharth would take turns in picking and dropping the tailor," he says.
Initially, they produced bags and folders by procuring small orders, locally.
"As word spread about my business, one of my dad's customers, who wanted jute bags to pack tea, placed an order for 500 bags. It was the first order I got in four to five months of starting the venture," says Saurav.
Shortly thereafter, Saurav bagged orders from a leading jeweller in town, who wanted to gift jute bags to his customers.
"With the money I earned from this order, I added one more machine and two more tailors, who also worked part time," says Saurav, adding, "at times, these tailors stayed back at my home when we worked late into the night. I can't thank my parents enough for being so supportive."
Just Jute products are available at top retail chains in India

The first big order for Rs. 70,000 came from a candle exporter in 2006. "The customer gave me 50 per cent advance. I added four more machines and three tailors on the rolls," says Saurav.
He got into making of cotton tote bags and the business started growing. By 2006 end, the company had reached a comfortable level.
"Quality is the key to stay put in any business. One happy client is equal to 10 potential clients," asserts Saurav.
In 2008, Saurav married Nikyta, who had a design background, having studied animation.
While it was time for the newly-weds to bask in the glory of their togetherness, Saurav was in for a shock when the workers went on a strike.
"I had a lot of orders on hand, but couldn't go on with the ungrateful attitude of those employees. Many orders we had received got cancelled and clients moved away.
"I almost decided to shut shop. It was my wife Nikyta who motivated me to not give up and joined hands with me to rebuild the business," says Saurav.
After sacking the entire bunch of workers who had gone on strike, Saurav put a new team in place within the next six months. He also obtained bank loans to expand his business.
Nikyta unleashed her creative talents and created exciting new designs. "The design skills that Nikyta brings to the table give us an edge over our competitors," says Saurav.
Business started prospering. With a vast collection of handbags, slings, wallets, laptop bags and folders, they also experimented with other fabrics like organic cotton and polyurethane and added more products to their portfolio.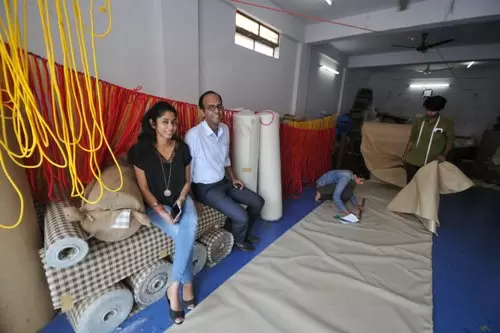 Nikyta motivated Saurav to continue the business when he wanted to quit following the workers' strike in 2008

With bags comprising 70 per cent of the total business, Just Jute has prominent corporates as its clients. Jute bags are an ideal gift option for them.
Realising the importance of having a brand name for their products, Saurav launched their first label under the name of NYK - short form of Nikyta's name - in 2013.
Saurav has set a target of making Just Jute a Rs. 100 crore turnover company in 10 years from now.
With Nikyta being a very understanding and supportive partner for Saurav at home as well as in business, he is a happy man today. After a day-long grind, Saurav looks forward to spending quality time with his six-year-old daughter Pia back home.
This Article is Part of the 'Amazing Entrepreneurs' Series

More Amazing Entrepreneurs

Arun Kharat, Founder, Wings Travels

I.S.A.K Nazar, Founder, Southern Health Foods

Trending Now: