One-time medical rep earning Rs 350 per month is now founder of a Rs 48 crore turnover health food brand

P C Vinoj Kumar
&nbsp | &nbsp Chennai
05-October-2016
Vol 7&nbsp|&nbspIssue 40
Starting his career as a medical representative for a monthly salary of Rs 350, I.S.A.K Nazar led a typical middle-class life in his early years.

But interestingly, he continues to lead a simple life even after reaching a stage when he is heading a Rs 48 crore turnover health food company that is poised for nearly a 100 per cent growth in the current financial year.

Founder of Southern Health Foods, makers of Manna brand of health food products, I.S.A.K Nazar started his career as medical representative (Photos: H K Rajashekar)
"For all practical purposes I consider myself a middle class person. My lifestyle has not changed much. I may be living in a better place and owning a better car, but I don't prefer to eat in a five star hotel.

"I have consciously maintained a simple lifestyle and stay in ordinary hotels," says 55-year-old Nazar, managing director of Chennai based Southern Health Foods Private Limited, makers of Manna brand of health food products.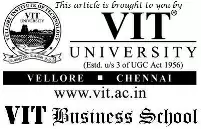 He rates the popular Saravana Bhavan restaurant as his best eating joint, though he feels it has now become one of those "rich people's hotels."

"I am comfortable eating at a Sangeetha or an Anjappar restaurant," says Nazar, adding that he would however check into a star hotel while attending conferences or whenever the situation demands.

Nazar understands the value of money. Back in the 1980s, he decided to quit the MBA he was pursuing in Annamalai University, Chidambaram, just three months after joining the course because he did not want to be a burden to his family.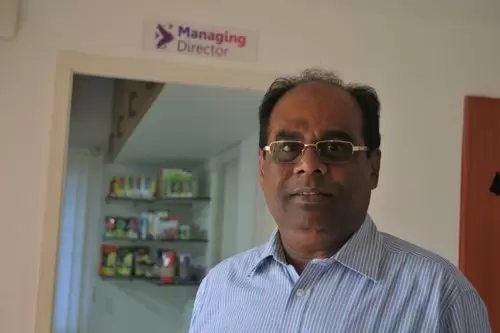 Nazar likes to lead a simple lifestyle

"I was staying in hostel and my father found it difficult to pay my fees. He did not say it in as many words, but I realised it myself. It was hard for him to educate all six children simultaneously," says Nazar, the second child in the family, who holds a bachelor's degree in physics from MDT College, Tirunelveli.

Hailing from Tirunelveli in southern Tamil Nadu, Nazar was born in a lower middle class family. Both his parents were government school teachers.

Having made up his mind to quit MBA, Nazar went to Coimbatore from Annamalai University to meet a friend who had just taken up a job as a reception manager in a hotel, without informing his parents.

At the hotel, as destiny would have it, a pharmaceutical company, Tablets India, was conducting walk-in interviews for medical representative posts. A big crowd had turned up for the interview.

Nazar decided to try his luck at the interview. "I was not carrying any certificates with me, I just applied. They gave a form and I filled it up. I attended the interview and got the job," he says.

It was not as if Nazar was so desperate for a job that he might have taken up the first available one.

As a school topper in Class 10 board exams and having held the posts of School Pupil Leader and college union chairman, he had always been a go-getter, and he was excited about a sales job.

"Why didn't I join a petrol pump as a manager or a cashier? It was not my cup of tea.

"In sales one can grow fast if one has the talent. It is a wonderful experience. All of us are salespeople in some ways. We sell our ideas and viewpoints even within our families," he avers.

His natural aggressive instincts proved to be his strength in the profession, as he climbed up the corporate ladder.

"By nature I am a very aggressive person," he confesses.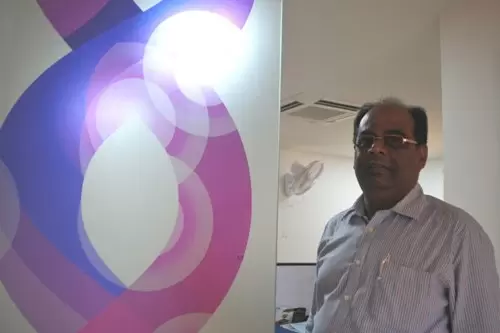 Bright future: Nazar says the trend in favour of organic and natural food augurs well for Manna products, which don't contain preservatives or any artificial colours
In 1983, he joined Tablets India as a medical representative in Coimbatore. The very next year he got a promotion and was posted in Ernakulam, Kerala.
He left the company in 1988 and took up a job with Helios Pharmaceuticals in Madurai, as marketing head for Tamil Nadu.

"My father was ill during that period and I wanted to stay close to him. That was the main reason for getting a job in Madurai," says Nazar.
His father passed away in 1989. In 1991, he moved to Chennai and joined a company run by a family friend - that manufactured cement and fertiliser bags - as a marketing manager.

By the mid '90s, he started thinking of starting his own venture. He was sitting pretty then as a senior executive in the company, having made some investments and drawing a monthly salary of around Rs 50,000.

With his pharmaceuticals background, he wished to start a business in pharma industry, but a friend of his wife who was a food technocrat, advised him to get into the health food segment.

In 2000 he plunged into entrepreneurship, dipping into his savings, selling some land and jewellery to launch Southern Health Foods.

He invested about Rs one crore in the venture, with about Rs 40 lakh of his own money and the balance amount borrowed from friends and relatives.
Starting with 40 employees, they launched their flagship product, Manna Health Food – which is an improvisation of 'sathumaavu', a traditional homemade multi-grain mixture that is commonly given to children in Tamil Nadu.

"It's completely natural food, a combination of pulses, grain, millets and nuts. We don't add colours or preservatives in any of our products," says Nazar. Manna Health Food contributes 40 per cent of the company's revenue even today.

"We had no problem in selling the product. From day one it was successful. We faced challenges in distribution, stocking and inadequate supplies to match the demand. But the product itself sold well."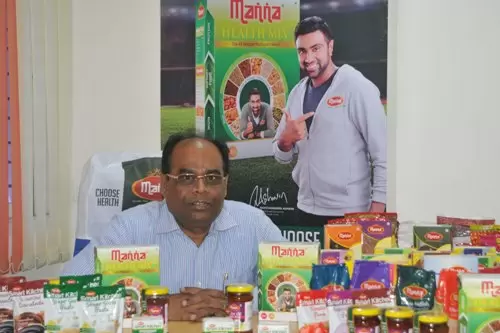 There are over 60 varieties of Manna products in the market

For the first six months, they sold only in Chennai. After six months they added more products to their portfolio and spread to other parts of Tamil Nadu. Within three years, their products were available all over the southern states.

"In the first year we did a turnover of Rs 45 lakh. Three years later we made the mistake of launching a masala division without realising that it required a huge working capital and suffered severe losses. We ended up accumulating a debt of around Rs four crore," he recalls.

In 2004, Nazar wound up the masala business and brought in Syed Sajan, his youngest brother, a mechanical engineer, who was working in an oil company in Dubai.

Nearly fifteen years younger to him, Sajan is more like a son to Nazar. "He was eleven years old when my father passed away. Since then he has been staying with us," he says.

The company, which now employs around 500 people, started making a steady recovery and by 2008 broke even achieving a turnover of Rs nine crore.

"We became debt free in 2012. Then we introduced new products and focused on growth. In 2012 we had 30 products; today we have more than 60 products in the market," says Nazar.

Besides south India, they have entered Odisha, Bihar, Chhattisgarh, West Bengal and North Eastern states.
Last year, Fulcrum Venture India invested Rs 30 crore and acquired 33 per cent stakes in the company. Nazar and his brother Sajan hold the remaining shares equally.

Nazar is gung ho about the future of the company. Observing the current trend in favour of natural food, he says, "People are quitting synthetic preparations and switching over to organic and traditional food. In another 10 years we will get the returns for what we have been doing for the last 15 years."

Adding no preservatives to their preparations means lesser shelf-life for their products, but Nazar isn't worried.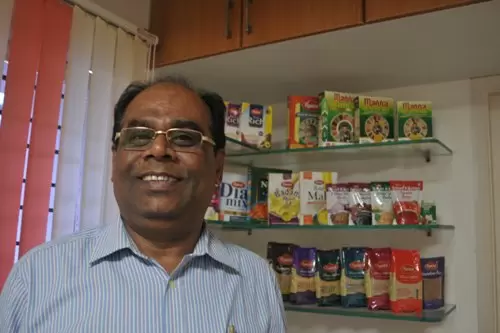 Nazar is a field person and regularly visits different cities to study the market conditions on the ground

"While others can claim (a shelf life of) 24 months, I can only claim 12 months, but it's still worth it because I am selling a good product," he reasons.
Nazar is an active Rotarian and was governor of Rotary district 3230 that covers Chennai and its suburbs during 2014-15.

He catches up on reading during his travel, which he does often, as he likes to be with his representatives on the field to learn about the market.
"I ride pillion with my representatives on their bikes and visit the shops. You can learn a lot of things from the people on the field," he says.
Nazar loves to read autobiographies and management books. His favourite book is 'The difficulty of being good' by Gurcharan Singh, which he says has given him an insight into decision making.
"I have presented the book to at least 200 people," he says.
Nazar has two married daughters - the first one is an architect, and the second a dentist.
"They made their own choices. They are not after luxurious lifestyle. My wife has trained them to have their feet on the ground," says Nazar, himself a man of simple personal tastes, though a highly ambitious entrepreneur.
This Article is Part of the 'Amazing Entrepreneurs' Series
More Amazing Entrepreneurs

Trending Now: