He begged, worked as domestic help, sold suitcases, and now owns a Rs 40 crore turnover car rental service

Usha Prasad
&nbsp | &nbsp Bengaluru
12-September-2016
Vol 7&nbsp|&nbspIssue 37
He has begged with his father, worked as a domestic help, pushed a hand cart to sell vanity bags and suitcases, guarded the homes of the rich, and has driven cars for travel agencies.

That's the summary of the early life of Renuka Aradhya, owner and managing director of the Rs.40 crore turnover Pravasi Cabs Private Limited, a car rental service in Bengaluru.

Renuka Aradhya's Pravasi Cabs operates a fleet of 1000-plus cars and 40 school buses (Photos: H K Rajashekar)

For someone who had travelled such a difficult path, Aradhya is sitting pretty now, commanding a fleet of more than 1,000 cars - 250 of which he owns – and 40 school buses.

"We hope to touch a turnover of Rs. 100 crore by 2019 and then we will go for an IPO," says Aradhya, who nowadays commutes on a Rs. 23 lakh Hyundai Elantra and might soon be seen on a Rs. 84 lakh Land Rover

A Class ten dropout, Aradhya is today a well-known name in the cab industry and also a director of four start-ups that are spread out in the transport, hospitality and real estate sectors.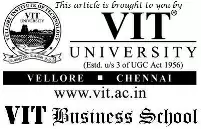 So, how did his rags-to-riches story play out?
Aradhya's father was a priest at Mutyalamma Devi temple in Gopasandra village in Anekal taluk near Bengaluru.He did not get a fixed salary and earned just about Rs. 1 or 2 daily from the arati (a Hindu ritual) collections.

The family cultivated ragi and paddy in the small patch of temple land, but the yield from it was not enough to meet their needs. Aradhya had two older siblings – a sister and a brother.

After the temple duty, Aradhya's father used to go begging from house to house and young Aradhya would accompany him to collect the ragi, jowar or rice that people would offer them. They would sell it later in the market.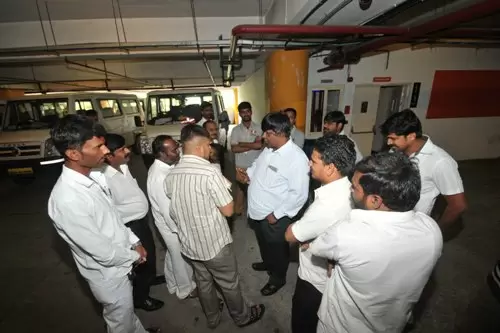 More than 150 people work with Aradhya at Pravasi Cabs

Aradhya studied in a government school and his teachers helped him by paying his fees. In return, he would do household chores for them.

When Aradhya finished Class six, his father left him at one Kaverappa's house as a domestic help. Aradhya looked after the two cows the family owned, and the octogenarian Kaverappa's needs.

He stayed there for about a year and attended a local school.

"I felt the experience what I got in their house was the real schooling than what I studied from books. They served leftover food that used to be very dry. I didn't get enough food and I used to stay hungry," he says with a smile.

When Aradhya's father realised his son's plight, he took him to Mahanteera Mutt in Chikpet, Bengaluru, and admitted him there.

"The Mutt would give us two meals a day, one at 8 am and the other at 8 pm, and nothing in between. Some of us boys used to go to SBM Circle on Kempegowda Road and eat the leftover ripe plantains from the vendors there," he says.

But after he failed in his Class ten exams, he went back home.

"As my father had passed away by then, the responsibility of taking care of my mother fell on me. My brother and sister had got married and they were not in a position to help us," he adds.

Aradhya lost interest in studies and decided to work. The mother and son shifted to a small house in Bengaluru, where Aradhya took up small jobs.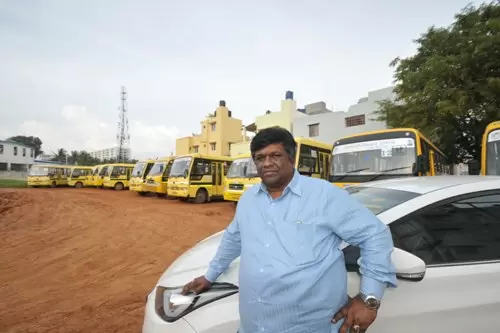 Pravasi operates a fleet of 40 school buses

He worked on lathe machines, joined a plastic pot making factory and then an ice-making factory. For three years he worked as a sweeper in Adlabs studio. Later, he joined Shyam Sundar Trading Co. as a helper in packing and transporting bags and suitcases on hand carts to various shops.

Soon, he started his own business by procuring suitcases from wholesalers and selling them on a push cart that he would take from street to street. He lost Rs. 30,000 in the business, his hard-earned savings and some borrowed money.

His brother, who worked as a supervisor in a security agency, got him a job as a security guard in Koramangala. He worked for almost three years as a security guard at various places and earned around Rs. 600 a month.

When he was 20, he married a relative, Pushpa, who was a year younger to him and like him was a Class ten dropout.

To supplement his income, he worked as a maali and also climbed coconut trees in the neighbourhood.

"I charged Rs. 15 per tree to pluck coconuts and I would climb around 20 trees a day. My wife also joined a garments factory for a salary of Rs. 275. This additional income proved very useful," says Aradhya.

At 23, Aradhya became a father to a son and named him after the deity he worshipped, Raghavendra Swamy.

Aradhya developed an interest in driving as some of his friends were drivers and they were earning around Rs. 2000 a month. So he learned driving and found a job, but it wouldn't last long.

"My first job lasted only few hours. The very first day I banged the Ambassador car on a gate. Fearing I would be reprimanded, I left the job and ran away from the scene," he recalls.

"Feeling too low about the turn of events, I headed to the temple and started banging my head at the steps cursing my fate and how God was being so unkind to me. I went back to work as a security guard."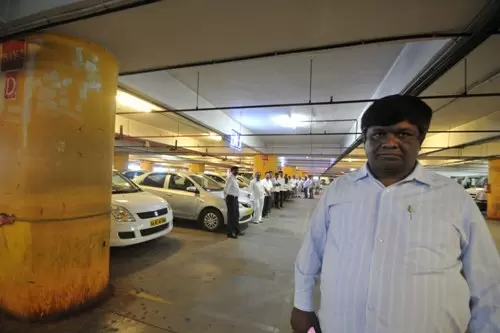 Aradhya is foraying into new ventures and is already a director of four start-ups
However, he soon got an opportunity to work for Satish Shetty, owner of Ganesh Travels.

"Shetty instilled confidence in me. He advised me to flee the place if I ever banged my car against something," says Aradhya, whose earnings went up to around Rs 5,000 a month, which included a salary of Rs. 600, driver bata of Rs. 100 a day on outstation trips, and generous tips from customers.

Since Aradhya received good reviews from his customers, he was poached by a rival company to drive a matador, which ferried customers and also operated as a hearse van.

"Friends and relatives said that misery would befall me if I carried corpses. I was pure in my thoughts and did my job with honesty. I thank god for giving me an opportunity to even serve the dead," he says, turning emotional.

After four years, Aradhya joined Manjunatha Travels. "Here I got an opportunity to drive foreign tourists. Once there was a group from France. Since I knew about their arrival two months in advance, I learnt basic French to communicate with them.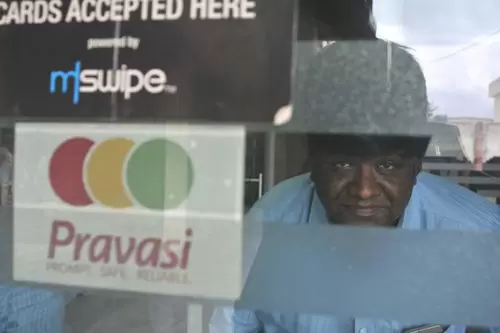 Aradhya realised early in his career as a driver that once you please your customers, your success is assured
"They were very impressed. I realised that if I could make my customers happy, I can never fail in any business," he says.

In 2000, Aradhya bought his own vehicle. His wife withdrew her PF money and he invested his savings to buy their first car, a Tata Indica, for Rs. 3.2 lakh and went on to work independently.

Aradhya learned English conversing with tourists and reading newspapers. He also attended workshops on business management, marketing, customer retention and entrepreneurship.

"I believe the world is a university and people are books. You get to learn from every person you meet," he offers words of wisdom.

By 2006, he added five more cars and attached them to City Taxi. The same year, one of his drivers, Venkatesh Perrumal, coaxed Aradhya to buy another company, Indian City Taxi, which was on distress sale.

Aradhya bought it for Rs. 6.75 lakh by raising loans and selling all the cars he had in his possession. Indian City Taxi had 35 cars attached to it. While his nephew took care of the control room, he supervised the operations.

Aradhya called his new company 'Pravasi Cabs'. It wasn't all that easy and he had to struggle as an entrepreneur.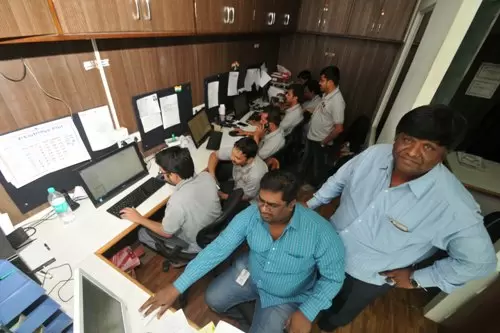 Aradhya has launched a scheme to enable his drivers to buy their own vehicles

His first client was Amazon India, and he signed up for their employee transport service (ETS). He added 35 vehicles to Amazon in 2006-07.

Amazon gave him business in Chennai as well when they set up their office there. He attached 300 vehicles to the Chennai office – all on borrowed money.

After few months, Aradhya expanded his business and got other clients such as Walmart, Akamai, and General Motors. In 2012, he added seven school buses to his fleet, which has grown to 40 now.

When Ola and Uber entered the scene, Aradhya's forethought and practical thinking saved him from the negative impact the two taxi aggregators had on the industry.

"I saw many small taxi operators shut shop when Ola and Uber cabs hit the streets. If I had a small cab agency with just 100 or 200 cabs, I would have been hit badly," he says.

Since Aradhya had around 700 cabs attached to Pravasi, he escaped the impact as he just lost about 200 to them.

In order to stay grounded and secure his business, he realised the best solution was to have an owner-cum-driver scheme.

Under this scheme, by paying an advance of Rs. 50,000, a driver would get a new car. "The car will be transferred to the driver's name after 36 months. Until then he can keep whatever he earns, we just deduct the EMI for the vehicle.

"We now have more than 300 vehicles under this scheme, and I have the liability of all those vehicles on my head," he adds.

Aradhya is a spiritual person; spirituality and business go hand-in-hand for him.

"One should share whatever he has and empower his family and employees," he says, and goes on to add, "without my wife's support, I wouldn't have been where I am today."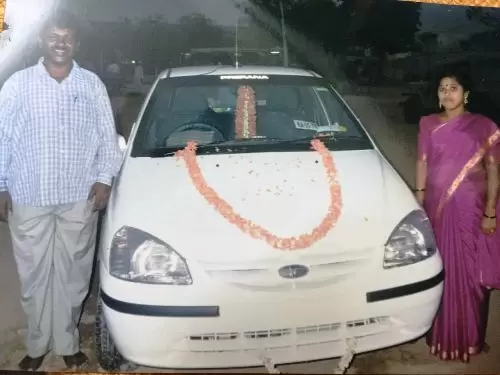 Aradhya and his wife with their first car (By special arrangement)
Aradhya's son, who is a director at Pravasi Cabs, got married when he was 19. His daughter-in-law was just 18. After marriage, the young couple completed their graduation in commerce.

"My daughter-in-law is also from a poor family. She agreed to marry my son after I assured her that I would let her complete her education.

"I used to personally drop and pick her up from the college as she and my son studied in different colleges. They are married for seven years now and I am a proud grandfather of a year-and-a-half old grandson," he reveals.

His daughter-in-law is being groomed to be a part of the family business. She will soon join Aradhya as his secretary.

"When I was only a driver, I would often think that one day instead of submitting a trip sheet I should be the one collecting it," he adds.

Aradhya's life just proves that there is nothing you can't achieve in this world if you dream it, plan it, and work hard for it.
This Article is Part of the 'Amazing Entrepreneurs' Series
More Amazing Entrepreneurs

Trending Now: