When they sell 1.5 lakh momos every day, you have to say 'Wow! Momo'
G Singh
&nbsp | &nbsp Kolkata
21-March-2016
Vol 7&nbsp|&nbspIssue 12
A pair of young friends from Kolkata took a simple dumpling and starting from scratch, cooked up a delightful success story in eight short years by building a fast-food company, Wow Momo Foods Pvt Ltd, now valued at 100 crore rupees.

"We faced several problems that knocked us down, but we came back stronger every time," say young entrepreneurs and former batchmates Binod Kumar Homagai and Sagar Daryani from Kolkata, both in their early thirties.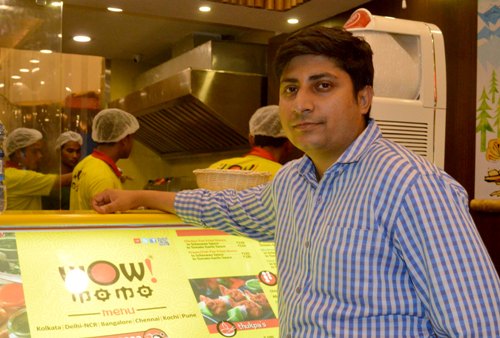 Binod Kumar Homagai (seen in the photo) along with college buddy Sagar Daryani started their first momo kiosk in Kolkota in 2008 with an investment of Rs. 30,000 (Photo: Monirul Islam Mullick)

Their food empire now stretches as far as Chennai and Pune, with as many as 67 outlets in the country.

The two college buddies, studying in the B.Com course at St Xavier's College in Kolkata, were ordinary middle-class boys. Binod had done his schooling from St. Xavier's Collegiate School and Sagar from St James School, both in Kolkata.

In college, besides their classroom they shared one more thing: their love for momos. Binod's inclination was natural hailing as he did from Nepal where the dish is believed to have its origin. Sagar owed his penchant to a momo-seller outside his school, whose fares he regularly sampled.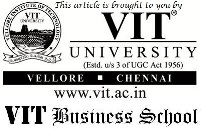 "In the final year of our college, we began to plan our careers like other young people our age, but with no concrete goals, just vague ideas," says Binod, now 31 and the Chief Operating Officer (COO) of the company.

"We thought of a bakery shop in Mumbai, but decided instead to venture into momos as I knew how to make them." When Binod shared the idea with Sagar, he jumped at it. Here, after all, was an opportunity to turn their favourite dish into a business model.

Destiny, however, tested their determination. They were both offered lucrative jobs in an international bank during the college campus placement, with packages of over three lakh rupees per annum, a hefty amount then.

"We turned it down," says Binod, "we wanted to try our luck in business." But who would invest in it? Binod's father, a private company employee, had limited resources.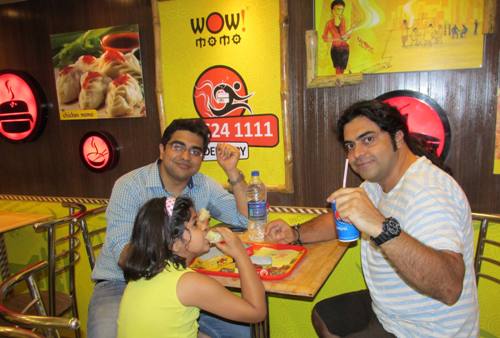 Sagar (left) persuaded his father to lend Rs. 30,000 for their start-up

That's where Sagar's family came in. "I persuaded my father to lend the money for our start-up," says Sagar, now 30 and the Chief Executive Officer (CEO) of the company.

"He eventually gave us Rs 30,000 for the business." He also convinced his family to let them use the ground floor of a relative's three-storey house in Jadavpur as the kitchen and thought of the name Wow! Momo.

A 200-square-foot kitchen with one table, two part-time cooks on a nominal salary, raw material taken on credit from a local grocery shop became the ingredients of their fledgling business.

Then came the breakthrough.
Binod and Sagar managed to get a small kiosk at Spencer's Retail in Gachtala Tollygunge in south Kolkata on rent for a month at 18 per cent revenue share. The borrowed sum of Rs 30,000 was used to do-up the kiosk and buy some utensils for cooking. The kiosk opened on 29 August 2008.

"We travelled everywhere by auto," says Binod, describing the days of struggle. "We stood at the entrance of the market, distributed leaflets to attract customers and offered free sampling of our momos. On the very first day, we had a sale of around Rs 2,200, and we touched Rs 53,000 at the end of a month."

Seeing the positive response, the managers of the hypermarket offered them kiosk space in their other branches as well. Sagar and Binod went on to set up six similar kiosks in malls and hypermarkets in different parts of the city in the next two years.

In 2010, the duo came up with their first independent outlet at Sector V in Salt Lake, Kolkata, with an investment of Rs 14 lakh from what they had earned.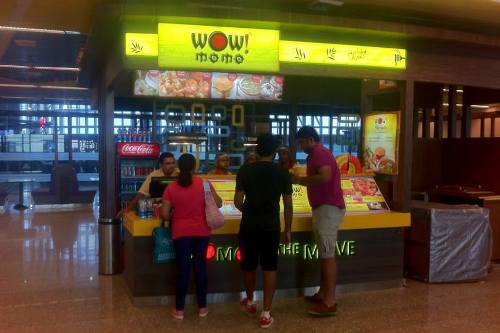 There are currently 67 Wow Momo outlets across the country

The same kitchen where they began has now expanded to 1,200 sq ft and is now the centralized hub for supply of the dumplings across the city. The first floor of the building in Jadavpur is now the headquarters of their company.

In 2011, they decided to go beyond Kolkata and opened a Wow! Momo outlet at Phoenix Market City in Bengaluru. In the last five years, the number of outlets has gone up to 67 with 34 in Kolkata, and the rest in Delhi, Bengaluru, Chennai, Pune and Kochi.

Except Kochi, which is a franchisee based outlet, all outlets are owned by the company. Their largest restaurant in Kolkata is spread over an area of 1,200 sq ft on AJC Bose Road.
Wow! Momo sells 1.5 lakh momos across the country every day with a whopping 85,000 being consumed in Kolkata alone. They employ 850 people in their country-wide outlets with an annual turnover of over Rs 30 crore.

They offer as many as 16 varieties of momos, steamed or fried, with fillings ranging from vegetable, mushroom and paneer to fish, chicken and prawn. There is a chocolate momo to top it all, as well!

Variety goes hand in hand with vision. The two plan to add another 400 outlets by 2021, besides planning to take the brand global by opening outlets in the UK, US, Canada and other countries.

Their struggle has been their best tutor for over the years. "We had no knowledge of the formalities of a new venture," says Binod.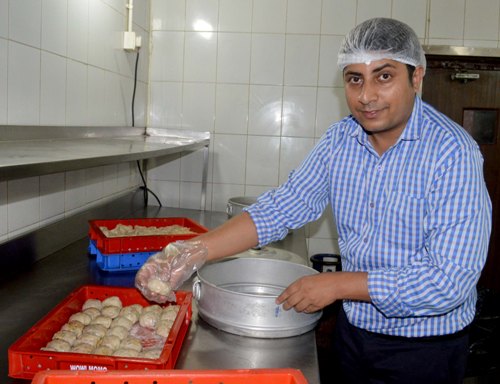 The Boss in the kitchen, making momos

"We just started off, but problems cropped up when officials from government departments began levying fines on us for not taking licenses. The journey has not been trouble-free for us. We learnt from every mistake. Even now, we are learners."

Humble as they might be, Wow! Momo had one of the best funding portfolios in the QSR (Quick Service Restaurants) chain industry in the very first round of funding, with investor funding of more than USD 2 million at a 100 crore valuation from the Indian Angel Network (IAN) in July 2015.

Sagar and Binod are directors in the company, with equal shares, a 10 per cent stake to IAN and an ESOP pool of 10 per cent for their staff.
Despite their achievements, Sagar and Binod's feet are planted firmly on the ground and their heart is in the right place too.
They not only contribute a part of their income to the treatment of cancer patients but also plan to open cancer hospitals for poor people in the coming years.

The secret of their accomplishments? "Simplicity, passion and a never-say-die attitude," they say.
And the secret of their delicious momos?

Shush… just eat and enjoy!

MORE AMAZING ENTREPRENEURS

Aasife Ahmed, Founder, Aasife Biryani
VKC Mammed Koya, Founder, VKC Footwear
Chayaa Nanjappa, Founder Partner, Nectar Fresh
Dr. Nayana Patel, Medical Director, Akanksha Infertility Clinic

Trending Now: