Inspired by Gandhi, Kerala Congress Leader Donates Ancestral Land worth Rs 8 crore to Landless Families
Sanu George
&nbsp | &nbsp Thiruvananthapuram
09-January-2019
Vol 10&nbsp|&nbspIssue 1
At a time when politicians are seen to increase their personal wealth when in public life, a Congressman in Kerala, currently on a sabbatical from politics, is seeking to build a self-sustainable housing facility for the homeless in his home town in Kollam district, about 70 km from the state capital.

What's more, he is doing this on his ancestral property of about one acre and 10 cents (4,451 sq m) that he has divided between 20 beneficiaries, with each getting four cents. The market value of the land is about Rs 8 crore ($1.1 million).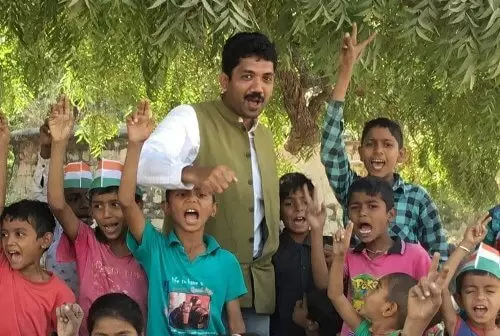 Niyaz Chithara has spent Rs 5 lakh in leveling the entire plot, which will be distributed between 20 landless families (Photo courtesy: Facebook)

42-year-old Niyaz Chithara said he is an advocate by training and has taken a break from active politics to ensure his "Gandhigram" project materialises.

"I was shocked to see a mentally challenged four-year-old boy waiting at the Mudackal panchayat with an old lady. When I spoke to the old lady, she said she was the boy's grandmother and she had come to see if the village council has any scheme for the poor and homeless. I came to know that the boy's mother had deserted the child and his father was bedridden due to an accident," Chithara said.
Returning home, Chithara said that he was too pained and remembered the words of Mahatma Gandhi: "You must be the change you want to see in the world."

"I did not take much time to decide that I will play my role for the upliftment of the downtrodden. I decided that the ancestral share of mine, which was 110 cents of land in the Chithara village council, would be gifted to the landless and I started work to accomplish this," Chithara said.

A former chairman of the Government Law College and an office bearer of the Youth Congress, he soon sent out postcards to all the landless families in two nearby village councils.

"I got a response from 300 people and I called all of them to an auditorium. I then spoke to each of them and made my own assessment of who should get the four cents. I selected 19 beneficiaries (the 20th was the mentally-challenged child) across caste, creed, community and religion. I registered the land in the names of the women in the respective families," said Chithara.

The only condition that he has put up is that these beneficiaries should build a home through any of the government schemes and if they do not do it in three years, the land will be taken back. And once the home is built, it should not be sold or transferred for 15 years.

"I decided to take on the responsibility of building a home for the young mentally challenged boy and will approach people to give a helping hand. We plan to build a 500 sq ft home at a cost of Rs 5 lakh. Next week, the official handing over of the land to the 20 beneficiaries will be done by (Leader of Opposition) Ramesh Chennithala, while (state Congress president) Mulapally Ramachandran will hand over the first instalment of assistance to build the home for the boy," said Chithara.

Chithara has already spent Rs 5 lakh to level the entire plot and dig a pond.

"In the Gandhigram village, I am planning a library, a place for the women to start their own vocation and an anganwadi, so that the small community gets an inbuilt facility for all their basic needs," said Chithara. - IANS
This article is part of the 'Inspiring Indians' series
More Inspiring Indians

Trending Now: