Training, Hard Work and Determination Helped 16-Year-Old Shivangi Pathak Conquer Mount Everest
Mudita Girotra
&nbsp | &nbsp Hisar (Haryana)
06-June-2018
Vol 9&nbsp|&nbspIssue 23
On May 15 this year, a teenaged girl from Haryana embarked on the very challenging task of climbing Mount Everest from the Nepal side. But having dropped her radio transceiver during the trek, she couldn't inform anyone about her whereabouts.

With no one able to contact her, there was hushed speculation that 16-year-old Shivangi Pathak might have lost her life in one of the world's toughest mountain terrains.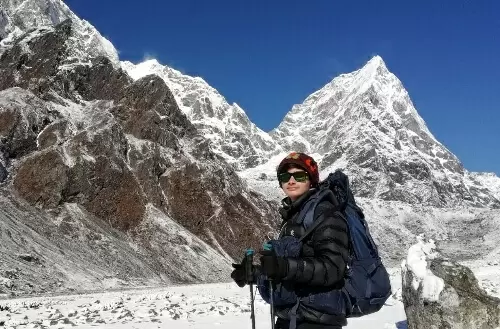 On May 15 this year, Shivangi Pathak become the youngest Indian woman to scale Mount Everest (Photos: IANS)

After a tense 10 hours, a great piece of news came down the mountain and, later, her family in Hisar got to know about her epic triumph -- she had become the youngest Indian woman to scale the highest peak of the Himalayas.

"We were extremely worried about her safety. Our whole family kept praying for hours for her safety without eating or drinking," said Shivangi's mother Aarti Pathak, 42.
"It was after a really long ordeal that we got to know that not only was our girl safe, but that she had also scaled the summit. I cannot describe in words what it felt like to hear this news. We are so proud of her. She achieved what she was determined to," the mother said.

Now a recognisable celebrity across India, the journey of this go-getter girl to this huge accomplishment began with a joke made by her mother.

"We got to hear of an Everest summiter (Mamta Sodha) being appointed as a Deputy Superintendent of Police. I jokingly told Shivangi to do something as big so she gets a similar job," Aarti said.

Later, Shivangi saw some videos on Arunima Sinha, the first Indian amputee to climb the peak. Inspired by her, Shivangi, in November 2016, decided to climb the Everest.

She trained herself for just over a year to prepare for the challenge.

The trainer she approached initially criticised her for being "too stylish" with her hair. "She asked me if I have come to the ground or for a fashion walk. I was fat, and had long hair then," Shivangi recalled. "It hurt. I thought that maybe I am dreaming too big."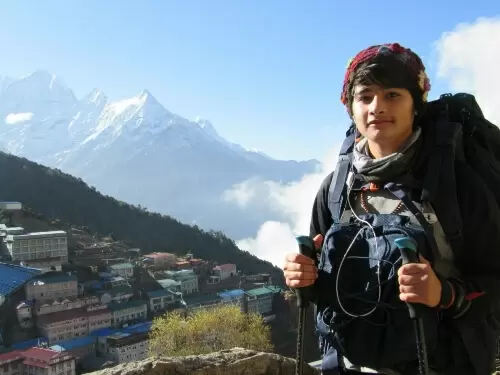 Shivangi trained for six to seven hours every day


What seemed too big then eventually became a reality with her hard work and dedication. She got her hair cut short and toiled to get in shape. Weighing 65 kgs two years back when she decided to climb the summit, she now weighs only 48 kgs.

"I started shaping myself according to the requirements of the sport. I got my hair cut very short, started training under the same trainer, Rinku Pannu. She is my guru. She encouraged me to do it. I am immensely grateful to her," said Shivangi.

"It is pretty funny that because I had short hair, girls who came to the ground started hitting on me thinking of me to be a boy," she laughed.

The training session went on for six to seven hours every day. Shivangi didn't attend school and dedicated all her time preparing to climb the Everest.

One training session included a 10-km run, weight lifting, rope -skipping. She was made to run with a backpack of 20 kgs on her shoulders.

"At times, she would tie ankle weights and run. When tired, she put them on her wrist," said her 27-year-old trainer.

One day during her training, she suddenly woke up from her sleep around 11.30 pm as she was yet to jump rope 200 times.

"I had promised my trainer that day that I would do it 5,000 times but I couldn't complete. So, I woke up in between to do it before midnight," said the summiter.

Pannu exclaimed, "Look at her dedication!"

On April 1, she landed in Nepal from where she trekked up to the base camp where she reached by April 5. This was followed by over two weeks of acclimatisation.

Finally, on May 10, she began her "Everest Mission", as she called it.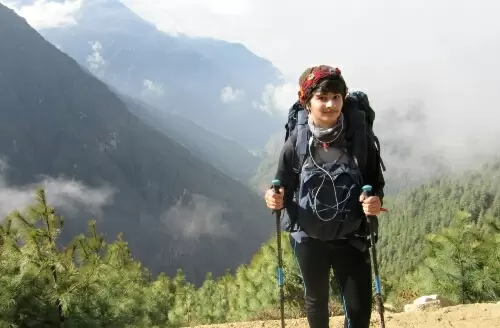 Shivangi's next goal is climb the highest summits of each of six of the other continents before she turns 18


"The route was full of stones and pebbles, and it was very slippery. There were many struggles. A storm hit the range a day before I reached the summit," Shivangi said, adding that she had to constantly motivate herself to overcome all hurdles.

"Ice on the way was very hard. It wouldn't break. Stepping on it would make us slip. There was also a day when I fell sick due to the weather conditions, but I refused to give up," she said.

She was accompanied by a Nepalese guide, Ang Temba Sherpa, who was with her throughout the journey.

"My guide was like god for me in that journey -- he treated me like a younger sister, didn't let me miss my family. He was with me through all ups and downs," she explained.

On May 15, at 8.21 am, she made it. "The first person on my mind was my mother. I desperately wanted to embrace her at that moment. I was so happy I made her proud."

Hoisting the national flag at the highest peak of the Himalayas was "a great feeling" for her. "It was a moment of pride for me. This achievement turned out to be an inspiration for many girls in Haryana and in the country," she said.

"I feel girls can do anything. They can go anywhere. They just have to make up their mind and have faith and determination towards what they want," she added.

She urged girls' parents to "encourage and support" them in their goals and never let them feel they are less than the boys.

"My parents were the biggest support and that is why I know how important it is for a girl to have her parents standing by her in her decisions," she added.

Her next target is to climb to the highest summits of the rest of the continents before she turns 18.

"Seven summits before 18," she said.

Pannu (her coach) said that this was going to be a cakewalk for her.

"She has climbed the highest in the world, reaching the highest of the other six continents won't be tough."

"She is a girl of ambition. She made so many sacrifices. She never complained even when she was made to slog, gave up on all her food delights, lost weight, made herself physically fit. I have confidence in her. She can do it, she will," Pannu said. - IANS
This article is part of the 'Inspiring Indians' series
More Inspiring Indians

Trending Now: