Couple grow business from six products to 50 plus products and Rs 20 crore turnover in less than two years
Sofia Danish Khan
&nbsp | &nbsp New Delhi
12-October-2018
Vol 9&nbsp|&nbspIssue 42
When Ghazal, 30, and Varun Alagh, 33, realised that their newborn son, Agastya, had eczema - a condition where the skin is allergic to a whole lot of substances and turns red and itchy when exposed to them – they had to hunt for toxin-free baby care products in the market.
"We could only use toxin-free and natural products to ensure that the condition does not worsen. But we found that most baby care products in India contained toxins and were not up to the mark, quality wise," says Ghazal. They started requesting friends and relatives travelling abroad to bring back toxin-free skincare brands for their son.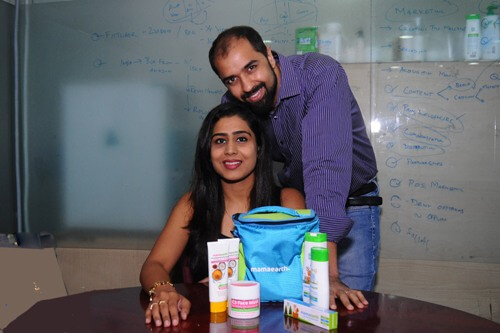 Ghazal and Varun launched Mamaearth range of toxin-free skincare products in 2016 (Photos: Navnita)

Before long the couple became aware that some of their friends too faced similar problems. It was a business opportunity that the couple was not going to let go.
After all, the couple possessed the right background to give it a shot. Varun had worked with Hindustan Unliver, Infosys, and at Coca Cola in Delhi where as a senior brand manager he was handling Coke Zero. Ghazal used to be a corporate trainer in the IT sector.
The couple took the leap of faith in 2016. They incorporated Honasa Consumer Private Limited in June and launched the Mamaearth range of toxic-free products for pregnant mothers, new mothers and the babies in December that year. The first batch of products included baby lotion and mosquito repellant.
The couple invested Rs 90 lakh in the business, which included their own savings, and funding from a few angel investors. "In less than two years our retail turnover is Rs 20 crore. We have a presence in 120 major cities of the country and at various ecommerce platforms like Amazon, Nykaa, Firstcry, apart from selling through our own website," says Varun.
Tracing their journey from inception, Ghazal says, "We started with six products. Now we have 50 plus products in the mother-child category, including bamboo based baby wipes which are one of a kind, as they are environment friendly and good for the skin." They also sell rash creams, creams for stretch marks, backache, feet ache, swelling, face masks and hair masks for hair fall. The products are available from Rs99 onwards and cost Rs1700 for an entire kit.
Earlier this year, Shilpa Shetty joined Mamearth as a brand ambassador and also invested Rs 1.6 crore in the company as she "believed that toxin free products are the best". The Gurugram based business raised another $4 million in a Series A funding from Fireside Ventures and Stellaris Ventures Partners.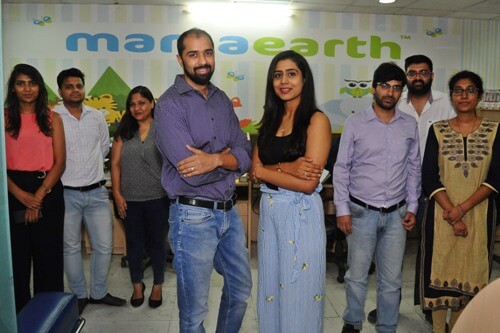 Mamaearth works with a team of 25 people, The products are manufactured by third party vendors

Ghazal who is aka the Chief Mom of Mamaearth shares their USP. "We are a company by the moms, for the moms and through the moms. There are 200 young moms on board who help us in conceptualizing, trying, testing and formulating the products," she says. "They initially use the products and give us the feedback. Only then the product is approved for mass production. We have 350 influencer Moms who help spread the word about toxin free products on social media."
A unique feature of their business model is that they have commissioned the manufacturing to third party vendors and focus on the marketing. A core team of 25 people working in a rented place looks after the marketing, branding, designing of packages and promotion on social media.
Mamaearth claims to be Asia's first 'made safe certified' brand. They provide a list of ingredients used in each of their products on the packaging, and it does not contain any of the 8000 known toxins.
"We test the products in our own laboratory. Once the products are tested and declared safe, they are sent for microbial testing to ensure that microbial activity does not impact the product during its shelf life," says Ghazal.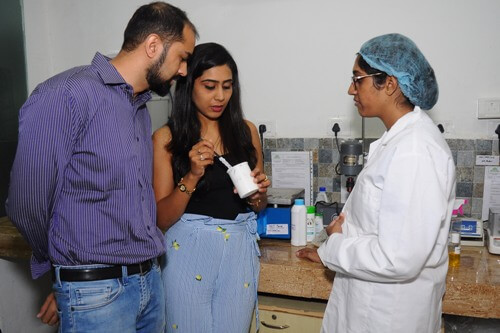 Products are subjected to rigorous testing before they are introduced in the market

Varun resigned from Coca Cola in 2016 to start Mamearth, after working in the corporate sector for 12 years. The first few months were tough as the couple had no assured income and they were pumping in all their money into the business.
"During this phase, Varun's parents were most supportive. His father has a printing factory and mother works in Bank of Baroda. They are the ones who are the backbone of our family, as they take care of our son while we are away," says the doting mom of now three-and-a-half-year-old Agastya.
Ghazal's father has a car accessories showroom and mother is a housewife. After marriage to Varun in 2011 Ghazal went to New York for a duration of 6 months in 2013 to pursue a course in Fine Arts from NY Academy. She loves abstract paintings and her work is still being exhibited in New York.
After she returned to India, she got pregnant and delivered a baby boy, Agastya. Talking about their son, Ghazal shares her routine "My day begins at 4:30 am when I go for a walk. Varun prepares Auggie's (Agastya) breakfast and then I drop him at school and reach office by 8 am. I work till noon after which I pick up Auggie from school.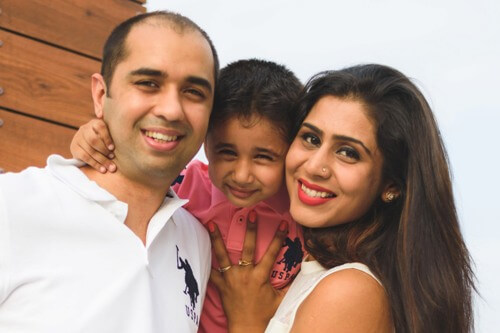 Varun and Ghazal with their son Agastya

"We have lunch together and after putting him to sleep I come back to office for work. Varun spends time with him in the night. We are essentially nurturing two babies right now, a startup and Agastya," she laughs.

You might also like
Raised in a humble family, this Punjabi girl has built an IT company in her village
Varun shares his experience of working with his wife. "Working with your wife, the biggest advantage is that we already know the mechanism of sorting out our differences and disagreements. I know she will be there to support me and I can trust her. We keep challenging each other as we already know how to push the limits."



Trending Now: