Hyderabad Youth Develop AC Helmets for Industry Workers; Pitch Safety and Increased Productivity to Market
Rama Devi Menon
&nbsp | &nbsp Hyderabad
06-October-2018
Vol 9&nbsp|&nbspIssue 41
A college project by three mechanical engineering students from VNR Vignana Jyothi Institute of Engineering and Technology in Hyderabad has scaled up to commercial production through its sheer innovative strength.
Kausthub Kaundinya, Sreekanth Kommula, and Anand Kumar, all aged 23, have developed an air-conditioned helmet for industrial use that is aimed to improve productivity, and the safety and comfort of workers.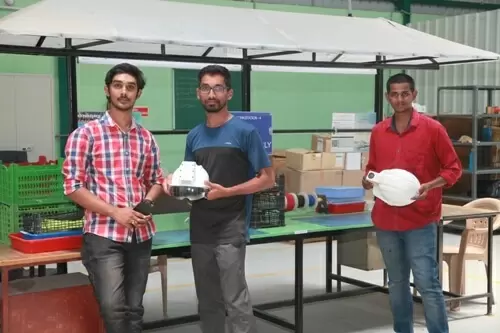 Kausthub Kaundinya (extreme left), Sreekanth Kommula, and Anand Kumar have started commercial production of the AC helmet they developed and have sold around 100 units in two months

At an age when many youngsters would be seeking employment or just settling down in their first job, the Hyderabad trio has set up a 4,000 sq feet production unit at Bachupally with a capacity to manufacture 3,000 helmets per month.
"The premium model for senior executives has a battery life of two hours, while the heavy-duty model for skilled workers has an eight-hour battery backup," says Kausthub Kaundinya, CEO of Jarsh Innovations Private Ltd.
Incorporated in November 2016, Jarsh conducted trials on a pilot basis over the last one-and-a-half years. Commercial production began just a couple of months ago, but they have already sold around 100 helmets worth about Rs 8 lakh and are close to bagging an order for 25,000 units more from the Middle-East.
"The average price of a helmet comes to around Rs 8,000, though the cost may be a little more or less, depending upon the requirements of the customer and the features we incorporate," explains Kausthub.
The Jarsh team believes the helmet would offer comfort and safety to the workers, which would contribute to increased productivity.
I try on the helmet and find it convenient and comfortable to wear. Kausthub says the "miniature cooling system" Jarsh Kepi 2.0 helmet is rechargeable, just like a mobile phone. "It is tested for water and heat absorption, impact penetration and electromagnetic interference." The team is targeting organisations with semi-skilled employees whose work environment exposes them to extreme temperatures.
"We have five customers now, including Mega Engineering, Arcebo Systems, Karam Industries, and we plan to expand our customer base to 100 within a year," says Kausthub, who had got the idea of an air-conditioned helmet during his daily 60 km commute on his two-wheeler from his home to college and back.
Talking about their journey of converting a college project into an officially accredited startup in the country, Kausthub says as a son of financial consultant, he got a chance to interact with some 'high net worth individuals' and understand how the world of business works.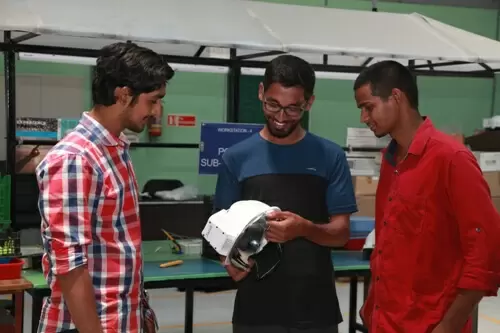 The helmets are customized as per requirements of the client and the average price of a helmet is Rs 8,000

Fascinated and inspired by the meticulous planning and the hard work put in by these "self-made successful people," he embarked on the path of entrepreneurship.
"I like the freedom entrepreneurship provides, which can be put to very positive use to help the world solve its problems," says Kausthub.
Anand, who heads the production team and takes care of post-sales work, developed an interest towards machines, production and processes during his visits to tea processing plants with his father, who is a tea trader. He unleashed his creativity early in life. "It all started with making custom made clay toys for my little sister," he recalls.
Jarsh's chief technology officer, Sreekanth, whose father is a farmer and realtor, is a designer at heart. "My dream is to create ungodly innovative products that take the world by shock," he shares. Even before he entered engineering college, his curiosity towards hardware products, especially automobiles, motivated him to "rip apart" the stuff he brought from scrap dealers and reassemble them.
Their chief mentor Dr. D.N. Rao, director of Jayem Automobiles, is a renowned innovator and helps the Jarsh team with product development, evolution and technology, while advisor Krishna Mohan, with more than 30 years of experience in the financial sector, offers them tips on marketing, finance and product positioning.
Jarsh Innovations received a funding of Rs. 5 lakh from their college's startup incubator VJ-Hub in July 2016. The Ministry of MSME pitched in with Rs. 1.5 lakh along with Indian Institute of Science, Bengaluru, initially and later sanctioned another Rs. 15 lakh in grants.
The founders put in Rs. 20 lakh from their own pockets and availed a bank loan of Rs. 40 lakh to launch their company.
Today, Jarsh Innovations has a seven-member production team at its factory and is one of the 74 tax-exempt start-ups in the country.
The product has won several awards - Gold Medal (TCS), Gold Medal (XLR8 AP), National Winner (GITR), Gold Medal (ISTE), National Winner (CII), and Silver Medal (IIA Fair).
Kausthub, Anand and Sreekanth are constantly pushing themselves to improve the product based on customer reviews and feedback from the HR and production managers. They also have a whole lot of new products in the pipeline, including some that could help farmers keep stray cattle away from their fields in an eco-friendly way.
Workers with AC helmet can work comfortably and without stress, claim Jarsh makers

So what are the challenges the team faces? Kausthub says it is tough to find the right strategic investors and marketing partners, adding "we are weak in marketing and wish to find partners in this arena."
Safety helmets are a mandatory requirement for industrial workers and it is up to the employers to provide their workers with these helmets and also ensure that they wear them. Statistical data on occupational hazards shows that the most common causes of head injuries are impacts from falling objects and sharp/hard items.
Extreme temperatures can cause fatigue and stress among the workers who are required to wear (normal) safety helmets 8-12 hours a day. It could lead to productivity loss as workers take more breaks to step out. AC helmets might come in handy for them.
This Article is Part of the 'Super Startups' Series
MORE SUPER STARTUPS
Sahil Gurucharan Chawla, Founder, Tsecond Generations Technology

Trending Now: