How a child worker in a garment factory earning Rs 60 per month built a Rs 2,000 crore business empire
Deven Lad
&nbsp | &nbsp Mumbai
09-May-2018
Vol 9&nbsp|&nbspIssue 19
At the helm of six companies – Kamani Tubes Limited, Kamani Steel Re-Rolling Mills Pvt Ltd, Saikrupa Sugar Factory Pvt Ltd, Kalpana Builders & Developers, Kalpana Saroj & Associates, and KS Creations Film Production – Kalpana Saroj employs 600 people and the combined turnover of her business empire is estimated at over Rs 2,000 crore annually.
But Kalpana did not get all of this on a platter. On the contrary, faced with the most difficult situations as a child, she braved the odds to emerge as a successful entrepreneur.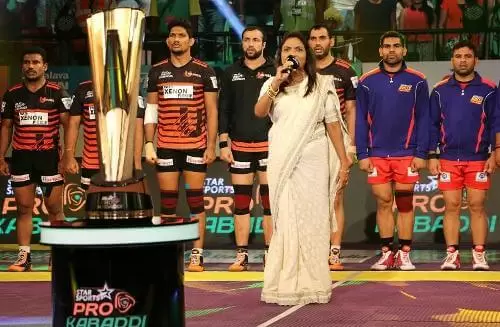 Kalpana Saroj, who had a tough childhood, is now the owner of six companies with a combined turnover of over Rs 2,000 crore. In the photo she is seen at a pro-kabbadi event (Photos: Special Arrangement)

"I was married off in childhood," says Kalpana. Born in 1958 to a lower middle-class family, Kalpana lived in Maharashtra's Akola district where her father was a police constable. She lived with her parents and four siblings – two brothers and two sisters.
Pushed into marriage after her Class seven, she came to Thane's Ulhasnagar slum, where her husband's family lived in a 10x5 ft room with 12-15 people living under the same roof. Kalpana had never seen a slum before.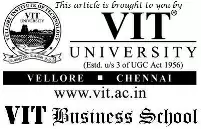 "That room was very small and my husband's brother, children, everyone lived there," remembers Kalpana. "Within six months, they started harassing me; my husband would beat me if there was less salt in the food…"
Kalpana was not allowed to go out or maintain any contact with her family but fortunately her father, who had work in town, came by to surprise her one day.
"For a moment he couldn't recognise me," she says, as she had become so frail. "He immediately took me away. That was my day of freedom."
Back in the village, more drama awaited her. People started taunting her family about her return and when she went back to school, she suffered even more bullying. Tired of everything, one day she consumed three bottles of rat poison.
"I was just a kid, and the taunts were unbearable," explains Kalpana. "I felt so bad for my mother because she faced the worst of it."
She was taken to the government hospital, where they were able to treat her back to good health. Having got a second life, Kalpana became determined to make something of it.
Kalpana moved to Mumbai in 1972 seeking greener pastures

"In 1972, I convinced my family to allow me to move out of town and settle in Mumbai," she says, as opportunities of earning were more in Mumbai.
This was the move that turned her life around.
She stayed with an uncle's friend at Dadar's railway quarters and started working in Lower Parel at a garment factory as a helper for Rs 60 per month.
In a few months, she also started stitching on the side and added an income of Rs 100. "I saw Rs 100 note for the first time… And I had earned it!" she recalls with a smile.
Kalpana never lost momentum after that and seized all opportunities that came her way. Within two years she had saved up a decent sum of money to rent a small house in Kalyan East and shifted her family in with her.
In that year, however, they lost her sister at the age of 17 as they could not afford her medicines. "The look on her face still haunts me," recalls Kalpana, "she was looking at me for help… but I couldn't help her. That is when I decided to go after big money."
In 1975, Kalpana received a loan of Rs 50,000 under the Mahatma Jyotiba Phule Scheme - a government scheme for backward classes - and started a clothes boutique in Kalyan. On the side she started re-selling furniture.
Her business was going well and in 1978, she started Sushikshit Berozgar Yuvak Sanghatana, to help the unemployed. Around 3,000 people joined her association who were helped with placements. By now she had an 11-member team working with her at the organisation.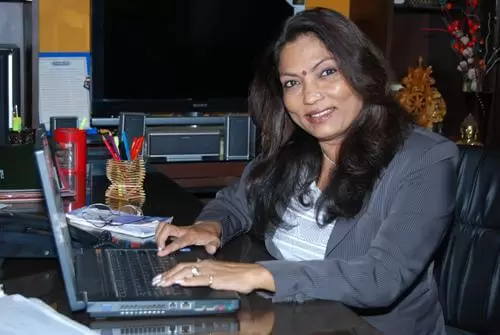 In 1975, Kalpana started a clothes boutique in Kalyan

"My father started looking after the furniture business and my younger sister took over the boutique," says Kalpana. "My employment drive got word-of-mouth publicity and people started calling me Taai (elder sister) even though I was in my 20s!"
Things continued in an upward swing and Kalpana made a comfortable life for herself and her family. The next big shift in her income came only two decades later.
In 1995, a man asked Kalpana to buy his land as he was in urgent need of Rs 2.5 lakh. Kalpana offered him only Rs 1 lakh but he took it. After buying she realised why he had sold it so cheap: the land was under litigation.
"I didn't know anything about land deals till then," explains Kalpana. "But I met the district collector who helped me to sort out things, and in two years I got permission to sell the land."
Kalpana handed over the land to a builder who built on it at his own cost – Kalpana took 35 per cent of the sale of the finished building and gave the builder 65 per cent. That was her entry into the real estate business.
By 1998, her property business was in full swing and she became a land litigation expert. "I got into many troubles, even faced death threats, but I dealt with all of them without fear," says Kalpana.
The property business had a turnover of Rs 4 crore by now and she invested in a sugarcane factory and started producing sugar.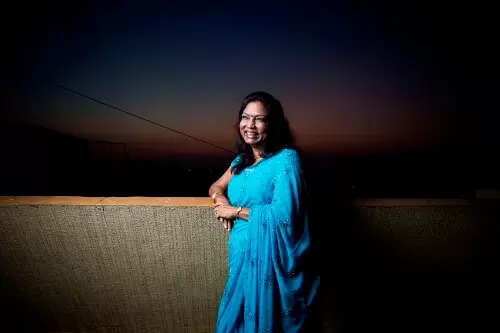 Kalpana's life took a new turn after she took over a sick company Kamani Tubes and nurtured it back to health

Meanwhile, her fame as litigation queen reached Kamani Tubes, a company manufacturing and supplying copper tubes, rods and LED lights and more, located in Kurla. The company had suffered many losses and litigations over the years.
The workers of the company came to her in 1999. The company had been shut for many years when, in 1987, the courts ordered the workers to run the company, but they had failed to do so successfully.
"Here was a company with 3,500 bosses!" laughs Kalpana. "Banks gave them loan but they couldn't make any money from 1987 to 1998, plus the company had a loan of Rs 116 crore, 140 cases of litigation and two unions… So it was a total mess, but I was here to sort it out."
Kalpana formed a 10-member team, which included marketing people, finance people, bank directors, lawyers, and government consultants.
It wasn't easy but finally Kalpana took over the company as Chairperson in 2006. Between 2000 and 2006, she met the then state finance minister and all those who had given loans to Kamani. Her efforts resulted in the banks agreeing to waive the penalties, interest, and also 24 per cent from the principal amount to help her revive the company.
"First we cleared the loans," explains Kalpana. "I had to sell one of my properties in Kalyan, but in 2009 Kamani Tubes came out of SICA (Sick Industrial Companies Act), and in 2010 we restarted the company. We shifted the factory later to Wada, and invested about Rs 5 crore. Within the year, in 2011, we had made Rs 3 crore profit!"
Eventually she got into other businesses one by one and the current combined turnover of her businesses is Rs 2,000 crore. Kamani Tubes is now a profitable company, with a profit of Rs 5 crore every year.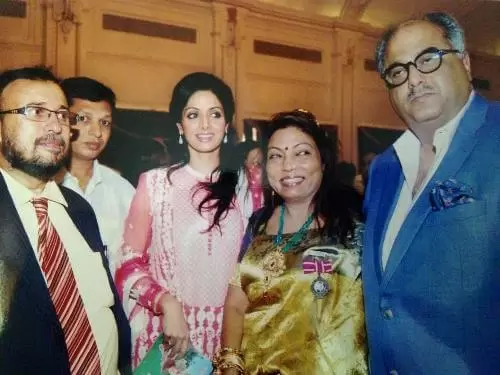 Kalpana now rubs shoulders with the rich and famous of Mumbai. In the photo she is seen with Bollywood actor late Sridevi

Kalpana Saroj, a Dalit girl who started out as a helper in a garment factory, today lives in a 5,000 sq ft house in Kalyan. But if you thought she is breathing easy at 60, you are wrong. She is now going to invest in a hotel business in Rajasthan.
On the personal front, Kalpana had remarried, but her husband passed away. Her daughter Seema has done a hotel management course and her son Amar is a commercial pilot.
Kalpana was awarded the Padma Shri for Trade and Industry in 2013 and was also appointed to the board of directors of Bhartiya Mahila Bank by Government of India.
Her second life has truly proved a worthy one.
This Article is Part of the 'Amazing Entrepreneurs' Series
More Amazing Entrepreneurs
S Ahamed Meeran, Co Founder, Professional Couriers

Trending Now: