Starting With Rs 2,500, He Has Built a Rs 3,250 Crore Turnover Retail Chain
Vedika Chaubey
&nbsp | &nbsp Mumbai
24-March-2018
Vol 9&nbsp|&nbspIssue 13
People called him mad, a maverick, taking too big a risk too often. They all but wrote him off when big corporate competition came in… but Nanu Gupta marched on, taking one step at a time, backing his instinct about what works in the Indian market.
Today, at 75, he is at the helm of a large business empire, Vijay Sales, his electronics retail chain that has 76 stores across India. The turnover for his partnership firm was Rs 3,250 crore last financial year and is close to touching Rs 3,700 crore in 2017-18.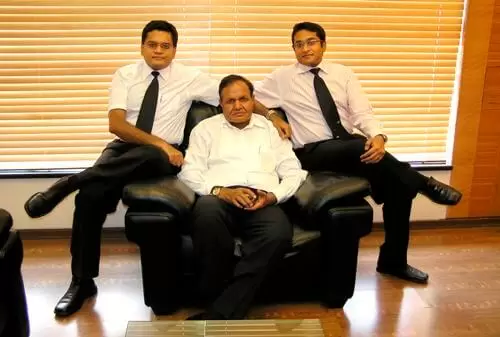 Nanu Gupta's first shop was a retail outlet in Matunga that sold sewing machines and fans. In the photo he is with his two sons Nilesh and Ashish, who are now involved in the business (Photos: Special Arrangement)

In 1967, he started out on his entrepreneurial journey with just Rs 2,500.
Born to a farmer family in 1936 in Haryana, Nanu left his village Kaithal in search for work at the age of 18.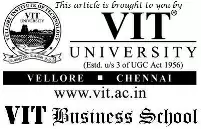 "I came to Mumbai in 1954 and stayed at my cousin's house in Valkeshwar," recounts Nanu. "He was a distributor for Usha sewing machines and fans, and I worked as a salesman with him for a few years."
A decade later, Nanu started his own shop with his brother Vijay (who passed away in 1980), retailing sewing machines and fans in Matunga. They called it Vijay Sales as Nanu was very fond of his brother. The shop was very small, only 50-60 sq ft at a rent of Rs 30 per month, but his dreams were big.
"I had only Rs 2,500 when I started the first shop in Matunga but I had full faith in myself and God. I knew that one has to just focus and keep working," says Nanu.
He started with retailing sewing machines, fans and transistors. In 1972, he added black and white televisions to his Matunga store. By 1975 Nanu had bought a shop in Mahim and he registered his company in 1976.
The market boom around the year 1982, when colour television was introduced in India, was a significant time for Nanu. "As we added products to sell, the shop needed more space," he explains.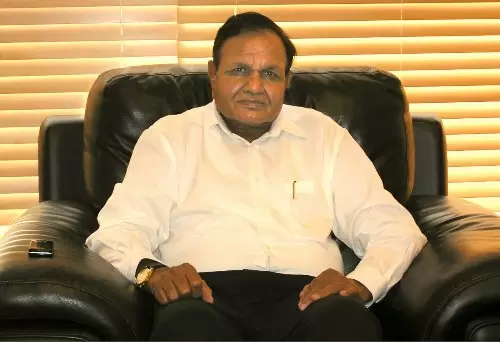 Nanu's penchant for opening big stores always suprised industry observers

"The face of the industry had changed and sale of colour televisions had picked up. Brands like Onida, BPL, Videocon, had introduced washing machines and air conditioners in the market in addition to colour television."
In 1986, Vijay Sales opened its first branch in Bandra, buying a 600 sq ft space to set up shop. "There were few brands at that time and there was no need for such a big store but my father thought we should have a big shop display for our products," says Nilesh Gupta, managing director of Vijay Sales and elder of the two sons of Nanu Gupta.
This vision of Nanu worked to their advantage. By1994, two other big stores were opened, one in Shivaji Park (700 sq ft) and the second in Sion (1,500 sq ft).
Things were moving smoothly but then, in 1993-94, brands like Samsung, LG and Daewoo came into India and offered big refrigerators and big TVs. They required larger space to accommodate these products.
"We bought another big shop of 2,500 sq ft next to our first store in Mahim, which was still running. To my surprise, each time we increased the space, our sale increased," says Nilesh, revalidating Nanu's instincts.
Vijay Sales was the first to introduce the display concept to customers in Mumbai. The business increased and by 2006-07, the Guptas owned 8-10 stores in Mumbai.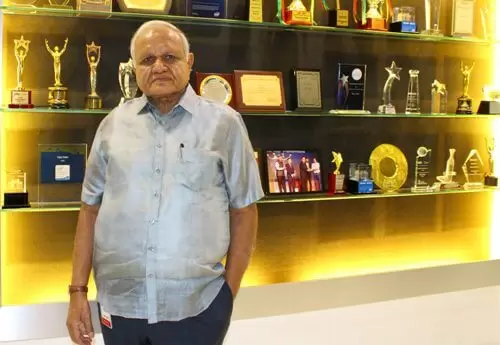 Nanu remained unperturbed when Mumbai saw the advent of large-format retail stores during the last decade

Then they bought their biggest store in Goregaon – four floors, with each floor around 1,300 sq ft.
"When I bought the Goregaon store, the industry started saying that the Vijay Sales guys have gone mad!" laughs Nanu. "They were worried we are investing too much money on big stores but now even that store is falling short!"
The industry was shocked to see the huge retail spaces that Vijay Sales started opening up across Mumbai. "My father is a visionary and increasing store sizes helped our business," says Nilesh.
Trouble came in 2007, in the shape of retail revolution, which saw the opening of large-format retail stores such as Croma, Reliance and Future group showrooms. Vijay Sales had 14 stores in Mumbai by this time.
"To our surprise, we started receiving proposals for selling our brand. Everyone thought that Vijay Sales will sell out and shut shop in front of all the big corporate showrooms," says Nilesh. "Even I was tense and over lunches and dinners I would talk to my father and brother about nothing but this."
But Nanu was unperturbed. "I told him we had nothing to fear," says Nanu. "No one can take away your hard work. If we work hard and take care of our customers, we'll be fine. They may take 20 steps ahead when we can take only two, but that's okay."
Nilesh says that since that day he has not thought about his competitors. "Though my father told me that if I don't want to continue with this business, he will help me start any business I want to," reveals Nilesh, "I kept the faith."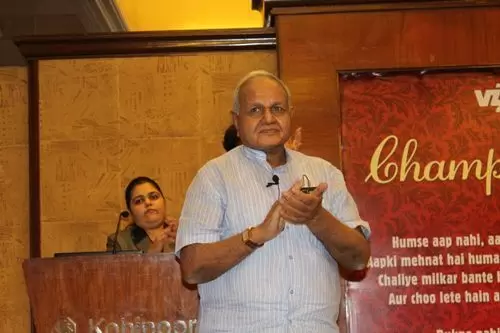 Nanu's brief foray into sale of gym equipment ended due to lack of demand for the products. They got back to selling electronic appliances only

In fact, their actual growth started after 2007. They expanded to Pune, Surat, Delhi and Ahmedabad, opening new stores in each city.
"Before 2007, we were not dealing in digital products and were only into consumer durable products like fridge, TV, refrigerator, washing machine etc. The market trend was changing and Vijay Sales introduced mobile phones and laptops and now we offer the full range of electronics," explains Nilesh.
The showrooms were already big so they didn't have any issues in increasing the product lines. Their turnover jumped from Rs 100 crore in 2000 to almost Rs 500 crore by 2008.
They become a known name in the electronics market when they started their store in Opera House, Mumbai in 2000. That has become the landmark store for them. "Even after all these years, I have never seen my father tired of his work," says Nilesh.
"He has always taken care of his customers. He is 75 but still has full control of the business. Even if some customer walks in after 9 pm and asks "aap shop band kar rahe hai" (are you closing shop for the day?), my father would immediately say no and make him feel welcome."
Nanu would offer customers who don't have enough money the chance to pay in instalments even before the EMI facility was introduced. This trust earned him thousands of loyal customers. A few months ago, a customer came from Pune just to see Nanu Gupta as he had been purchasing his electronics from Vijay Sales since childhood.
"Another time an old customer visited our Prabhadevi branch and said that his father used to purchase products from Vijay Sales and now he has come with his granddaughter to purchase a mobile on her birthday," says Nanu.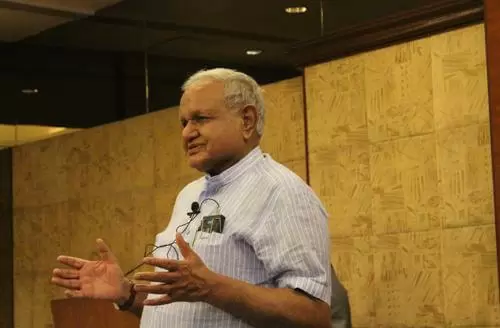 Outside Mumbai Vijay Sales' stores are present in Delhi NCR, Pune, Ahmedabad, Surat and Vadodara

The story inspired Vijay Sales employees so much that they shared it with the advertisement team and they made a TV commercial based on this.
In the initial days, when they had just the Mahim store, Nanu used to walk to the store from his Santacruz home, even during the monsoon.
"I believe that work is worship. I don't like sitting idle. The work keeps me going and makes me feel active," says Nanu, who only studied till Class 10.
At present Vijay Sales have 76 stores all over India including Mumbai, Delhi NCR, Pune, Ahmedabad, Surat and Vadodara. The company tries to open 3-4 stores every year. "We tried to sell gym equipment but we shut it down because there was not much demand. Since then we decided to stick to electronics only," says Nilesh.
Nanu's wife passed away three years ago and he lives with his two sons, Nilesh and Ashish, who are both married. Ashish also helps with the business and the brothers divide the work equally. They all stay together in Santacruz.
Starting with only two employees, Vijay Sales has more than 1,900 employees across India today. That's one large happy family!
This Article is Part of the 'Amazing Entrepreneurs' Series
More Amazing Entrepreneurs
Diamond Oberoi, Elgin Hotels Private Limited

Trending Now: