Acquiring a royal guest house at age 20, he went on to build a Rs 30 crore turnover heritage hotel chain
Gurvinder Singh
&nbsp | &nbsp Kolkata
16-March-2018
Vol 9&nbsp|&nbspIssue 12
Soft spoken and polite, and with an infectious smile, you can hardly believe that he belongs to the illustrious Oberoi family who own luxury hotels globally. Brij Raj Oberoi, a.k.a. Diamond Oberoi, is the nephew of MS Oberoi, founder of the Oberoi group of hotels. Diamond's mother and the senior Oberoi's wife were sisters.
Diamond Oberoi, 65, has no airs about his lineage or his own empire, a chain of heritage hotels, which he runs across the North-East.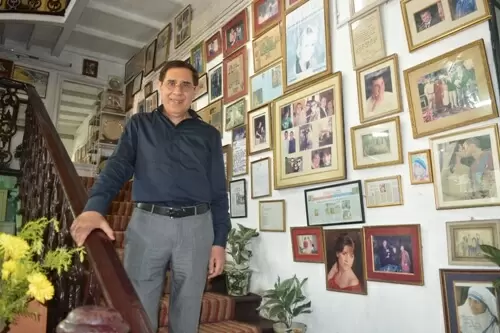 Diamond Oberoi owns a chain of heritage hotels across North East India, whose old world charm attracts people from around the country and abroad (Photos: Samir Verma)

With 400 employees, his company Elgin Hotels Private Limited is poised to touch a turnover of Rs 30 crore in 2017-18. Their last year's turnover was Rs 25 crore.
Diamond's passion for heritage properties can be gauged from the fact that he purchased a 2.5-acre land by spending over one crore in Siliguri in 2002 but didn't build a hotel.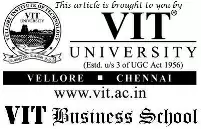 "I dropped the idea of building a new hotel – heritage hotels are my passion and I will stick to it," says the hotelier, who considers his passions more worthy than money. His business carries forward his two loves in life: nature and antiques.
Diamond's most recent acquisition, in February 2018, is a heritage property too, the 20-roomed Fairlawn Hotel, built in 1783, which was owned by a Kolkata-born British lady Jennifer Ann Fowler.
"It will take at least two years to restore and renovate the property. We want to turn the hotel into the most sought-after destination for youngsters and elders alike," reveals Diamond. "I had offers to build 5-star hotels from people across the country but I turned them down as I hate match-box constructions and I wanted to stick to heritage properties."
"Our turnover is not high because of fewer rooms, but I have deliberately designed my hotels to have that ambience. Each hotel has one-third built-up area while the rest is gardens and lawns. I am an absolute nature-lover," he confesses.
Diamond's rendezvous with nature started right from his birth in Shimla, Himachal Pradesh. Born on November 13, 1952, he was the youngest of six siblings. His father worked at the Cecil Hotel that was run by MS Oberoi, while his mother was a housewife.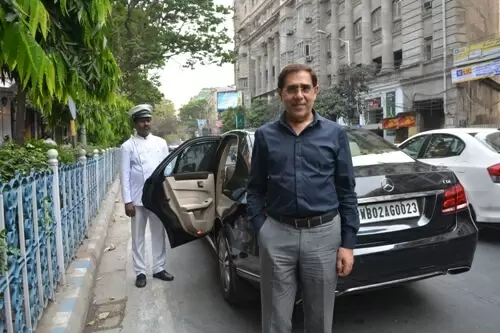 In February 2018 Diamond Oberoi acquired Fairlawn Hotel in Kolkata, built in 1783, from Jennifer Ann Fowler.

"I was a year old when my parents shifted to Darjeeling, as my father was transferred to Mount Everest hotel (also run by the MS group) as the general manager," he shares, while sitting at his luxurious house that also doubles as his office at Park Street in Kolkata.
He completed his schooling from St Joseph's College in Darjeeling, from where he passed out in 1976, finishing his graduation in Economics (Hons). "My love for nature began in my childhood. I was born in the lap of nature and loved greenery and spent hours outdoors. Even today, most of my time is spent at my hotels, located in the Himalayas," he says.
This is also why he has limited his hotels to the North-East, an area known for snow-capped mountains and tea gardens.
In 1965, his father left the MS Group and purchased the Elgin Hotel in Darjeeling. "The hotel was a summer house of the Maharaja of Cooch Behar. My father bought the hotel from him. It had 10 rooms," recalls Diamond.
"I used to assist my father at the hotel as I was interested in the hospitality business. He used to take me to the market to purchase groceries and also taught me the tricks of the trade. He has been my guiding light throughout my life…"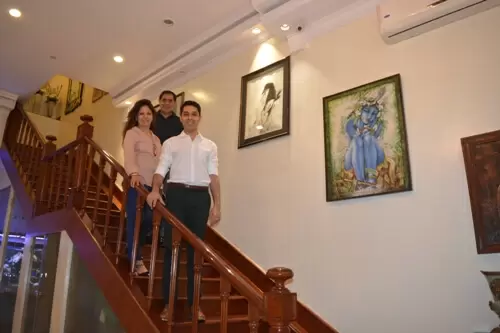 Diamond at his beautiful home with wife Nimmi and son Viraj

His uncle MS Oberoi also had an important role in his upbringing. "I always tried to spend time with him as much as I could. He used to frequently visit us in Darjeeling and encouraged me to strive for excellence…" remembers Diamond.
At 20, Diamond made his first acquisition - the Nor-Khill Hotel in Gangtok, which was the royal guest house of the King of Sikkim in 1976.
"I negotiated the lease of the hotel for 65 years at an annual amount of Rs 25 lakh and named it Elgin Nor-Khill. The money was paid from the earnings of our hotel as I have never believed in taking loans. The hotel has 30 rooms."
By 1981, they launched their third property, Silver Oaks in Kalimpong, which was an old house that was transformed into a hotel with 28 rooms. Purchased at Rs 12 lakh, it was renovated at a cost of Rs 25 lakh.
With funds from his father, Diamond thus slowly expanded the Elgin group. In the same year, he got married to Nimmi, a computer engineer by training.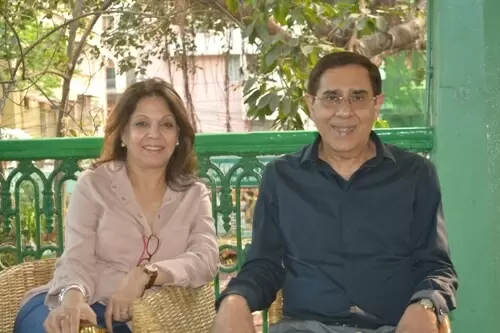 Diamond's wife Nimmi, an electronics engineer by training, is also a director at Elgin Hotels Private Limited

"She has contributed a lot to the décor and aesthetics of the hotels," says Diamond. The couple have a son, Viraj and two daughters, Aanyaa and Rea. While Diamond is the Founder and MD, his son and wife are directors at Elgin Hotels Private Limited, the flagship company that owns the Elgin chain of hotels and resorts.
"After three hotels, I decided not to acquire more properties but to focus on them and turn them into the best properties in town. I have always considered my hotels to be my babies who need proper nurturing and care," he says, with that infectious smile.
It was only in 2006 he acquired his fourth heritage hotel Elgin Mount Pandim in Sikkim. "It was the royal retreat of the royal family of Sikkim. I made the highest bid of Rs 21 lakh annually for 60 years when the government auctioned it. It has 40 rooms with the best views in the world!" he shares. Elgin Mount Pandim has won several travellers' choice awards on online platforms such as TripAdvisor.
Celebrity guests who have stayed at Elgin hotels include Hollywood actor Richard Gere, music maestro A.R. Rahman, state heads and politicians like Prime Minister Narendra Modi as well as Congress President Rahul Gandhi.
Finally, here's the inside story of how Brij Raj became Diamond. "The name was given to me by my uncle MS Oberoi who had come to see me after my birth and told my mother that I shone just like a diamond. Since then, it stuck," Diamond shares, laughing heartily.
This Article is Part of the 'Amazing Entrepreneurs' Series
More Amazing Entrepreneurs
C K Ranganathan, Founder, CavinKare Private Limited
Wish to share your story?
Trending Now: