How a Telephone Operator Dreamt Big and Built a Rs 100 Crore Turnover Business
P C Vinoj Kumar
&nbsp | &nbsp Chennai
28-April-2018
Vol 9&nbsp|&nbspIssue 18
At age 19, in 1975, when he was still an undergraduate student, S. Ahamed Meeran, applied for the post of an operator in telephone department, attended the interview, and got the job for a monthly salary of around Rs 180.
Born into a family of modest means at Kalakad, a town panchayat in Tirunelveli district, Meeran decided to stand on his own feet early in his life.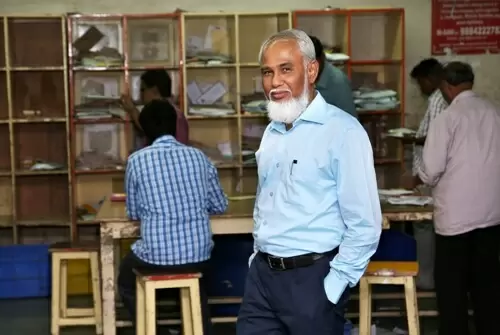 S Ahamed Meeran is one of the founding directors of Professional Couriers. His franchise owns the Chennai business of the company with turnover of Rs 100 crore (Photos: Ravi Kumar)

With a burning desire to succeed, he made the right moves, first quitting his job to start a travel agency, and later making a mark as one of the pioneers in India's fledgling courier industry.
In 1987, he co-founded Professional Couriers Private Limited with seven others. The company is built on a franchise model and Meeran owns the Chennai business under a proprietorship that employs more than 2,000 people, spread over 90 branches, with a current turnover of Rs 100 crore. He is also Managing Director of Professional Couriers Private Limited.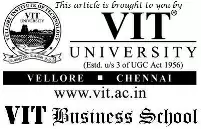 "We spend around Rs 2 crore on employee salary each month. It gives me immense satisfaction that I have been able to create so many jobs in my lifetime," says Meeran, who began his career as a Class three employee in the telephone department, in an era when operators at telephone exchanges manually connected calls from customers to requested numbers.
"I was doing my second year B.Com at Sathakathula Appa College in Palayamkottai when I got the job of a telephone operator. The qualification for the job was 11th class pass with 80 per cent marks. I applied and got through the interview," says Meeran, who soon completed third year B.Com through correspondence and got his degree.
As short duty telephone operator, his salary was based on the hours of work he put in each day - which was usually six hours daily – at the rate of one rupee per hour. He worked seven days a week and earned around Rs 180 per month.
"My first posting was at Nagercoil in Kanyakumari district. I stayed in a lodge along with a friend and we split the rent. My salary was enough only to pay the room rent and take care of my food expenses. I was unable to send any money home," rues Meeran. As the eldest child, with three siblings after him, he always felt responsible for them.
Their family depended on his father's income. His father used to rent bicycles on hourly basis at his village, but later moved to Colombo where he worked for many years at some grocery shops in the cash counters.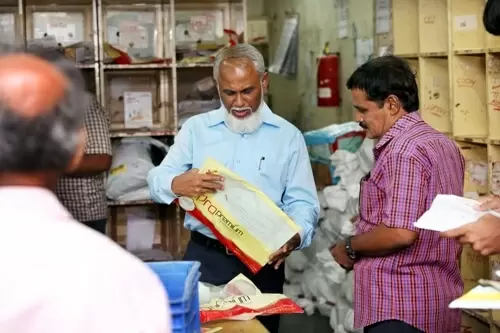 More than 2,000 people are employed at Professional Couriers, Chennai

His mother cultivated paddy and seasonal grains on a small piece of leased land at their village, which was located about 40 km from Nagercoil. "We were a lower middle class family," shares Meeran, who became aspirational from a young age.
He says his mother taught him many good things. "I picked up my values from her, my teachers, the Jummah sermons I heard, and from the books I used to read at the local public library since I was in class eight."
As a self-motivated man, he realised that he had the capability to do more than just plugging cords on the switchboard in the telephone exchange.
With a B.Com degree in hand, he could either focus on getting promotions in the telephone department itself or quit the job and start doing some business. He chose the latter.
"I started saving money from my salary to start some business. My salary kept increasing and so did my savings. In 1983 I took leave from work and shifted to Chennai, where I started a travels agency for arranging passports, visas, and booking flight and train tickets.
"I took a 125 sq ft office space at Mount Road near Gemini Flyover for monthly rent of Rs 1,500 and advance of Rs 10,000. I invested in a phone and three employees. We received many walk-in clients daily, and business picked up," recalls Meeran.
Meeran built the franchisee network for Professional Couriers across Tamil Nadu from scratch

Within a year, he mustered the courage to quit his secure 'central government' job and launch himself as a full-time entrepreneur.
"I started scouting for additional business opportunities and sounded out friends. One friend, who was working in Indian Airlines, connected me to the MD of Coast Courier - a Kochi based courier company - who was looking for a new agent in Chennai.
"They already had few clients in the city and I took up the business offering my office space and two employees. I received 15 per cent of the total revenue as my commission. When I took over in mid-1985 our monthly income was Rs 1,500, but within one and a half years it went up nearly ten times to Rs 15,000," recalls Meeran.
Meeran quickly learned the tricks of the trade. It was early days for the courier business in India and he took it upon himself to personally canvass for orders.
He used to deliver courier covers to big clients himself - Indian Bank and NABARD were their clients to name a couple - and point out how a document dispatched from a distant city such as Mumbai the previous evening had reached Chennai the very next day.
"I would tell them we could do the same for you. Give us documents and we would deliver it to Mumbai next day," says Meeran. But at that time delivery services were available only in Delhi, Mumbai, Chennai, Kolkata, Kochi, Bengaluru and Hyderabad.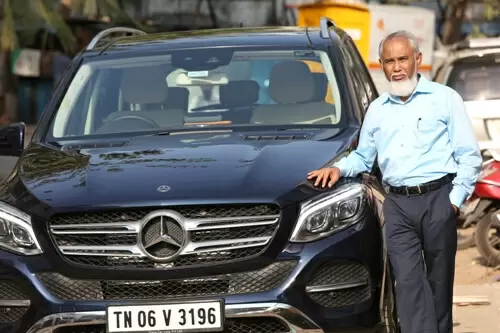 Meeran has come a long way from riding a Bajaj M80 to owning a Mercedes Benz GLE

"I had a Bajaj M80 bike and I would go to the airport daily to pick up and drop courier packets in the initial days," remembers Meeran, who now commutes on a luxury Mercedes Benz GLE.
By around late 1986 dissent started brewing among the agents of Coast Courier in different cities against the top management in Kochi, where some changes were imminent. Eight people connected with the company, including Meeran, quit Coast Couriers and jointly launched Coast International, a new courier company.
Later, following a legal tussle the name was changed to Professional Couriers in 1987. The private limited company appointed franchises in each city to develop the business and expand their network.
Each franchise would be an independent proprietor, but use the Professional brand for business transaction. The franchises also pay a royalty ranging between Rs 100-Rs 2,000 to the company each month based on their monthly business.
In Chennai, Meeran took up the responsibility of appointing franchises all over Tamil Nadu to create a strong network in the state. "We had one person in Tirunelveli when we started, but soon added franchises in all the major cities. We looked for people who had an office, phone, and a couple of employees. Many became franchises with an investment of around Rs 7,000 in those days.
"A city franchise can have branches under them. Today we have around 900 branches and 8,000 employees working under the Professional brand in Tamil Nadu," says Meeran, now 62-years-old, and adapting to the changing times when the courier industry might have seen its best days and exploring new options to stay afloat.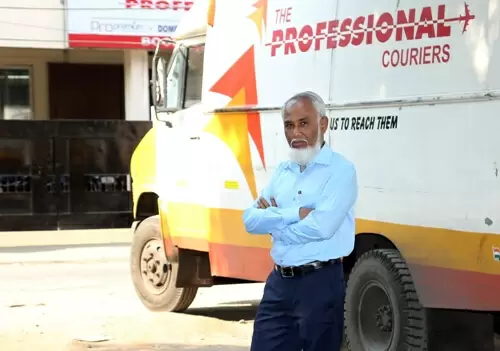 Professional Couriers is now reaching out to ecommerce clients for business

"Between 1993 and 2002 we grew at around 15-20 per cent year on year. But post-2002 with email, SMSes and online banking becoming popular among people, business took a hit with movement of documents and cheques declining over the years.
"We then started accepting small parcels of medicines and spare parts. Now we are looking at delivering consignments for ecommerce companies," says Meeran.
On the personal front, Meeran is happily married to Nihar Fathima. His son, Sheikh Shafeeq Ahamed, 30, a graduate in finance and accounting from Leeds University, is now helping him in business and is in charge of creating the technological infrastructure to deal with ecommerce clients. His daughter Sameena Sulthana, 25, is a graduate in Islamic Studies.
Meeran entered the education sector in 2004 and launched a CBSE school in Chennai called Unity Public School, where more than 2400 children are currently studying.
Ask him how he chills out, he takes a moment to think and says: "I read books and take Sundays off from work. Every couple of years or so, I visit Mecca and Medina with family. We also visit Malaysia and Singapore occasionally, though I am not an avid traveller." Clearly, for Meeran work is fun and he doesn't need anything more than that to feel relaxed and happy!
This Article is Part of the 'Amazing Entrepreneurs' Series
More Amazing Entrepreneurs
Nitin Godse, Founder, Excel Gas

Trending Now: