Founder of Rs 50 crore turnover gas pipeline company had dug wells for Rs 40 wages
Deven Lad
&nbsp | &nbsp Mumbai
26-April-2018
Vol 9&nbsp|&nbspIssue 17
It's been quite a journey for Nitin Godse--from a childhood spent digging wells for Rs 40 a day in an off-the-map village to establishing Excel Gas, a gas pipeline and equipment company, with current annual turnover of Rs 50 crore.
Excel has set up gas pipelines for clients across India and also in the Middle East for companies such as SBM Offshore, Qatar Fertiliser, and Qatar Petroleum.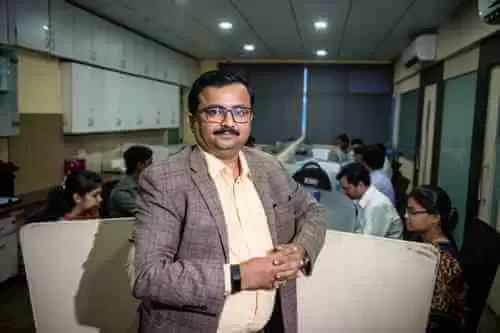 Nitin Godse started Excel Gas in 1999 with Rs 10,000. The company's current turnover is Rs 50 crore (Photos: Manoej Paateel)

Hailing from Ahmednagar district's Washere village, about 157 km from Mumbai, Nitin was born into a family of modest means with three siblings. His father was a salesman in a cooperative store earning Rs 400 a month.
"In our village everybody was happy with what they earned," says 47-year-old Nitin. "I never wore slippers till graduation; in those days even owning a cycle was big thing. I sat in a taxi for the first time when I completed my graduation.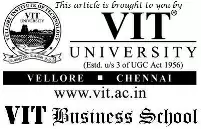 "I worked in nearby farms since Class six to get some pocket money. I have cut rocks that are used in construction work. I also worked at digging wells where I would be paid Rs 40 per day," says Nitin, who studied in Marathi-medium school, and graduated in General Science in 1993 from Savitribai Phule Pune University.
After graduation, he tried his hand in poultry business for which he took a bank loan, but the venture ended in losses.
He then worked as shift supervisor at Orkay Silk Mills in Navi Mumbai for five months, followed by a six-month stint at Technova Imaging System, also in Navi Mumbai, in production.
At Technova, he realised that an MBA would take him to the management cadre and he enrolled at the Institute of Business Management and Administration at Loni near Pune. He used his savings and some money borrowed from his father to fund his education and stay at hostel.
He completed his MBA in 1995 and returned to Mumbai, where he joined a company that sold packaged vegetables, for a salary of Rs 3,000. He was in charge of procurement, but the company shut down soon and he lost his job.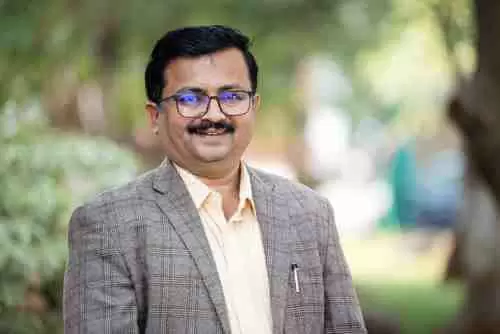 Nitin faced several disappointments in his life, but kept fighting until he succeeded

In 1996, a Gujarati stock broker offered to invest Rs five lakh in a similar business that would be run by Nitin in Mumbai. "I started on a salary of Rs 4,000. I was promised a partnership staus after six months and so I worked hard," remembers Nitin.
It was a gruelling daily schedule. "I used to visit the Agricultural Produce Market Committee (APMC) market in Vashi at 4.30 a.m. and leave by 8 a.m., carrying vegetables to our Andheri Mahakali outlet, where they would be packed with date and price stickers for supply."
Surviving on a salary of Rs 4,000 was really hard in Mumbai, as Nitin recalls: "I used to carry carrots in my bag for snacks and eat only one samosa and two paav all day; I would drink a lot of water to fill my stomach."
By 3.30 p.m. most of the vegetables would be picked up by the vendors, and by 6 p.m. he would dispose of the leftovers to small hotels at half price. Nitin's day would end around midnight. Next day the whole schedule would be repeated.
Six months later, Nitin's luck ran out again. His boss reneged on his promise to make him a partner. Nitin was devastated and went into depression. "For two months I did no work; I was at home sleeping all day in depression, when suddenly one of my friends helped me get a job," says Nitin.
This proved to be a turning point in his career.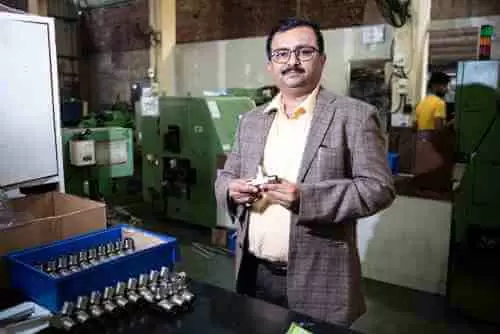 Excel manufactures items such as gas handling systems, gas cabinets, gas detectors, and flow meters

Nitin worked as manager with Span Gas on a salary of Rs 10,000 for around two years. A Vashi-based company, Span Gas dealt with distribution of LPG (bottled gas) equipment, gas valves and cylinder regulators --basically everything to do with the domestic gas consumer industry.
During his tenure, the annual turnover of the company rose from Rs 2 lakh to Rs 20 lakh due to his initiatives in cutting wastage of raw materials. However, after a disagreement with the management, he decided to quit, but now with a resolve to start his own company.
On 30 December 1999, he founded Excel Engineering -- with zero savings.
"I got married in 1998 and on 26 December the next year my son Aaditya was born," says Nitin. "Three days later, I founded Excel."
Nitin would visit company offices and seek orders. And when he did finally get an order for flow meters – used in gas pipes - he discovered he had no letterhead or sales tax number. But he didn't panic.
"I borrowed Rs 10,000 from my father, bought a telephone for Rs 2,200, VAT certification for Rs 5,000 and went to a cyber cafe to make invoices. I got Rs 1,200 profit from that deal," he recalls.
From 3 employees in 2000, Excel has grown into a 60-member strong team

His first big deal came in 2000 from the Department of Atomic Energy which offered him Rs 25,000 for equipment related to the gas pipeline industry. Orders continued to pour in that year and business took off. They received a big project from Naval Materials Research Laboratory to build a gas pipeline and Nitin took up the challenging work.
Five days before his son's birthday, he received a cheque for Rs 4,50,000, which he took a copy of before depositing it into the bank. (He still has that copy with him!)
Later, he withdrew the entire amount from the bank. "I went home and spread all the money in front of my wife because we had never seen even one lakh rupees," Nitin says.
In 2000 he had 2-3 employees and his brother working for him. His first year's turnover was Rs 5 lakh. In 2008 his company had 60 employees with Rs 4.5 crore turnover, by 2016 it went up to Rs 40 crore, and currently it has touched Rs 50 crore.
Now called Excel Gas and Equipments Private Limited, and located in Navi Mumbai over an office space of 2000 square feet, the company manufactures gas handling systems, gas cabinets, gas detectors, and flow meters.
And that's not all. "If I get a chance I will still do vegetable business," smiles Nitin.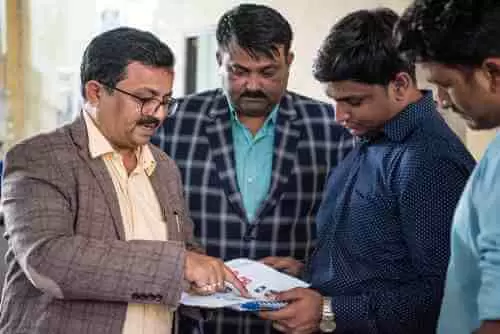 Nitin with his brother Pravin Godse, who has been with the company since its inception

He now has plans to build a chemical plant to manufacture furfural, an agriculture waste derivative used as a fertiliser, for which he has purchased technology from Latvia.
The plant's projected cumulative turnover in 15 years is Rs 6,000 crore and could one day be handled by Nitin's son who is currently doing his chemical engineering.
Nitin has come a long way, digging wells for Rs 40 a day to heading a Rs 50 crore turnover company… proof that it is possible to make dreams come true.
This Article is Part of the 'Amazing Entrepreneurs' Series
More Amazing Entrepreneurs
Nanu Gupta, Founder, Vijay Sales
Wish to share your story?
Trending Now: