How an IBM engineer became his own boss with a Rs 1.5 crore turnover popular jacket brand starting with Rs 2 lakh

Usha Prasad
&nbsp | &nbsp Bengaluru
28-March-2018
Vol 9&nbsp|&nbspIssue 13
Saneen Javali, founder & CEO of Emirate Fashions Private Limited, wanted to become an entrepreneur for as long as he can remember. Today, he is living his dream.
His jacket brand, Versatyl, is hugely popular for their innovative designs and utility features, and retails through online platforms like Amazon, Flipkart, and Snapdeal.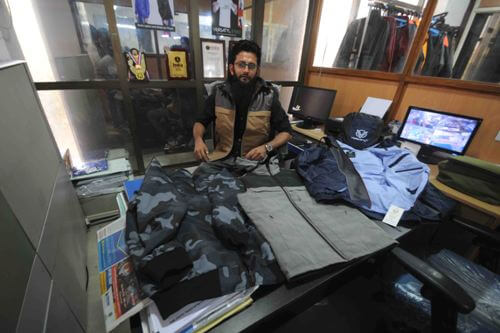 Saneen Javali quit his job at IBM and joined a friend as partner at his garment manufacturing unit in 2010. Now he owns the company (Photos: H K Rajashekar)

Versatyl jackets have a good demand in the US, UK and Australia as well. They sell around 50 jackets online per day. "We are among the top five sellers on Amazon," says Saneen.
From an investment of Rs 2 lakh in 2010, today, Saneen, at 32, owns a Rs 1.5-crore turnover company and employs 45 people.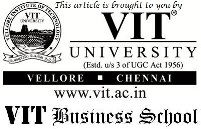 But not everyone supported his ideas when he first began.
Much against the wishes of his parents, Saneen quit a job with IBM as network engineer when he was just 25 and joined as partner with a friend who had a garment manufacturing unit in RT Nagar, Bengaluru. In 2011 his friend moved out of the business and Saneen took full charge of the company.
"I enjoyed my two-year stint at IBM, but soon realised a 9 to 5 job was not my cup of tea," he explains.
Saneen's family hails from Hubballi but they moved to Bengaluru when Saneen was just five because his father, who was into trading garments, wanted to expand his business. His mother, a retired Science teacher, always dreamt that her only son would become an engineer and take up a job with a big corporate.
Saneen did his engineering in Computer Science from Sri Krishna Institute of Technology, Bengaluru, and got a job at IBM, but the itch to start something of his own compelled him to join Mohammed, an old acquaintance, as a partner in his garments business, Bangalore Creations.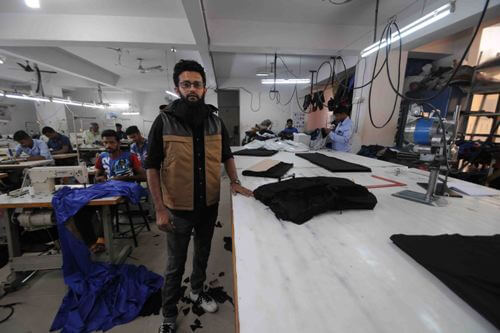 Besides making their own brand of jackets, Emirate Fashions is also a registered vendor for leading brands such as Flying Machine, Ruggers, and Arrow

"My decision to join Mohammed did not go down well with my parents, especially my mother. With great difficulty I convinced her and quit the job," says Saneen.
He was earning a salary of Rs 15,000 at IBM and invested his savings of Rs 2 lakh to give a new lease of life to Mohammed's business, which had suffered losses.
Saneen had tried his hands at petty businesses while studying. He did sales, service and installation of computers and even tried trading in it. He also took up web design projects.
"I was happy that as a student I was earning some money. I had also planned to set up a showroom of computers and home appliances," explains Saneen, "but due to pressure from my family to concentrate on my studies, I couldn't take it up seriously."
Bangalore Creations was a registered vendor for big companies like Wipro, IBM, Cisco etc., manufacturing branded jackets and t-shirts for them. "It took me almost a year and a half to understand the nuances of production, manufacturing, order management and client servicing," says Saneen.
Saneen started exploring the industry and soon became a vendor for leading brands such as Flying Machine, Ruggers, Arrow and other brands of Arvind Mills.
From three employees in 2010, Saneen had 20 people working for him by 2012 and he got the company registered under the name Emirate Fashions, with him and his father as the two directors.
Saneen invested an additional Rs 10 lakh in the company in 2012, with his father adding Rs 5 lakh and friends and relatives chipping in too. Initially, he operated from a 500 sq ft rented space, which earlier housed Bangalore Creations. In 2012, he moved to a 4,000 sq ft rented space in the same locality.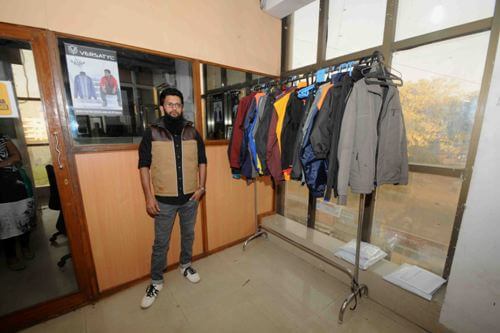 Saneen launched Versatyl Travel Jacket, a first-of-its-kind polyester jacket in November 2016 on a crowd-funding platform and since then the business has boomed

"We manufacture 3,000 jackets per month for various brands of Arvind Mills. We also supply bullet-proof outers for Indian defence services as a vendor of Tata Advanced Materials," reveals Saneen.
Since 2012, there has been no looking back for Emirate Fashions. From jackets, the company started manufacturing trousers and shirts, uniforms for schools, colleges and corporates.
However, Emirate Fashions could not completely rely on supplying for major brands alone as it faced delayed payment issues.
That's when Saneen, who would spend long hours online researching on new patterns and designs for jackets, decided to do something different.
"I came across a very unique jacket for $250 by SCOTTeVEST, a big brand in the US that specialises in multi-pocket clothing for travellers," explains Saneen. "I decided to do a similar jacket in India, but give it my own design and an affordable price."
He finalised the first design at 1.30 am that day itself. "After completing and finalising the first design past midnight, the next morning I sat with my pattern master and sample maker and the jacket prototype was ready," he shares.
Emirate Fashions launched Versatyl Travel Jacket, a first-of-its-kind polyester jacket with 18 pockets and 29 features, in November 2016 on a crowd-funding platform, where customers pre-booked the jacket.
"The working capital requirements were almost zero for us as we got funds in advance. This translated into very low costs for us," explains Saneen. "Rather than try and make big profits we decided to build a big brand. We pass on most of the benefits of this lower cost to our customers."
Priced at Rs 1,999, it took off immediately. Customers who had pre-paid for the jacket online had to wait for two months to get the delivery.
"Within two hours, we had 100 orders and got 1,000 orders within a month. We raised Rs 19 lakh and got very good response after the product was delivered," recalls Saneen.
During the second campaign of crowd-funding in February 2017, the company got orders for 800 jackets with a 45-day window for pre-booking and raised Rs 16 lakh. The response for Versatyl Travel Jacket had spanned across different age groups and geographies.
"I got a call from a woman who wanted to order our jacket for her 80-year-old father-in-law, who kept losing things such as his spectacles, keys, phone etc," smiles Saneen.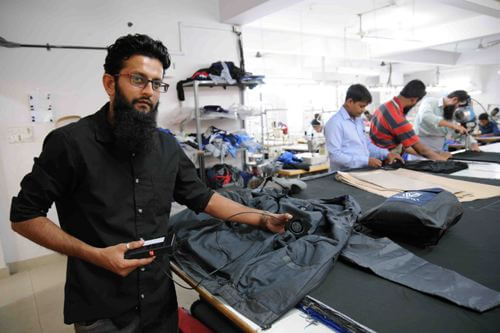 Brand Versatyl holds two records for Innovation – World Records India and India Book of Records

"We got another order from a remote village in Rajasthan that had just 70 families. The customer was one among the three people who knew how to use internet in that village. She came across our product on Facebook and called us to place an order for her husband. That was the moment I realised that we have really made it."
While SCOTTeVEST's jacket just had multi-pockets, Versatyl Travel Jacket had multi-features such as detachable hood and gloves, a side vent for breathability and safety reflectors.
It also had an in-built satchel, where the entire jacket could fit into the pouch and used as a sling bag. The fabric is imported from Korea.
With the first design of Versatyl becoming a huge success, Saneen worked on the second design, Versatyl Bomber, which was 100 per cent waterproof.
"The Bomber was made based on the seam-sealing technology, with 20 pockets. It was launched in June 2017, especially for the rainy season, again on a crowd-funding platform with 30 days for the pre-order. We received orders for 600 jackets," explains Saneen.
The jacket was priced at Rs 2,499. Bomber was followed by Versatyl Feather, said to be the world's lightest jacket weighing just 179 gm. Priced at Rs 549, the company saw 1,000 bookings in 45 days.
Versatyl holds two records for Innovation – World Records India and India Book of Records. "We are also applying for the Limca Book of Records," Saneen adds.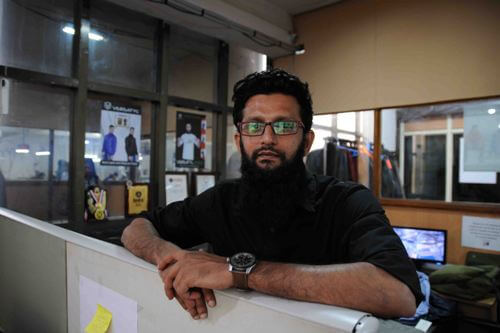 Saneen has plans to launch launch a smart schoolbag with an in-built GPS to help parents track the movement of their child

Emirate Fashions has also launched the world's first fan-cooled jacket Versatyl Air, a summer jacket fitted with small air blowers.
Looking back at his entrepreneurial journey thus far, he says: "The first five years were a learning experience with a lot of experiments. I had jumped into the rat race, struggling hard to survive. I saw real success only after launching Versatyl."
Emirate Fashions, which registered a turnover of Rs 1.1 crore in 2016-17, has earned Rs 1.5 crore by February 2018 and is aiming to close at Rs 1.8 crore by end of the FY.
Married to Tarannum, Saneen has two daughters: five-year-old Mariam and Inaaya, who is just one.
Success has not made Saneen complacent though. Soon, he is hopeful of launching a formal shirt that has anti-radiation and UV-proofing features, and is stain-resistant as well. He is also planning to launch anti-stain kurtis and has plans to come up with a smart jacket, with GPS, Bluetooth etc., and a smart schoolbag with an in-built GPS so that parents can track the movement of their child.
Truly versatile!
This Article is Part of the 'Amazing Entrepreneurs' Series
More Amazing Entrepreneurs
Nanu Gupta, Founder, Vijay Sales

Trending Now: